Bolting / Usain Bolt's "To Di World"
About
Usain Bolt's "To Di World", also known as bolting, is a photo fad that involves leaning back and pointing both index fingers towards the sky with the right arm cocked and the left stretched out in tribute to the victory pose of the Jamaican professional sprinter and Olympic gold medalist Usain Bolt. While Bolt's "To Di World" pose was introduced as early as during the 2008 Beijing Olympics, it became widespread during the 2012 London Olympics when he flashed the pose after winning the gold medal in 100-meters race.
Origin
Usain Bolt first introduced his iconic victory pose in August 2008 at the Beijing Olympics after finishing the 100 meters event with a new world record of 9.69 seconds. Although Bolt's post-race ceremony was initially criticized by the International Olympic Committee chief Jacques Rogge as "showboating" and "lacking respect," Jamaica's star runner continued to celebrate his victory with the same gesture.

Spread
Bolt's "To Di World" pose began receiving major attention from the news media in March 2012, when Prince Harry of the United Kingdom was seen imitating the gesture alongside Bolt during his trip to Jamaica. Furthermore, the media coverage eclipsed with the emergence of sports-driven "photo fads" such as Planking and Tebowing in early 2012.

In 2009 and 2010, Bolt incorporated his singnature pose into his Puma sponsorship campaign and a tourism commercial for his homeland.
In May 2012, the International Track and Field Federation hosted a Facebook photo fad contest[11] in search of the best tribute to Usain Bolt's victory ceremony. The athlete served as the judge of the contest. During this time, Bolt's "To Di World" pose earned the new moniker "Bolting" in following the convention of other photo fads that were named in gerunds. In the following months of June and July, the "bolting" meme continued to gain momentum and drew participation from a number of celebrities and star athletes, including Miss Universe Leila Lopes, Virgin CEO Richard Branson and the U.S. women's gymnastics team.



The popularity of "bolting" soon reached its new peak in early August during the 2012 London Olympics, where Usain Bolt once again staged the pose after winning the gold medal in the 100-meters event with a new Olympic record. Pictures of Bolt shining in his post-race victory pose were picked up by numerous news publications as well as people on Twitter[10] and Facebook[7], leading to a sudden influx of copycat photos and launch of single topic gallery blogs to curate the user-submitted photographs.
"Bolting" is the new "Tebowing" for sure! RT @thenickster15 I wonder if we will see people "Bolting" like people used to "Tebow" #Olympics

— MoniKa Platek (@MonikaPlatek) August 5, 2012
Notable Examples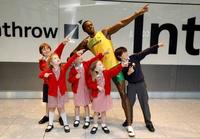 Search Interest
External References