Bright Button Emoji 🔆 / Sun Emoji
This submission is currently being researched & evaluated!
You can help confirm this entry by contributing facts, media, and other evidence of notability and mutation.
About
Bright Button Emoji 🔆, unofficially referred to as Sun Emoji, is an emoji of a simplistic sun graphic depicted as a yellow circle with several rays coming out of it. The emoji has been used by Twitter users honoring the memory of Eden Knight, a 23-year-old transgender woman who committed suicide in March 2023. Due to reported earlier unrelated instances of the emoji being used by white supremacists, the use of the emoji has been a subject of viral debates within the transgender community.
Origin
On October 11th, 2010, version 6.0.0 of The Unicode Standard was released,[1] introducing over 1,000 new symbols, chief among them emoji symbols. The list of introduced emojis included 🔆, officially known as the Bright Button Emoji (shown below).[2]


Online Use
In mid-March 2023, in the week following the suicide of Eden Knight, a 23-year-old transgender Saudi woman who was forced out of the United States by her family and made to detransition,[8] Twitter[3][4] user @dainserk (Knight's friend) set the emoji as a part of their username in her memory. According to @dainserk,[5] Knight has used the emoji as her personal symbol since 2021.


Spread
In the following months, multiple users on Twitter adopted the emoji as a way of honoring the memory of Eden Knight and demanding an investigation into her death. In the meantime, incidents of prior use of the emoji on Twitter by white supremacists, presumably due to it being used to represent the Black Sun, have been reported by some members of the LGBTQ+ community. On April 20th, 2023, Twitter user @dainserk addressed the allegations that the emoji was a sun symbol (tweet shown below, left). On April 21st, Twitter user @SailorUrectum then posted a screenshot of two Twitter users accusing @dainserk of being a nazi apologist, criticizing them. The tweet gained over 70 retweets and 860 likes in one month (shown below, right).


The viral debate surrounding the emoji was reignited in early May 2023 after Black transgender user @DreadedJai set her Twitter handle to "Jai Michelle 🔆🚬😮‍💨" on May 1st, also tweeting Dancer Emojis next to a Gravestone Emoji (post no longer available; screenshots shown below, left and right).[7]


Through May 2023, the argument between @DreadedJai and several of her followers on one side and Twitter users using the 🔆 emoji continued on Twitter, with the sides accusing each other of attention seeking, inaction and harassment, among other things (examples seen below).


Various Examples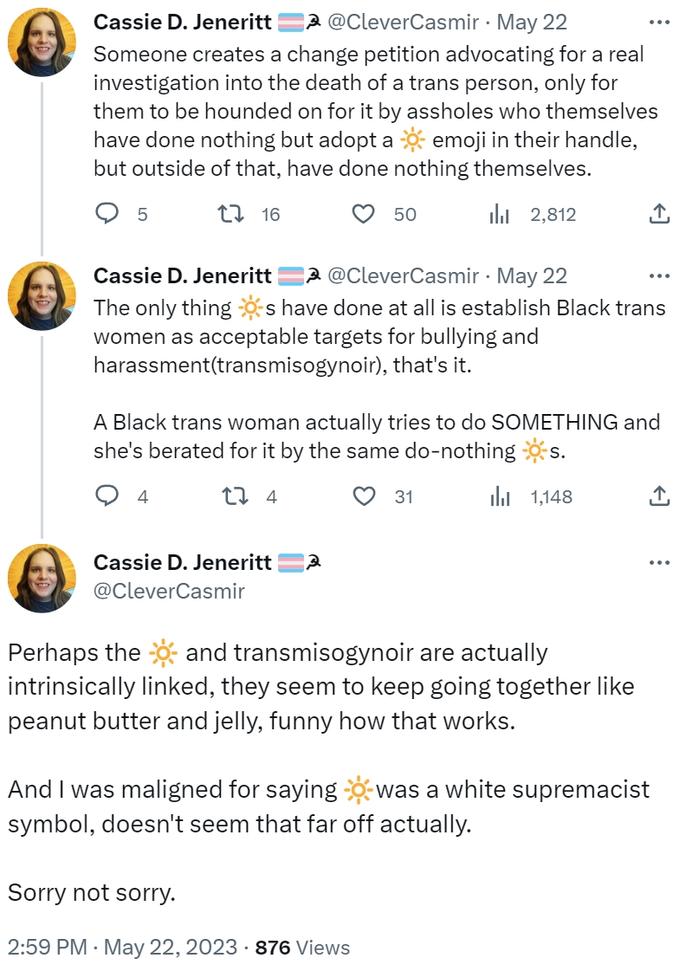 Search Interest
External References
Recent Videos
There are no videos currently available.