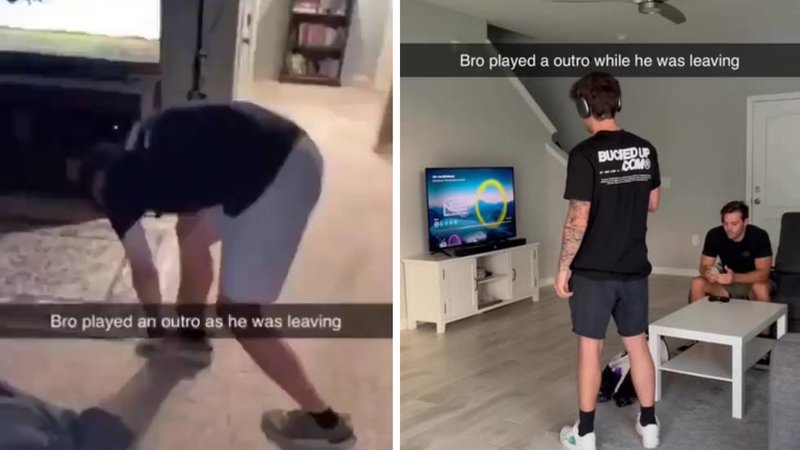 Bro Played An Outro As He Was Leaving
This submission is currently being researched & evaluated!
You can help confirm this entry by contributing facts, media, and other evidence of notability and mutation.
About
Bro Played An Outro As He Was Leaving is a TikTok trend that features a person playing an EDM outro song as they leave a room. The meme started towards the start of July 2022 following a viral video from TikToker @nickrobb95 and was recreated by several TikTok users in the following weeks. A variation of this trend is Bro Really Played His Intro featuring a similar soundtrack and setting.
Origin
On July 6th, 2022, TikToker[1] @nickrobb95 posted a Snapchat video with a banner that read "bro played an outro as he was leaving." The video showed him gathering his things while an EDM track from YouTube channel "Trap Nation"[2] played on a screen behind him in what appears to be a basement setting. He waves to his friends as the beat drops before leaving the camera's field of vision. The video accrued 2.9 million plays and 638,300 likes over the course of 20 days (seen below).
Another video on @nickrobb95's page, posted on July 9th, 2022, shows a similar scenario. In the clip, he gathers his belongings and daps up his seated friend before waving goodbye as the beat drops. The scene is set to yet another EDM track from Trap Nation's YouTube channel,[3] with the Snapchat banner reading "Bro actually does this everytime." This video gathered 9.2 million plays and 1.2 million likes over the course of 17 days and received replies from verified accounts, including Trap Nation's[4] official TikTok account and the Pittsburgh Steelers[5] official TikTok account (seen below).
Spread
Multiple accounts soon began posting similar videos featuring men, often referred to within the trend as "bros," playing an EDM track while leaving social gatherings. On July 10th, 2022, TikToker @idiotsauce.com[6] posted a video copying the TikTok format, including the Snapchat banner that reads "bro does this everytime he leaves." The video accrued 1.7 million plays and 293,700 likes over the course of 20 days (seen below, left). On July 11th, TikToker @definitelynotwolfie1[7] posted a video following the same format, also gaining 1.7 million plays and 246,700 likes in a similar timeframe (seen below, right).
By mid-July 2022, several content creators recreated the original video as it developed into a trend. On July 14th, TikToker @chosenalex[8] made a video where he gets up from his desktop gaming setup, wears his bag and leaves. The video gained over 957,500 likes and 4.6 million views in two weeks (seen below, left). The video also received a response from Trap Nation's official TikTok account, saying "We gotta work on that desktop my guy" in reference to the user's cluttered computer screen. On July 15th, the video was then reposted by TikToker @gaming[9] with the caption "Bro is a youtube video💀," receiving 114,500 likes and 624,600 plays in two weeks (seen below, right).
Various Examples
Search Interest
Unavailable.
External References
Recent Images
There are no images currently available.