This submission is currently being researched & evaluated!
You can help confirm this entry by contributing facts, media, and other evidence of notability and mutation.
About
Correction Guy, also known as Grammar Guy, is a reaction image series using a black-and-white illustration of a man in a suit making a "stop" gesture with his hand. The image is often accompanied with captions correcting some sort of mistake.
Origin
On October 8th, 2011, Flickr[7] user Tabata Petunia uploaded an illustration of a suit-wearing man with the caption "Chill out slut" (shown below).

Spread
On January 19th, 2012, Redditor hok9 submitted a version of the comic with the caption "Off is the general direction in which I wish you would fuck" to the /r/funny[5] subreddit (shown below, left). In the next four years, the post gained over 1,300 votes (85% upvoted) and 50 comments. On April 13th, One of the first example of the image macro which is used for grammar correction was uploaded to the Internet humor site Troll Memegenerator[1] under the title "Grammar Correction Guy (shown below, right).


On May 9th, a template image was submitted to Meme Generator[2] under the name "Grammar Guy." On June 20th, the image was resubmitted to Meme Generator[3] under the name "Correction Guy." On June 28th, Reditor Biglos079 resubmitted Redditor hok9's image macro with the title "Pretty much how I feel everyday at work" to /r/funny,[6] where it gathered more than 1,300 votes (86% upvoted) and 25 comments prior to being archived.
On an unknown date, 9Gag[4] user WARFX uploaded an image titled "Grammar guy's had enough," which garnered upwards of 27,000 points as of April 2015 (shown below).

Various Examples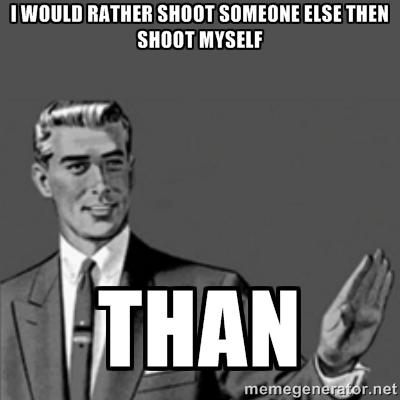 Template

Kill Yourself
A version of the Correction Guy image with the caption "kill yourself" is often used in two-panel images to mock poorly-worded messages found on social media.

Search Interest
External References
Recent Videos
There are no videos currently available.