About
Cumbrain is a slang expression used to describe a person addicted to pornography and/or masturbation, perceived to have decreased mental abilities due to being excessively focused on the sexual aspects of life. Starting in May 2019, the term gained significant popularity across a number of boards on 4chan.
Origin
While the earliest documented use of the word "cumbrain" in the sense "person addicted to pornography" can be traced to an August 2012 /co/ post,[1] the word did not have significant popularity until May 2019.
On May 6th, 2019, an anonymous /lit/ posted the earliest known depiction of a cumbrain,[2] with more posts containing the image appearing on the board in the following hours.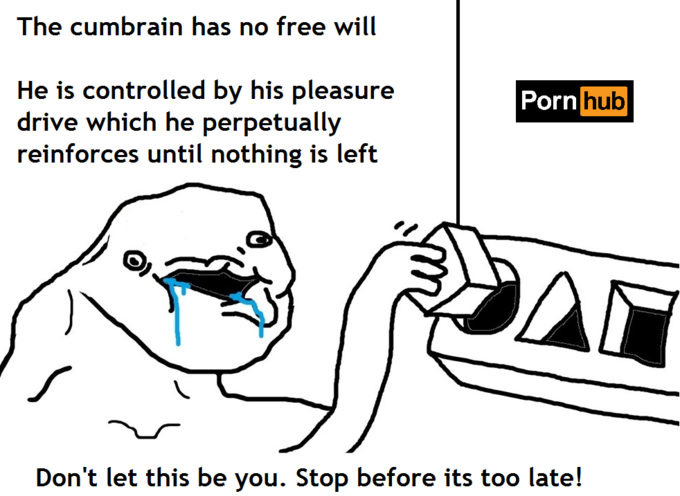 Spread
In the following days, the image was reposted to multiple boards, including posts in /fit/[3] and /r9k/.[4]
On May 10th, an anonymous /int/ user posted a re-captioned image of the cumbrain to the board,[5] reposting an older post containing links to a number of studies conculding that watching pornography negatively impacts cognitive abilities (shown below).


In the following months, multiple posts containing both the image and the word were posted across 4chan boards.
Various Examples





Templates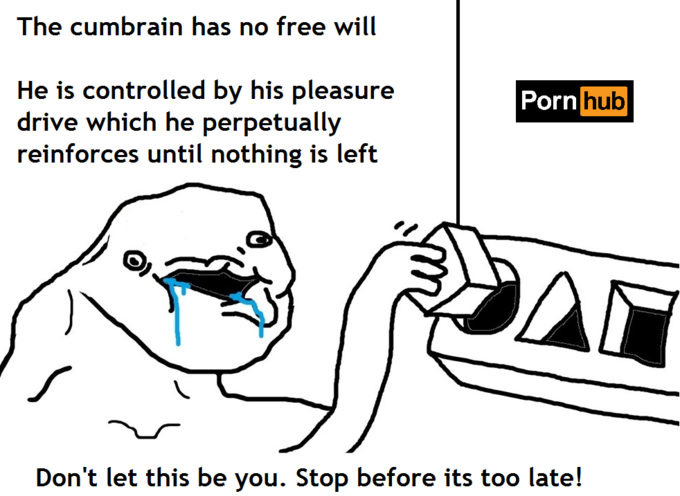 Search Interest
External References
Recent Videos
There are no videos currently available.