Edgy-Depressed-Dumbass / Bitch-Thot-Bastard
About
Edgy-Depressed-Dumbass / Bitch-Thot-Bastard refers to a 3×3 alignment chart parody categorizing pieces of pop culture on the axes of "Edgy-Depressed-Dumbass" with "Bitch-Thot-Bastard."
Origin
On June 21st, 2018, Tumblr [2] user satanic-girls-gone-wild shared an alignment chart of modern rock and nu-metal bands. The post received more than 2,300 notes in less than three years (shown below).

Spread
On June 21st, 2018, Twitter user @beccaiscute[1] posted the alignment chart featuring mid-2000s nu-metal and heavy bands, gaining over 790 retweets and 2,300 likes (shown below).

In the following days, several variations saw significant spread on Twitter. A post by @strawbrryslush using female pop artists gained over 410 retweets and 1,800 likes (shown below, left). User @brigseebear posted a variation using popular television comedies, gaining over 560 retweets and 1,700 likes (shown below, right).


Roughly a month later, the format began seeing wide spread on Tumblr where users completed the chart with several other subgenres of media. Some of the most popular examples include a post by user gaysexhaver666 using popular anime, gaining over 40,000 notes (shown below, left). User ahsteria made a version featuring online server games, gaining over 26,000 notes (shown below, right).


Various Examples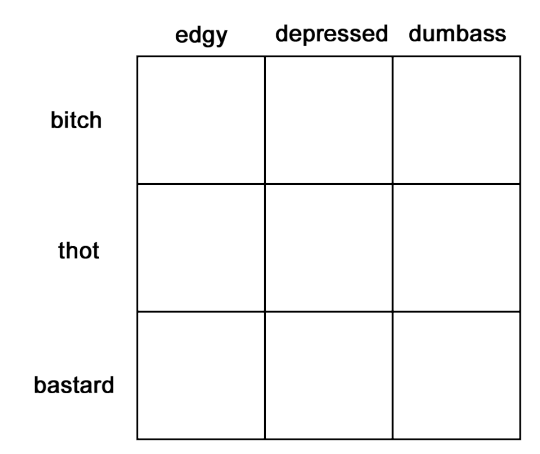 Search Interest
External References
Recent Videos
There are no videos currently available.