Jock-Nerd / Prep-Goth Charts
This submission is currently being researched & evaluated!
You can help confirm this entry by contributing facts, media, and other evidence of notability and mutation.
About
Jock-Nerd / Prep-Goth Charts are an exploitable type of two-axis model wherein people place pop-culture characters on the spectrum between "Jock/Nerd" and "Prep/Goth." It is primarily popular on Tumblr. The meme operates in a similar fashion to Political Compass exploitables and Dungeons and Dragons Alignment Charts.
Origin
On February 4th, 2017, Tumblr user heyitspj[1] posted a text post that read "New alignment chart: chaotic/neutral/lawful + jock/prep/goth." The post gained over 30,000 notes (shown below). Meme Documentation [2] cites this as the inspiration for the spread of the meme.

Spread
On May 13th, 2017, Tumblr user iapislazuli[3] posted a triangular version of the chart featuring Steven Universe characters with "Goth," "Prep," and "Jock" at the axes. The post gained over 6,000 notes (shown below, left). Shortly after, posts that made the axis square and added "nerd" began appearing on Tumblr. A version which used the characters from Fire Emblem: Shadows of Valencia was posted by user rorovak[4] on the 17th and gained over 1,400 notes (shown below, right).


Over the following months, many more edits began appearing on Tumblr with various characters from pop culture. Some of the more popular examples include a version posted by kingofredlions[5] that aligned several Legend of Zelda games and gained over 9,000 notes (shown below, left). Another popular edit posted by gghero[6] aligned all the villains from the Pokémon video game series and gained over 4,600 notes (shown below, right). The meme was documented by Meme Documentation on September 30th, 2017.[2]


Various Examples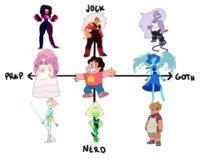 Search Interest
Unavailable
External References
Recent Videos
There are no videos currently available.