Gay-Bi-Lesbian / Distinguished-Functional-Disaster
About
Gay-Bi-Lesbian/Distinguished-Functional-Disaster is a 3×3 Alignment Chart based off the Dungeons and Dragons character alignment chart with the categories charting one's sexuality and ability to function.
Origin
Meme Documentation [1] traces the origin of the meme to a Tumblr post by mechanicalriddles[2] on November 1st, 2017 that put forth the blank template for the chart (shown below). The post gained over 13,700 notes.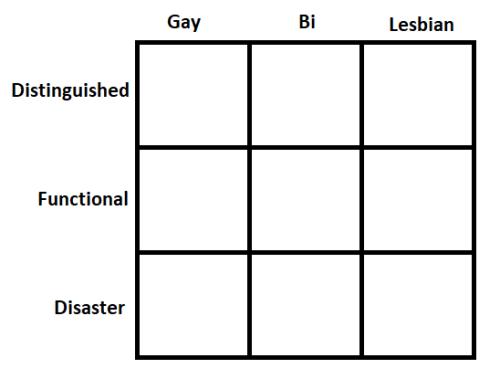 Spread
Over the following week, Tumblr users completed the chart using characters from various aspects of media. For example, a post by user poes[3] completed the chart with characters from Overwatch, gaining over 1,500 notes (shown below, left). Another post by gideonsgrave[4] used characters from Scott Pilgrim vs. the World and gained over 430 notes (shown below right). Meme Documentation[1] covered the meme on November 13th, 2017.


Various Examples






Search Interest
Unavailable
External References
Recent Videos
There are no videos currently available.