2022-2023 Donald Trump Confidential Documents Case
This submission is currently being researched & evaluated!
You can help confirm this entry by contributing facts, media, and other evidence of notability and mutation.
Overview
2022-2023 Trump Confidential Documents Case refers to charges against former President Donald Trump related to his unlawful keeping of Presidential records in his Mar-a-Lago home in Miami after the end of his Presidency. The FBI raided the Mar-a-Lago on August 8th, 2022, and charges were formally brought against Trump on June 8th, 2023. Trump faces seven felony counts, including a charge under the Espionage Act, and other charges of obstruction of justice, destruction or falsification of records, conspiracy and false statements. In mid-June 2023, Trump was then arrested and taken into federal custody in Miami.
The Raid on Mar-A-Lago
Beginning in April 2022, the Justice Department was investigating Donald Trump's handling of Presidential records.[2] Earlier in the year, they took 15 boxes of documents that should have been handed to the National Archives upon Trump leaving office in January 2021.
On August 8th, 2022, the FBI then conducted a search of Donald Trump's Florida home and resort, the Mar-a-Lago in an apparent search for classified documents Trump allegedly did not deliver to the National Archives following the end of his first term as president, including some classified documents relevant to national security. The "raid" coincided with the 38th anniversary of Richard Nixon's resignation in 1974 that was discussed and memed alongside the event.
The raid was widely reported on by media outlets (example shown below, left). Trump's son Eric said to Fox News that he was told the raid was conducted on behalf of the National Archives, who wanted to corroborate whether Trump unlawfully kept classified government documents after his time in office (shown below, right).[1]
In a statement, Trump bemoaned the search,[3] writing that the Mar-A-Lago was "under siege, raided and occupied by a large group of FBI agents." He noted that the FBI had "broken into his safe." "Such an assault could only take place in broken, Third-World Countries," he wrote, adding that he believed that the raid was a politically motivated tactic to prevent him from running in the 2024 election.
The FBI raided Donald Trump's Florida estate in an unprecedented search of a former president's home that marks a significant escalation of an investigation into the removal of classified White House records https://t.co/vMca5LdrSE pic.twitter.com/diYkwah4IS

— Reuters (@Reuters) August 9, 2022
Aides for President Joe Biden stated they were not notified that the raid was going to take place and learned about it from Twitter.[3] Others noted that the head of the FBI, Chris Wray, was appointed by Trump himself, voicing doubt that the raid was politically motivated as Trump had claimed.[4] Furthermore, news publications noted that the raid would need to have been signed off on by a judge based on the potential of criminal activity.[5]
Move To Unseal And "Nuclear Documents" Report
On August 11th, 2022, Attorney General Merrick Garland made an unusual statement in which he announced he would move to unseal the search warrant that led to the raid. Later that evening the Washington Post reported that sources told them the FBI was looking for nuclear documents illegally stashed at the Mar-a-Lago.
Photographs Of Crime Scene
On August 30th, 2022, the Department of Justice submitted a court filing in response to Trump's legal team's request for a special master to review the documents found at Mar-a-Lago.[15] The filing included a photograph of some of the documents, censored by the FBI, found at the scene (shown below).

Additionally, the Justice Department also said that the documents were "likely concealed and removed" from Mar-a-Lago as part of an effort to obstruct its investigation.
On Truth Social, Trump attempted to claim the FBI had "haphazardly scattered" the documents (shown below).[16] Additionally, he reposted conspiracy theories that were also posted on 4chan's /pol/ board and posted the statement "Why are people so mean?" on his account on Truth Social on August 30th.[17]

Following the image being released and garnering attention online, some people posted jokes based on the photo of the classified documents. For example, Twitter user @MarisaKabas[18] posted a thread on August 31st comparing Selena Gomez outfits to the picture, gaining over 700 retweets and 5,000 likes in 12 hours (shown below, left). That same day, user @DVSBlast[19] made a joke about how one of the documents was about "how to be handsome like DVS" (shown below, right).


Online Reaction
The raid was decried by many conservative politicians on social media following the news breaking on August 8th, 2022. Marco Rubio stated the raid was proof that the U.S. was "corrupt at a level not seen before."[6] Marjorie Taylor Greene posted similar sentiments and tweeted "DEFUND THE FBI,"[7] which some on the left humorously agreed with.[8] Andrew Yang voiced his concerns that the raid might inadvertently help Trump gain political support (shown below, left). In an interview with CNN, NBC News reporter Ben Collins highlighted how the raid angered the Trump base, comparing the online sentiments to those the day before the January 6th, 2021, Storming of the Capitol.


Social media users were largely divided as to how to interpret the raid. Many on the right took it gravely seriously, echoing some conservative politicians' sentiments that the move was politically motivated, with some going so far as to call for "Civil War."[10] On August 8th, 2022, following the raid, Steven Crowder posted "Tomorrow is war. Sleep well," which concerned some users thinking it could be a call to violence (shown below).[9]

Some on the left seemed hopeful the case could lead to an indictment of Trump. On August 8th, Twitter user @skgreen[11] joked "Don't mess with librarians," referring to the National Archives being the cause of Trump's potential demise, which was a common theme in the discourse around the event (shown below, left). That same day, Twitter user @joncoopertweets[12] interpreted the raid to mean that the chances of a Trump indictment had gone up "exponentially" (shown below, right).


Others posted memes regarding the raid. For example, on August 8th, Twitter user @jawnmike[13] posted a BeReal parody of the raid, gaining over 1,600 retweets and 24,000 likes in one day (shown below, left). On August 9th, Twitter user @MNateShyamalan[14] posted a Whatcha Got There parody of the raid, gaining over 90 retweets and 980 likes in one hour (shown below, right).


Charges Brought Against Donald Trump
On June 8th, 2023, Donald Trump posted on his Truth Social account that his lawyers informed him that charges would be brought against him in regards to the case, which he described as the "Boxes Hoax."[20] Notably, he accused Joe Biden of having confidential documents "strewn" about his garage floor "where he parks his Corvette," and the security for those documents is only a "paper thin" garage door that he often leaves open.

The charges were confirmed by news outlets later that evening.[21] He faces a charge under the Espionage Act and charges of obstruction of justice, destruction or falsification of records, conspiracy and false statements.
On June 9th, CNN[22] obtained a transcript of Trump talking to an unknown group about classified documents, seemingly showing the group some secret documents, which he acknowledges are classified in the transcript. CNN writes:
The transcript of the audio recording suggests that Trump is showing the document he's discussing to those in the room. Several sources have told CNN the recording captures the sound of paper rustling, as if Trump was waving the document around, though is not clear if it was the actual Iran document. "Secret. This is secret information. Look, look at this," Trump says at one point, according to the transcript. "This was done by the military and given to me."
Once again, news of the charges split reactions down party lines, as conservative media, politicians and social media users chalked the charges up to liberal bias and conspiracy to hinder Trump's 2024 election bid, while more left-wing posters reveled in and joked about the charges. Among the former was Congressman Steve Scalise, whose Twitter[23] post implied the charges were the work of Joe Biden weaponizing the Department of Justice against a political rival (shown below, left). On the other side, Twitter[24] user @JeetHeer quipped that Trump loves describing his crimes in detail on tape (shown below, right).


Classified Documents Stored In Mar-A-Lago Bathroom
Classified Documents Stored In Mar-A-Lago Bathroom refers to a photograph taken of a bathroom at Mar-a-Lago where former President Donald Trump stored highly classified and top secret government documents. The photograph was included as evidence in the indictment of Trump and published on June 9th, 2023 by Special Counsel Jack Smith's investigation, and filed in federal court in Florida.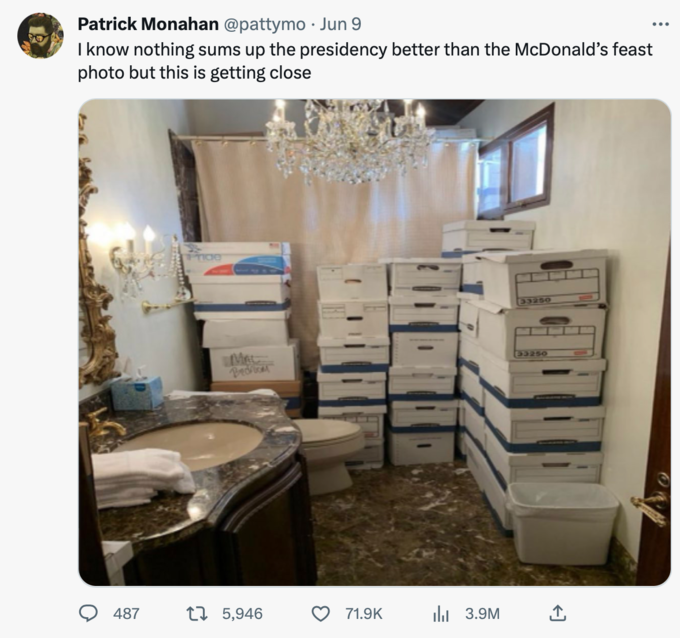 Arrest
On June 13th, 2023, Donald Trump appeared in the Federal Courthouse in Miami where he was arrested and taken into federal custody.[25] Trump pleaded "not guilty" to the 37 counts against him by Special Counsel Jack Smith. His aide, Waltine Nauta, also faces six counts related to the mishandling of Presidential documents and is expected to plead "not guilty." A mug shot was not taken, and he will be allowed to walk free as the proceedings before the trial begins, as he is not considered a flight risk.[27]
The event marks the second time in 2023 that Trump has been arrested, following an arrest in March related to allegedly paying $130,000 in hush money to adult actress Stormy Daniels.
#TrumpArraignmentDay and #TrumpArrested trended on Twitter[26] as the news spread. Some online, including Twitter user @kirawontmiss who earned over 50,000 likes on June 13th (seen below), commented on the lack of a mugshot or other images from the arrest and made memes about the event.[28]

Others joked about the coverage which Trump's arrest received, particularly the Fox News coverage. For example, on June 13th, 2023, Twitter user @oliverdarcy commented not the chyron about Biden being a "wannabe dictator," earning over 6,200 likes in less than a day (seen below, left).[29] After the arrest and courtroom proceedings, Trump went to a Cuban restaurant called Versailles, where he was greeted by supporters, as covered by Newsmax (seen below, right).[30]


Search Interest
External References