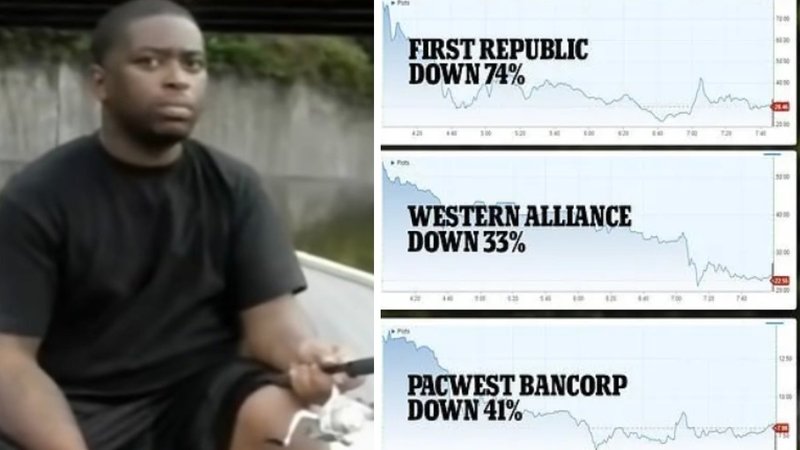 2023 U.S. Banking Collapse
This submission is currently being researched & evaluated!
You can help confirm this entry by contributing facts, media, and other evidence of notability and mutation.
Overview
The 2023 U.S. Banking Collapse refers to the financial event in March 2023 in which several banks in the United States, primarily those associated with tech and start-up culture, were either closed entirely or suffered significant financial losses for a variety of reasons as part of the fallout from Silicon Valley Bank's failure. Memes about the banking crisis, the various causes attributed to it, and the aftermath started to propagate immediately following the news of each bank's fate, which received widespread media coverage.
Background
On March 8th, 2023, Silvergate Bank (a crypto bank located in San Diego) announced that it was winding down operations and liquidating — the conclusion of a downward trend that had begun with the FTX Crypto Crash in late 2022, which created a sense of unease in the cryptocurrency and tech community in regards to their banks.
When Silicon Valley Bank (SVB) began to sell off assets to increase its cash flow, it was reported that the company was in dire straits, leading to a run on the bank on March 9th.[3] This bank run subsequently caused SVB to collapse as this led to the stock price of the bank losing over 60 percent of its value before California regulators halted operations on March 10th (shown below).[4]
Developments
The Silicon Valley Bank collapse's effects did not properly reflect in the market until after the weekend, which started Monday, March 13th, 2023, off with news of several other banks either going under or losing significant stock value in the early morning hours. Signature Bank was the next one to fall, with it being officially shuttered by early Monday morning, triggering further runs on other banks and large-scale stock tumbles in First Republic, Western Alliance and PacWest Bancorp.[5]
Online Reactions
Memes about the collapse began to immediately spread following news coverage of the Silicon Valley Bank collapse on March 10th, 2023, with a large amount of blame being placed on President Joe Biden with posts ranging from some blaming him as intentionally causing the crisis to others blaming him because he's the current President. For example, on March 13th, Twitter user @ZoiAeras[1] tweeted a You Will Own Nothing meme picturing Biden that received over 500 views in three hours (shown below).

Other memes about various aspects related to the bank collapses continued to spread online, with some also citing the entire banking crisis as a conspiracy involving an intentional play to destroy the economy by woke people and the Illuminati to shift attention from the War in Ukraine to the newly created financial crisis. For example, on March 13th, 2023, Twitter user @MichelleMaxwell[2] tweeted an Austin Powers meme referencing this conspiracy theory, receiving over 7,500 views and 150 likes in roughly 10 hours (shown below).

One of the most polarizing reactions to the SVB collapse came from the investor Jason Calacanis', who went on a large caps-lock induced rant and started @ing the President of the United States and several others to try and get the Federal Government to care more about the FDIC uninsured deposits and the impending run on banks that he foresaw taking place across the country in the following days, tweeting[6] on March 10th, among other things, that the entire administration should be fired in 2024 (shown below).

On TikTok, individual financial accounts started to post recap videos of the banks that are currently taking heavy losses, including Charles Schwab, while others began to try and inform their followers on what to do during either a bank or economic collapse, as well as what a 'run on the banks' is and how to properly navigate it happening to their financial institution, as seen in the TikToks by Jpall20[7] and Neilcj27[8] (shown below, left and right).
Various Examples






Search Interest
External References