Albert Chang and LilyPichu Controversy
Overview
Albert Chang and LilyPichu Controversy refers to Twitch streamers belonging to the internet entertainment group OfflineTV, sleightlymusical and lilypichu. The controversy began with viewers speculating a relationship forming between Twitch streamer Sarah Lee or Peeled Avocado and Albert Chang despite his committed relationship with lilypichu. Rumors intensified when Sarah Lee accidentally shared a flirty Google Doc shared between her and Chang in November 2019. All parties took to Twitter to explain that they had an affair shortly after. Following the controversy Dr Disrespect unaware of the situation welcomed "Albert" to the club.
Background
On November 9th, 2019, fellow OffineTV streamer @pokimanelol[1] tweeted, "it's insane how the best of people can turn out to be massive snakes 🐍" (shown below). The tweet garnered over 80,200 likes and 6,200 retweets in six days. The tweet led many to speculated that Chang was cheating on Lilypichu with Sarah Lee.

Notable Developments
In early November, AvocadoPeeled accidentally streamed a shared Google Doc with Albert Chang in which it seemed they were flirting (shown below, left).[2] Others involved with the entertainment group began tweeting on the subject like @fedmyster2 who tweeted "I'm so sad fuck" and "I really wish this were about foot pain" to which LilyPichu[3] tried to deflect and replied "Is this because we didnt get u mcdonalds last night?? Jesus I told u we can go today" (shown below, right).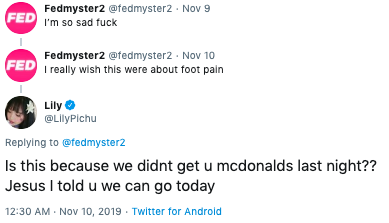 On November 10th, @LilyPichu[4] tweeted, "I feel forced to make a statement and so here it is" which garnered ober 26,800 likes and 1,100 retweets in five days (shown below, left). Her Twitlonger[5] stated:
I feel forced to make a statement and so here it is.
Albert and I aren't together anymore. I apologize for all the subtweeting made by my friends. They were shocked and acted out. I didn't know if I should share it/how to share this and was stressing out about it but at this point it doesn't matter I'm too sick and tired.

Needless to say I'm probably going to take a short break from streaming. I know people want to continue speculating but at the very least, please don't spread any more hurt to anyone. I am already heartbroken. I still love and care about my friends and Albie very much.
That day, Redditors discussed the matter on r/offlinetv.[6] Redditor matthewo posted a photo of Lily and suggested a appreciation thread which gained over 7,100 points (93% upvoted) in five days (shown below, right).


On November 10th, @Fedmyster tweeted, "On behalf of the OTV + friends group, I'd like apologize for our very irresponsible and emotional response to yesterday's events. We were all pretty torn and upset for lily and going to social media was not the right move. Please continue to send her love during this time" to which @pokimanelol[7] responded "I'd like to add on & say I completely agree, at the time I did not think my actions would signal to others that it's okay to talk about this publicly, because it's not, and I'm sorry for that. I've apologized to Lily privately, because I want her feelings to be our priority♥️" (shown below, left). On November 11th, Twitch streamer Dr. Disrespect[14] welcomed Albert to the Champions Club unaware of the situation between the two streamers and just welcoming a viewer named Albert after he paid him. The clip garnered over 469,900 view in three days. Since then AlbertCD emotes have been created.[13] On November 12th, @THEalbertchang[8] tweeted an apology (shown below, right) which accumulated over 14,100 likes and 1,100 retweets in three days. The apology in Twitlonger[9] read:
I'm sorry.
I made the worst decision of my life. I chose to be unfaithful to Lily, and caused her an excruciating amount of pain. I'm incredibly sorry for my selfish and irredeemable behavior. I betrayed her trust and love for me, and for that, I don't know if I'll ever be able to atone for it. I'll be taking an indefinite hiatus from content creation to reflect and spend some time alone.

I'm sorry for the people I've hurt in all of our communities, I'm sorry for the friends I let down at Offline.TV, and most of all I'm sorry for hurting you, Lily.


That day Lilypichu[10] responded by tweeting "Take care & be safe" which received over 23,000 likes and 800 retweets in three days (shown below, left). Finally on November 13th, @avocadopeeled[11] issued an apology through Twitter (shown below, right) which gained 800 likes in two days. The apology in Twitlonger[12] read:
I'm sorry.
No one deserves the level of pain I caused, especially not Lily: someone who has only shown me kindness.
My choices were immensely selfish, and the levels of betrayal go beyond repair.
She does not deserve to suffer like this.
Nothing I write could ever be enough, nothing I say could possibly change anything.
It will never be enough. There is only reparation in who I choose to be from here on out.

I will be taking time away from the public for self-reflection.

I'm sorry for the extreme hurt I've caused to everyone in the communities, to those who I could once call 'friend', and to Lily most of all.

I'm so sorry.


Various Examples
Search Interest
External References
Recent Videos
There are no videos currently available.