Andy Dick and Wappy Flanker Livestream
This submission is currently being researched & evaluated!
You can help confirm this entry by contributing facts, media, and other evidence of notability and mutation.
About
Andy Dick and Wappy Flanker Livestream refers to comedian Andy Dick allegedly being held hostage by Twitch streamer Wappy Flanker in early 2022. After struggling with drug abuse, being homeless and getting assaulted in Las Vegas, Dick found himself in the home of Wappy where he was livestreamed for many hours of the day, wherein, Wappy abused him and threatened him. Speculation and concern spread online regarding if the event was staged or if Dick was really kidnapped. Wappy's house was later swatted and Dick left with fellow streamer Captain Content.
Background
Andy Dick is a stand-up comedian and actor[1] known for roles in In the Army Now, Dude, Where's My Car?, Old School as well as his own show The Andy Dick Show. He was born in South Carolina but his family moved around a lot, finally settling in Chicago, Illinois once he was in high school. He went to college there and studied improv with Chicago's Second City.[1]
Outside of comedy, Dick struggled with drug and alcohol abuse. According to an interview with Vice[2] in 2016, Dick had entered rehab 20 times in order to get sober. He was quoted saying, "I would always say that I didn't have a problem with drugs and alcohol," he recalls. "But I would drink when I was happy, when I was sad, when I was anxious. Without drugs or alcohol, I was depressed, frustrated, angry."
Developments
Relationship with Elisa Jordana
On March 1st, 2021, it was reported by Page Six[3] that Dick was engaged to Elisa Jordana. They knew each other through entertainment industry connections. Jordana had dated a Howard Stern writer and was a frequent guest on the show, so much so that she earned the name "Ms. Howard TV." A week prior to the Page Six article, Dick posted on Instagram,[3] announcing the engagement, earning roughly 1,000 likes in one year (shown below).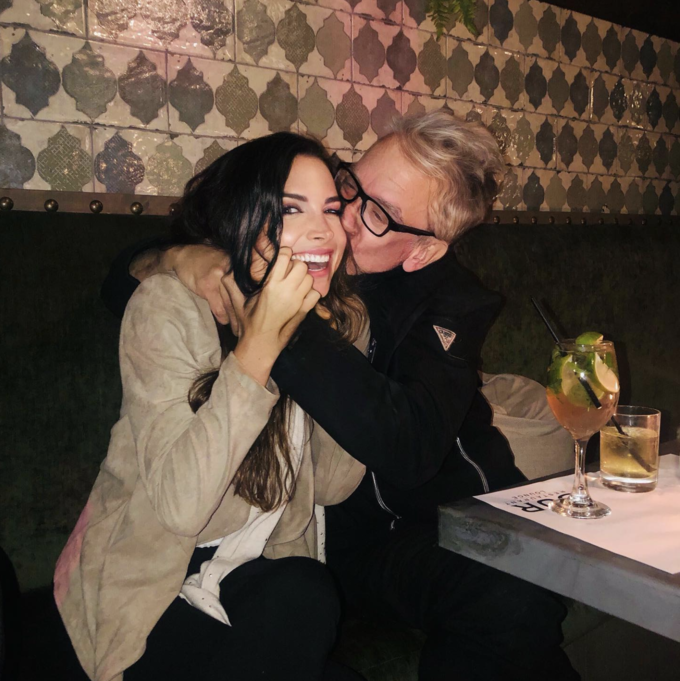 Jordana had a podcast called "Kermit and Friends" in which Dick was a frequent guest. On June 29th, 2021, Dick was on the show to discuss with her his anger regarding a recent arrest of his. He was mad at her for sharing information about his arrest, one related to assault with a deadly weapon.[4] The livestream conversation between Jordana and Dick was posted to YouTube on the 29th, where it received roughly 17,000 views in ten months (shown below).
Assaulted in Las Vegas
Sometime in early 2022, Dick had been kicked out of his Los Angeles apartment due to his ongoing drug and alcohol abuse problems. This was according to Redditor[5] doctorfeelgood33, who posted a long-form comment to an /r/OutoftheLoop[6] post made on April 16th. Redditor doctorfeelgood33 claimed to be Dick's old, Los Angeles neighbor.
Dick was also apparently out of money, and a GoFundMe [7] campaign was set up on his behalf in order to get him a new home. However, Dick instead became estranged from Jordana and went to Las Vegas at the end of March for a "drug-fueled bender." [5] According to doctorfeelgood33, Jordana had always been using Dick for social climbing. With how desperate Dick was in his life, he went along with it.[5]
In Vegas, he met up with Wappy Flanker, a friend of Jordana's who was in the same streamer circle as her. During the trip, he was assaulted somewhere on the Strip and abandoned by the people he drove to Vegas with.[5] Dick then appeared via livestream on "Kermit and Friends" on April 3rd, 2022, in which he appeared bloody and bashed after being attacked. Jordana titled the video, "Andy Dick beaten to a bloody pulp in Las Vegas! 😟" and received roughly 28,800 likes in four days (shown below).
Staying at Wappy Flanker's
According to Redditor doctorfeelgood33,[5] Wappy Flanker was a friend of Jordana's and another, "F-list YouTube/streamer." Starting on April 6th, Jordana started reposting clips to YouTube from Wappy Flanker's Twitch streams, wherein, Dick was sleeping on a cot in Wappy's living room while the whole setting was being livestreamed for, sometimes, up to 12 hours. One clip, posted on the 6th, by Jordana's YouTube Channel, Gaia Paia, was titled, "Wappy snaps while living with Andy Dick!" gaining roughly 1,300 views in nine days (shown below, left). A second video was posted the same day titled, "Andy Dick physically assaults his roommate Wappy!! 😲" gaining roughly 1,100 views in nine days (shown below, right).
People like Redditor[5] doctorfeelgood33 labeled the videos as clickbait aimed at exploiting Dick and his troubling situation.
Videos continued to be posted by Jordana's channel, Gaia Paia, going into April 2022, showing Dick in increasingly off-putting and weird scenarios with Wappy. People on other platforms started to worry for Andy. For instance, on April 16th, Twitter[8] user KaputBen posted a clip of Wappy Flanker pulling out a gun on stream to try and intimidate another man. The video earned roughly 1,200 views in two days (shown below).
Two guys fighting over Andy Dick, and I'm not sure what the fuck is going on 😧 pic.twitter.com/LYn5X2WkHi

— Ben Kaput (@KaputBen) April 16, 2022
Swatting and Andy Dick's Rescue
Videos continued to be posted by Jordana's channel, Gaia Paia, going into April 2022, showing Dick in increasingly off-putting and weird scenarios. On April 17th, the YouTube channel Nonstop IRL posted a clip to YouTube of Wappy Flanker's house getting swatted after streamer Captain Content called the cops on him. The video earned roughly 4,300 views in one day (shown below).
Search Interest
External References