Disney's Frozen Whitewashing Controversy
Overview
Frozen's Whitewashing Controversy is an ongoing online debate surrounding the lack of people of color in Disney's 2013 animated feature film Frozen. This debate has come to include accusations against Disney of "whitewashing" the Sámi, the indigenous people of Scandinavia. The controversy began on Tumblr, and is largely driven by social justice bloggers who accuse the movie of racism, and fans of the film who are outraged by these accusations. The debate has inspired a series of race-bent fan art re-imagining some of Disney's most well-known heroes and heroines as people of color.
Background
The earliest known accusation of whitewashing against Frozen came in December 2012 from Tumblr user Thiscouldhavebeenfrozen, who put out a call for artists to create racebending fan art images of Frozen characters.[1] The cause was picked up by other social justice bloggers, among them Tumblr blog Racebending. [13] The phenomenon has since sparked much discussion, particularly on Tumblr, Twitter and Reddit. Many of the critics also accuse Disney of whitewashing the movie since the indigenous people of Scandinavia (the Sámi) featured in the movie are not depicted as persons of color. Frozen's race bending artwork show the characters portrayed as belonging to various non-white Arctic and Asian peoples (e.g. Inuit. Mongol), of African origin, or as Native Americans.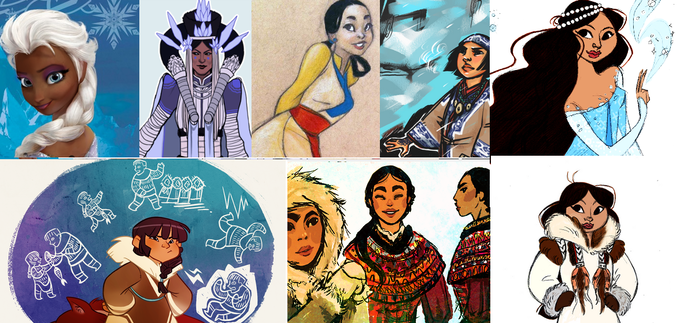 Notable Developments
People who defend the movie have argued that since the setting is inspired by Scandinavia of the 1800s, it would not be appropriate to include people of color. Anti-Frozen bloggers answer this by stating that the movie is set in a fantasy world and as such could choose to have people of any color as main characters, and that it would not be impossible to find people of color in Europe two hundred years ago.[3]
Whitewashing
The character Kristoff is confirmed by co-director Jennifer Lee [4] to be a member of the Scandinavian indigenous people Sámi.[5] Many anti-Frozenbloggers have argued that the portrayal of Kristoff as blonde constitutes "whitewashing", because they believe that the Sámi are a people of color. A proposed reimagining of Kristoff as "authentically Sámi" has spread on Tumblr.[6]

The Sámi, though a people who have experienced and continue to face ethnic discrimination, would in fact pass as "white" in the United States, the country where this debate originated. Hence, the "Whitewashed Sámi" campaign has met some backlash and ridicule[7], as seen in the photo below.

In response to this, some of the anti-Frozen bloggers have insisted that the Sámi would have appeared Asian at the time when the movie was set, and that they only appear white today due to genetic mixing that has taken place since the 1800s.[8] However, photographs of Sámi people from the 1800s tend to indicate that the Sámi of old had just as broad a variation in appearance as the Sámi of today.[9]
In Sámi public broadasting's reporting on Frozen, Kristoff has been presented as a "Sámi boy", and there has been registered no controversy among the Sámi over the character's physical appearance. [14]
Misrepresentation and Appropriation of Sámi Culture
Finally, the movie has been attacked for being disrespectful to the Sámi. This claim is supported by some Sámi bloggers [10] but is largely fronted by non-Sámi US-based bloggers.[11] The critics argue that Frozen misrepresents Sámi culture.[10] The musical score has also been attacked for "cultural appropriation" because it contains Sámi traditional yoik (chanting).
It should be noted here that the music containing yoik was written by a professional Sámi musician who was comissioned by Disney to write the opening score. [15] Also, while Disney's portrayal of Sámi culture is seen as disrespectful by some Sámi, many other Sámi are of a different opinion. Among the latter are the elected President of the Norwegian Sámi, Aili Keskitalo, who opened her New Year's speech of 2014 with the following words:
"In 2013 South Sámi Frode Fjellheim was invited to participate with music on Disney's new, major animated movie Frozen. The yoik "Eatnamen Vuelie" and Fjellheim's musical talent is now making a whole world listen to yoik. We are seeing the same in other cultural expressions: Sámi culture is expanding to ever new audiences."[12]
In 2014, Frozen will be featured at Skábmagovat, a Sámi movie festival in Finland.[16]
External References