Legalization of Marijuana in Canada
This submission is currently being researched & evaluated!
You can help confirm this entry by contributing facts, media, and other evidence of notability and mutation.
Overview
Legalization of Marijuana in Canada refers to the passing of Bill C-45, also known as the Cannabis Act. With the passing of the bill, recreational marijuana use would be considered legal in the country. Starting on October 17th, 2018, Canada became the second country in the world to legalize recreational marijuana and the first major world economy to do so.
Background
On October 17th, 2018, following 95 years of prohibition, the Canadian government, led by prime minister Justin Trudeau, legalized cannabis for recreation use.[1]
In addition, Prime Minister Trudeau announced that the government would be implementing a pardoning process for people who received sentences for "simple marijuana possession.", and other low level marijuana cases involving less than 30 grams of the drug.
Provisions
With the passing of the law, alongside allowing recreational marijuana and marijuana product use as of October 17th, this also included the following conditions:
• Individuals age 18 or 19, depending on the province or territory, and older will be allowed to use marijuana in places such as private homes.
• People will be allowed to carry up to 30 grams on their person.
• Up to four plants can be grown for personal use, except in Manitoba and Quebec. Edibles are allowed to be created and used for personal use, but not bought or sold until at least 2019.
• Provinces control how they can distribute the drug, enforce the law, and can enact further control and restriction on sale, use, and possession if needed. Drug distribution in the territories will be completely handled by the government.
• Legal sales will be provided through retail outlets or the postal service if bought online. Sales sent through mail will be handled by the federal government.
• International travelers will not be allowed to carry marijuana onto their flight. Domestic travelers inside the country will be allowed to carry up to 30 grams in their luggage.
• Despite legalization, marijuana possession remains a federal crime in the U.S. Thus, travelers heading to the U.S. who have had previous use of cannabis, or any substance prohibited by U.S. federal laws, could mean that entry could be denied. It remains to be seen as to whether or not this will result in a lifetime ban from the U.S.
• Driving while high will result in fines, or in the most serious cases jail time, as it falls under driving under the influence.
• Branding on marijuana products is allowed, alongside factual information, but must avoid anything that would appeal to youths, such as a celebrity endorsement. Promotion is only allowed in places where youths cannot see it.
Development
Reaction
By and large, Canadians support legalization. According to a poll by Dalhousie University in Halifax, 68% the population support legalization.[2]
British Columbia's Minister of Public Safety Mike Farnworth said, "Legalization of cannabis is the largest public policy shift this country has experienced in the past five decades. It's an octopus with many tentacles, and there are many unknowns. I don't think that when the federal government decided to legalize marijuana it thought through all of the implications."
Canadian Medical Association[3] called the legalization an "uncontrolled experiment in which the profits of cannabis producers and tax revenues are squarely pitched against the health of Canadians."
Online Reaction
That day, various Redditors posted memes about the legalization on Reddit. Redditor[4] xSilent_Echoesx posted a image that reads "Congratulations to drugs for winning the war on drugs" in the /r/funny subreddit. The post received more than 84,000 points (85% upvoted) and 1,600 comments (shown below, left).
Redditor[5] r3dfr3nzy posted an image of Snoop Dog with the caption "Twas the nizzle before Legalizashizzle" in the /r/fkaehistoryporn subreddit. The post received more than 10,000 points (92% upvoted) and 65 comments (shown below, center).
Additionally, Redditor[6] Esteedy posted an image of Terrance and Philip from the American animated television series South Park. The post received more than 33,000 points (87% upvoted) and 870 comments in 24 hours (shown below, right).



Canada-born actor Seth Rogen tweeted, [7] "Few moments in my life have brought me pride like I feel today. Canada, I love you. – one of your smiling citizens." The tweet received more than 3,100 retweets and 31,000 likes in 24 hours.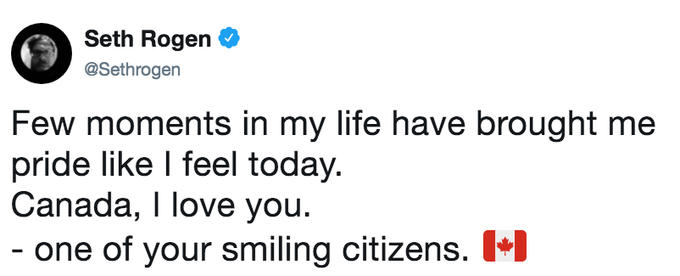 Media Coverage
Virtually all media outlets covered the legalization, including CNN,[8] The New York Times, USA Today,[9] The Washington Post,[10] Wall Street Journal[11] and more.
Search Interest
External References
Recent Videos
There are no videos currently available.