This submission is currently being researched & evaluated!
You can help confirm this entry by contributing facts, media, and other evidence of notability and mutation.
Overview
Parks Denton refers to a series of reports from within the gay community on Twitter that alledgedly a man name "Parks Denton" had been cat-fishing numerous people on Twitter.
Background
Throughout 2017, numerous Twitter users reported having been catfished by a user named @ParksDenton. On August 24th, 2017, Twitter[1] user @thedealwithalex tweeted about a recent failed meet-up attempt with Parks. He wrote, "I think I was 🐱🐠-ed tonight… Men are trash. I ate (literal) 🍌 pudding tho and now I feel better. Deciding if I should out his @ or not 🤔 " The post (shown below) received more than 20 retweets and 200 likes. Once he disclosed that it was @ParksDenton who stood them up, others began realizing that they had also been catfished by the same person.

Developments
On September 5th, several people reported that Parks Denton had been using false headshots for their profile picture. Twitter user @chillowsky reported @ParksDenton for using their friend's photograph for their profile picture. They tweeted, "@ParksDenton your profile pic is actually my friend. That's hella creepy, stop. @Twitter this is why I reported this account." The post (shown below) began a series of reports about Parks.

On September 5th, several people on Twitter realized that they had been talking about the same person. That night, Twitter[2] user @theadamgoldman posted "Guys guys I think I just got twinkfished (which is where a twink flirts with you but it turns out he might not exist at all)." He proceeded the tweet with a series of jokes about the situation. Another user, @e_alexjung,[3] responded, "wait is this the parks denton thing i'm so confused by this storyline." Others responded to the post that they two had been contacted by @ParksDenton.

Following a series of reports about ParksDenton, Twitter[4] user @thedealwithalex explained their entire correspondence with Parks in 11 tweets. He wrote: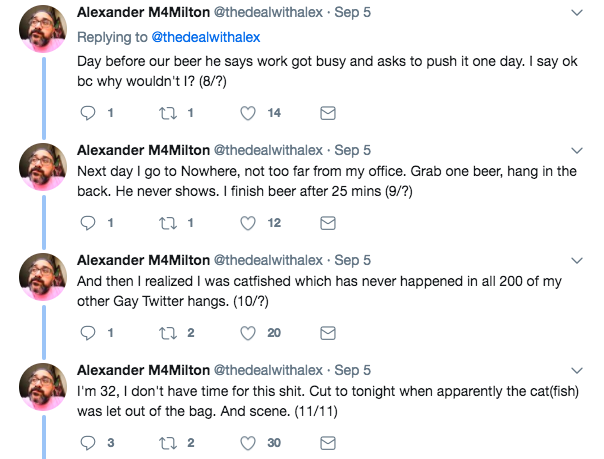 So here is my #parksdenton story… I like meeting Gay Twitter ppl IRL… have prob met 200 folks. Some I ❤, some are 🚮, but it's always fun to grab a beer. Abt a month ago I noticed this really cute guy followed me… half Asian, ottery, had two ear piercings like in the middle of his ear. It was #ParksDenton. So we chat on DM a little and he said he moved to NYC in January and freelances.. I think copywriting? So I suggest a beer at Nowhere Bar and he's down. 1st red flag, his name is weird so I Google it & find stuff abt a Dallas suburb, But whatever it's fine. 2ND RED FLAG tho he changes his pic and it looks wayyyyy different. The one he has now. Not rly my type at all. So I ask him and he said his friend took a rly good pic and he was very much not half Asian. Ok so weird but whatev. Still on for beer. Day before our beer he says work got busy and asks to push it one day. I say ok bc why wouldn't I? Next day I go to Nowhere, not too far from my office. Grab one beer, hang in the back. He never shows. I finish beer after 25 mins And then I realized I was catfished which has never happened in all 200 of my other Gay Twitter hangs. I'm 32, I don't have time for this shit. Cut to tonight when apparently the cat(fish) was let out of the bag. And scene.
Several media outlets covered the controversy about ParksDenton, including New York magazine,[5] PopSugar,[6] Gay Times[7] and more. On September 6th, Twitter[8] published a Moments page about the ParksDenton reports.
In the time since the story hit the public, numerous people on Twitter began making jokes, as well as confirming that they, too, had been contacted by Parks Denton (examples below)



Search Interest
External References
Recent Videos
There are no videos currently available.