This submission is currently being researched & evaluated!
You can help confirm this entry by contributing facts, media, and other evidence of notability and mutation.
Overview
UVB-76 Meme Hijacking refers to the January 2022 hijacking of the broadcast frequency of the mysterious UVB-76 shortwave radio station, speculated to be used for Russian military communications, for the purpose of broadcasting meme songs and meme images via spectrogram. The hijacking was perpetrated by Telegram user AlexBOY_05 and three other pirates and has become a subject of discussions on social media, with users posting screenshots and videos of memes broadcasted on the radio.
Background
The UVB-76 'Buzzer' (rus. УВБ-76 "Жужжалка") shortwave radio station is a mysterious radio station that has been broadcasting a short, monotonous buzz tone 24 hours a day, sometimes interrupted by voice transmissions in Russian.[1] The radio station has been speculated to be in use by the Russian military and has attracted attention from radio enthusiasts worldwide who closely follow the broadcast for any unusual activity.
Earlier instances of the UVB-76 frequency (4625 kHz shortwave) being hijacked to broadcast memes were recorded before. For example, on August 31st, 2021, a Rickroll was aired on the frequency.[2]
On January 7th, 2022, an unknown pirate hijacked the broadcast, with the beeping signal stopping and users on the UVB-76 fan Discord[3] reporting hearing someone blowing into their microphone. In the morning hours (EST) of January 8th, 2022, a rock song by Grazhdanskaya Oborona was broadcast on the frequency.[4] Later on that day, the pirate broadcast several spectrogram messages reading, "sub to SWL," referring to The SWL Channel[5] on YouTube that hosts a live broadcast of the UVB-76's spectrogram, as well as to several other short-wavelength radio channels on YouTube.
At 9:49 a.m. EST, a Discord[6] user reported hardbass being played on the frequency. At 11:08 a.m. EST, a spectrogram of Trollface was broadcast on the station (shown below).

Starting on January 8th, the pirate(s) broadcasted multiple memes over the frequency (examples shown below). For example, on that day, an image of the Guy Fawkes mask and the PornHub logo were broadcast[7][8] (shown below, left and center), as well as multiple messages written in Russian,[9] including swear words, anti-Russian and anti-Ukrainian messages (shown below, right).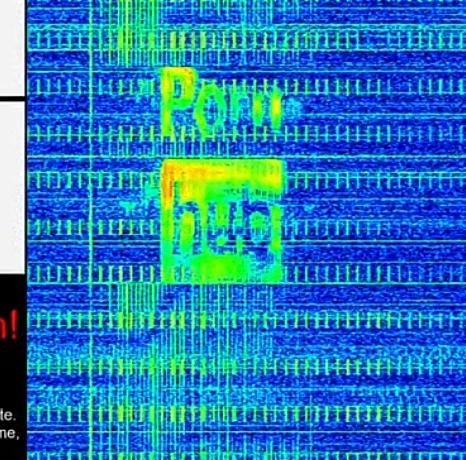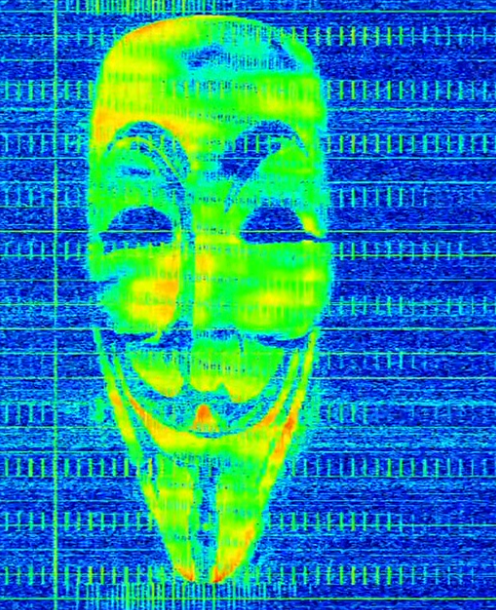 Later on that day, a user on the Discord[10] server claimed responsibility for the hijacking, writing that a team of four pirates was behind it.
In the following days, the pirate activity continued on the station. On January 13th, Twitter[11] user @fiftycalval tweeted an image of Amogus that appeared on the UVB-76's spectrogram. On January 15th, Twitter[12] user @mussyu226 tweeted a recording of "Gangnam Style" being broadcast on the frequency, with the video gaining over 104,000 views, 1,500 retweets and 2,800 likes in one week (shown below).
UVB-76でカンナムスタイル流れてて笑うwww pic.twitter.com/K4MUWdXgbX

— ムッシュ (@mussyu226) January 15, 2022
On January 19th, the pirate occupying the frequency broadcasted a message reading "Telegram @AlexBOY_05," identifying himself.[13] In the following days, @AlexBOY_05 (real name Aleksander Panfilov) accepted requests for broadcasts over Telegram.[14]
Developments
Starting in mid-January 2022, several posts about the hijacking went viral on social media. On January 18th, 2022, Twitter[15] user @Brophyst posted about the hijacking, with the tweet gaining over 1,100 retweets and 2,900 likes in three days (shown below, left). On January 19th, Twitter[16] user @BlastyVeteran posted a screenshot of an Engineer Gaming meme broadcast over the frequency, with the post gaining over 80 retweets and 550 likes in two days (shown below, right).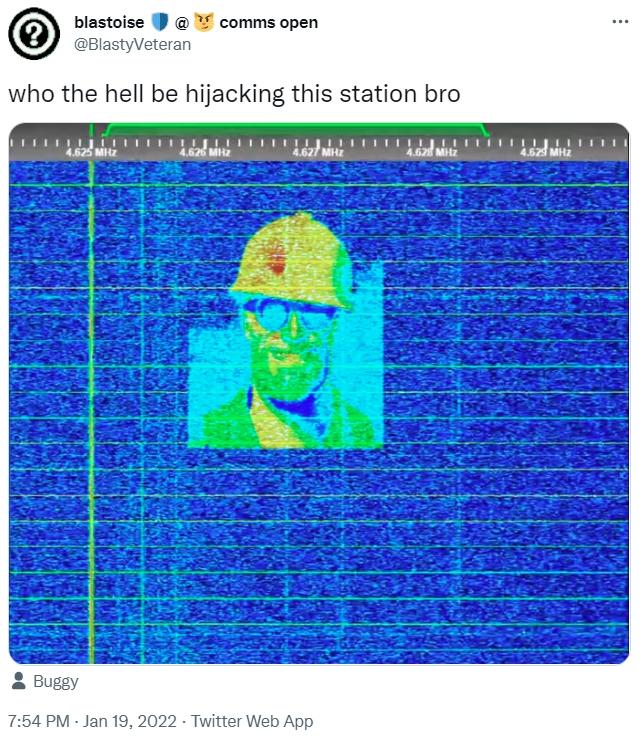 On January 20th, 2022, VICE[17] and TJ[18] reported the news.
Various Examples







Search Interest
External References