About
Gangnam Style (강남 스타일) is a 2012 dance pop single written and performed by Korean pop singer Park Jae Sung, better known by his stage name PSY. Since its release in mid-July 2012, the highly entertaining music video has spawned hundreds of parodies and copycat dance videos on YouTube and surpassed Justin Bieber's single "Baby" as the most watched video on YouTube with over one billion views as of December 21st, 2012.
Origin
The song "Gangnam Style" was written, produced, and recorded as the lead single of PSY 6 (Six Rules), Part 1 the sixth studio album of South Korean singer and rapper PSY, who is best known for his quick-witted sense of humor and comical dance moves. The song was released on July 15th, 2012 along with the music video via PSY's official YouTube channel.
Upon its release, the song took off on virtually all Korean billboard charts, portal search sites and online music stores, but it began garnering international attention after the music video went viral on YouTube during the third week of July 2012. The video continued gaining viral momentum at an average rate of more than nine million views per day in the span of two months, surpassing Carly Rae Jepsen's "Call Me Maybe" to reach the number one position on the YouTube Top 100 Music Videos chart during the last week of August. By mid-September, PSY's "Gangnam Style" overtook LMFAO's "Party Rock Anthem" as the most liked video on the site with more than 1.6 million likes.
The Horse Dance
The mass appeal of the music video has been attributed to its signature dance move known as "the horse-riding dance," which combines the stylistic elements of shuffle dancing and hand movements resembling the posture of a horseback rider.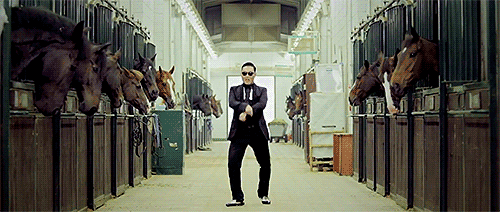 PSY Doing the "Horse Riding Dance" in "Gangnam Style" M/V
During its onset, speculations arose in Korean Internet communities that the dance may have been pioneered a year earlier by a Korean pop group Girls' Day in their 2011 debut single Tilting Head. However, PSY later revealed in interviews that he came up with the dance during a talent contest at a post-concert event in August 2011.
The Lyrics
The basic premise of the song is about a self-proclaimed hotshot looking for "the perfect girlfriend who knows when to be refined and when to get wild." The refrain of the song, "Oppan Gangnam Style," can be translated as "Your Boy's Gangnam Style" with PSY referring to himself as such. The song's unexpected popularity has also led to more in-depth readings of its lyrics in the news media, including the widespread assertion[14] that the song is a satire about South Koreans' materialist obsession with Seoul's Gangnam district, a symbol of opulence and socioeconomic status. PSY has expressed conflicting views regarding this interpretation in multiple interviews.
Romanized Korean:
Oppan gang-namseutayil
Kang-namseutayil

Naje-neun ttasaroun inkanjeo-gin yeoja
Keopi hanjanye yeoyureuraneun pumkyeok i-nneun
    yeoja
Bami omyeon shimjangi tteugeowojineun yeoja
Keureon banjeon i-nneun yeoja

Naneun sana-i
Naje-neun neomankeum ttasaroun geureon sana-i
Keopi shikgido jeone wonsyas ttaerineun sana-i
Bami omyeon shimjangi teojyeobeorineun sana-i
Keureon sana-i

Areumdawo sarangseureowo
Keurae neo hey keurae baro neo hey
Areumdawo sarangseureowo
Keurae neo hey keurae baro neo hey
Chigeumbu-teo kal dekkaji kabol-kka
English Translation:
Your boy's Gangnam style
Gangnam style

A girl who is warm and graceful during the day
A classy girl who knows how to enjoy a cup of coffee
A girl whose heart gets hotter when night comes
A girl with that kind of twist


I'm a guy
A guy who is as warm as you during the day
A guy who downs his coffee before it cools down
A guy whose heart bursts when night comes
That kind of guy

Beautiful, loveable
Yes you, hey, yes you, hey
Beautiful, loveable
Yes you, hey, yes you, hey
Now let's go until the end
Oppan gang-namseutayil
Kang-namseutayil
Oppan gang-namseutayil
Kang-namseutayil
Oppan gang-namseutayil

Eh- sexy lady, Oppan gang-namseutayil
Eh- sexy lady, O-oo-o

Jeongsu-khae boijiman nol ttaen noneun yeoja
Ittaeda shipeumyeon mukkeot-deon meori puneun
    yeoja
Karyeot-jiman wen-manhan nochulboda yahan yeoja
Keureon gamkakjeo-gin yeoja

Naneun sana-i
Jeomjanha boijiman nol ttaen noneun sana-i
Ttae-ga dwehmyeon wahnjeon michyeobeorineun
    sana-i
Keunyukboda sasangi ul-tungbul-tung-han sana-i
Keureon sana-i

Areumdawo sarangseureowo
Keurae neo hey keurae baro neo hey
Areumdawo sarangseureowo
Keurae neo hey keurae baro neo hey
Chigeumbu-teo kal dekkaji kabol-kka

Oppan gang-namseutayil
Kang-namseutayil
Oppan gang-namseutayil
Kang-namseutayil
Oppan gang-namseutayil

Eh- sexy lady Oppan gang-namseutayil
Eh- sexy lady O-oo-o

Ttwiineun nom keu wiie naneun nom
Baby baby
Naneun mwol jom aneun nom (x2)

You know what I'm saying
Oppan gang-namseutayil

Eh- sexy lady, Oppan gang-namseutayil
Eh- sexy lady, Oppan gang-namseutayil
Your boy's Gangnam style
Gangnam style
Your boy's Gangnam style
Gangnam style
Your boy's Gangnam style

Eh- Sexy Lady, Your boy's Gangnam style
Eh- Sexy Lady oh oh oh oh

A girl who looks quiet but plays when she plays
A girl who puts her hair down when the right time comes
A girl who covers herself but is more sexy than a girl
    who bares it all
A sensible girl like that

I'm a guy
A guy who seems calm but plays when he plays
A guy who goes completely crazy when the right time
    comes
A guy who has bulging ideas rather than muscles
That kind of guy

Beautiful, loveable
Yes you, hey, yes you, hey
Beautiful, loveable
Yes you, hey, yes you, hey
Now let's go until the end

Your boy's Gangnam style
Gangnam style
Your boy's Gangnam style
Gangnam style
Your boy's Gangnam style

Eh- Sexy Lady, Your boy's Gangnam style
Eh- Sexy Lady oh oh oh oh

On top of the running man is the flying man
Baby baby
I'm a man who knows a thing or two (x2)

You know what I'm saying
Your boy's Gangnam style

Eh- Sexy Lady, Your boy's Gangnam style
Eh- Sexy Lady, Your boy's Gangnam style
Terminology
"Gangnam Style" is a Korean neologism referring to the upscale fashion and lavish lifestyle associated with trendsetters in Seoul's Gangnam district (강남), which is considered the most affluent part of the metropolitan area. In colloquial usage, it is comparable to the English slang terms "swag" or "yolo".

Spread
The video earned the title of ''viral video'' within days after its release and received intensive coverage from various English-language music blogs and K-POP news sites like AllKPop[8], KPopStars[3] and KoreaBoo[16], as well as other regional Asian news sites including Yahoo! Philippines News[17] and New Zealand music sites Mai FM[9] and George FM.[10] In the following weeks, the music video picked up notable mentions from internet humor and pop music sites, from Gawker[18], BuzzFeed[11] and FunnyJunk[12] to Metafilter[13] and PopDust[14] among others.

By the first week of August, PSY's Gangnam Style had been praised as a viral YouTube sensation by major U.S. news outlets like CNN[19], ABC News[20] and The Wall Street Journal[21], further boosting the popularity of his music video. In addition, the song's chorus hook "Oppan Gangnam Style" quickly became an in-joke among the English-speaking audiences for its misheard lyrics erroneously referred to as "Open Condom Style" or "Open Gundam Style," which also went onto inspire several image macros and top-voted comments on the YouTube video page.
Between late July and early August, the song picked up numerous endorsements from high-profile celebrities and musicians on Twitter, including British pop singer Robbie Williams[15], American rapper T-Pain and American singer Josh Groban. Weeks later in mid-August, Korean and U.S. news outlets reported on a rumor that Justin Bieber has also shown interest in PSY's work and a potential collaboration between the two singers was in progress. On September 20th, 2012, "Gangnam Style" was officially recognized by the Guinness World Records as the most liked video in YouTube history with 2,141,758 likes at the time of announcement.
Reaction Videos
Meanwhile on YouTube[6], viewers began uploading their reaction videos to the bizarre music video, praising it as a prime example of "Asian WTF humor" that has proven to fare well in the Western blogosphere. The YouTube community's reaction to the music video in turn led to extensive coverage and analysis of its international popularity in the Korean news media, bringing hundreds of thousands of views to some of the most notable response videos. All three videos shown below received over 40,000 views within the first week of upload.
Spin-off Music Video
On August 14th, PSY released a spin-off version of the song and the music video starring Hyun-A, a member of the K-POP group 4Minute who appeared in the original music video as PSY's muse in the subway. Titled "Oppa Is Just My Style," the music video sets itself apart by putting the female pop singer on the center stage and removing the original chorus "Gangnam Style" altogether.
PSY Signs with Schoolboy Records
On September 3rd, PSY's Seoul-based record label YG Entertainment announced on its official blog[23] that the K-POP artist had signed a contract with Schoolboy Records after being approached by Scooter Braun, the manager of Justin Bieber. The press release was also confirmed by Braun in a video (shown below) uploaded to his YouTube channel. The announcement of PSY's expansion into the United States, along with his scheduled U.S. debut appearance at the 2012 MTV Video Music Awards, was widely reported in the Korean news media.
Doomsday Hoax
Shortly after Gangnam Style was officially declared YouTube's most watched video[27] on November 24th, 2012, news sites and blogs including Channel Meter[30], the Atlantic[28] and Forbes[29] began projecting that the video would break one billion views in mid-December. On November 28th, Redditor Bastou submitted a photo (shown below) to /r/Funny suggesting that Psy's video would fulfill the reputed 16th century French seer Nostradamus' doomsday prophecy. The image draws a parallel between an unverified excerpt from Nostradamus' writings and the Korean singer PSY's "Gangnam Style" video, suggesting that the end will come when the "dancing horse" video reaches one billion views. The post earned nearly 39,000 upvotes and 3584 points by December 5th.

The image was reposted to a wide range of websites and online communities, from conspiracy theory websites including Above Top Secret[31] and Godlike Productions[32] to K-pop sites like K Music[33], Nate[34] and All K-Pop[35], as well as the International Business Times.[37] Dozens of Facebook pages[38] have been created in attempt to get the video to one billion views, but none has gained more than 100 likes. On December 2nd, YouTuber UniformediaMusic uploaded an edited video clip of documentary footage featuring Nostradamus and Psy's "Gangnam Style" video, which gained nearly 80,000 views in the first 48 hours.
As was predicted, Gangnam Style passed one billion views on December 21st, 2012, making it by far the most viewed video on the site.[2] It has outstripped Justin Bieber's Baby by 200 million views. On May 31st, 2014, the video continued its success by becoming the first video to pass 2 billion views as well.[39]
View Counter Break
On December 1st, 2014, YouTube posted an announcement[40] that stated the Gangnam Style video had achieved such a large number of views that (for the first time) the original amount of memory allocated for storing the view counts of videos had been exceeded.
Along with the fix, YouTube included an easter egg odometer that appeared when hovering over the view count. The counter appeared to joke that negative views were being accounted for as well.

The Artist
PSY was born Park Jae-sang in the the Gangnam District of Seoul, South Korea on December 31st, 1977. Following the success of Gangnam Style, PSY became a figure of interest internationally.
PSY's AMA on Reddit
On October 25th, 2012 at 5 p.m. (EST), Reddit hosted an AskMeAnything event with PSY, which was met by more than 13,000 questions from the fans and reached the front page of the site.
join me for reddit q&a. starts in 5 minutes!! reddit.com/r/IAmA/comment… twitter.com/psy_oppa/statu…

— PSY (@psy_oppa) October 24, 2012
During the hour-long Q&A event[26], the Korean singer managed to answer 48 questions ranging from his personal habits and musical preferences to his thoughts on the immense popularity of "Gangnam Style." Some of the main highlights included:
Q: Why were you so mad at that girl's ass?
* A: Because her ass was so mad.

Q: Who is your inspiration?
* A: Freddie Mercury.

Q: Do you have a favorite Gangnam Style "spoof" video?
* A: Ohio University marching band.

Q: Who is one celebrity you want to meet that you haven't already?
* A: Tom Cruise.

Q: What's something that people don't know about you that you wish they did?
* A: I compose all my music myself.

Q: Is Gangnam style intended to be a social critique, or just supposed to be fun?
* A: GS is not a critique, just FUN!

Q: Can I come and hang out with you in Seoul?
* A: Call me maybe.

Q: If you could collaborate on a song with any one artist / band, who would that artist be?
* A: I love so many but if I had to choose one, Justin Bieber.

Q: How many times did it take to do the elevator portion of your video in Gangnam Style?
* A: That was ad libbed. Nong Chul is the name of the elevator guy and he is very famous comedian in Korea. That is a very popular dirty move he has been doing for six years and I asked him to do it in my video. if I am underneath, it would be dirtier! We only did 2-3 takes and everyone on the video set was crying from laughing. Definitely my favorite scene in the video.
Artificial Intelligence
On October 9th, 2018, Berkeley University[41] researchers Xue Bin (Jason) Peng and Angjoo Kanazawa publsihed an article on teacher acrobatics to robots through YouTube videos. They wrote, "These methods tend to be limited in the types of skills that can be learned, and the resulting motions can look fairly unnatural. More recently, deep learning techniques have demonstrated promising results for visual imitation on domains such as Atari and fairly simple robotics tasks."
In one example, the group attempted to teach the "Gangam Style" dance but were unsuccessful. They said, "We still have all of our work ahead of us, and we hope that this work will help inspire future techniques that will enable agents to take advantage of the massive volume of publicly available video data to acquire a truly staggering array of skills."

Various Examples
Parodies
Dozens of music video parodies have been created in tribute to PSY's "Gangnam Style," ranging from regional Korean parodies like "Daegu Style" and "Hongdae Style" to lip-synched tributes created by K-POP music fans in Singapore, the United States, and elsewhere overseas.
GIF Images
The video also caught on with Tumblr's K-pop fanbase, spawning numerous reaction GIFs and image macros depicting PSY's horse dance or other memorable scenes from the music video under the tag "Gangnam Style."[7]




Search Interest
External References