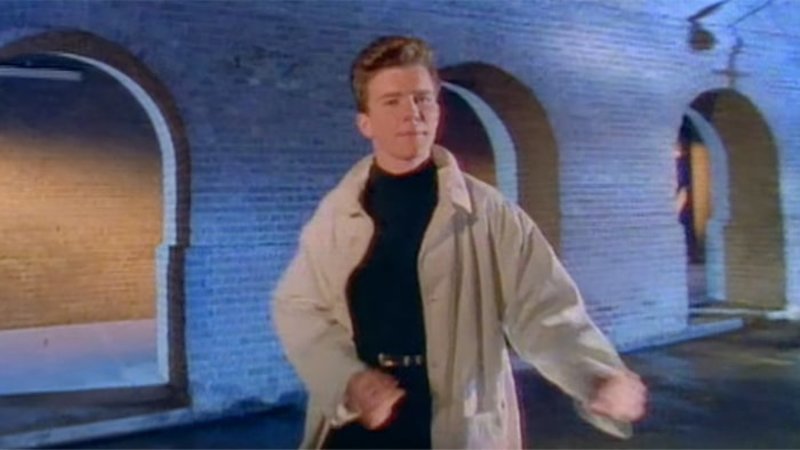 About
Rickrolling is a bait-and-switch prank that involves posting a hyperlink that is supposedly relevant to the topic at hand in an online discussion, but re-directs the viewer to the music video of "Never Gonna Give You Up," a 1987 dance pop single by English singer-songwriter Rick Astley. Since May 2007, numerous versions of the music video on YouTube have garnered hundreds of millions, largely driven by the widespread practice of "rickrolling" and subsequent resurgence in popularity of the song over the following decade.
Origin
Rick Astley's dance-pop single "Never Gonna Give You Up" was originally released as part of his 1987 solo debut album Whenever You Need Somebody. Upon its initial release, the single became a number one hit on several international charts, including the Billboard Hot 100 and UK Singles Chart[1]. YouTuber Erik Helwig claims to have prank called a Michigan radio station after a sports game and played "Never Gonna Give You Up" over the phone on August 31st, 2006. The story was explained in a YouTube video titled "I Did the First Rickroll (w/ Proof)" uploaded on August 7th, 2015 (shown below).
Usage on 4chan
The bait-and-switch phenomenon had its beginning on the imageboard community 4chan as a spin-off of an earlier practical joke known as duckrolling, in which an external link with a sensational title (i.e., a specific picture or news item) would be redirected to an edited image of a duck with wooden wheels.

"
According to 4chan founder m00t, the "rickroll" phenomenon began on /v/ (video games) circa May 2007[2], when someone posted a link to Rick Astley's music video disguised as a sneak preview for the then newly released video game Grand Theft Auto IV. Due to the high buildup of anticipation for the game at that time, many GTA fans on the /v/ board fell victim to the bait-and-switch prank and the joke became quite popular on 4chan. The timeline the account has been further corroborated by Wikipedia and Google Trends, which shows that search interest in "rickrolling" began to rise between April and May 2007.
Spread
On May 15th, 2007, one of the earliest known instances of the music video was uploaded under the title "Rickroll'D" by YouTuber Cotter548.
Many people have expressed the opinion that the most attention-getting aspect of the video is Rick Astley's unexpectedly deep voice in contrast to his youthful looks. According to VH1's PopUp Video, record executives who heard his recordings didn't believe it was his voice either at first[3].
In February 2008, during the Anonymous' Project Chanology protests against the Church of Scientology, "Never Gonna Give You Up" was played from boomboxes, performed, and shouted. The UK daily The Guardian[4] called it "a live rick-rolling of the Church of Scientology" (shown below, left).
On April 1st, 2008, every featured video on YouTube's front page redirected to the Rickroll music video [5] (shown below, right).
In April 2008, the New York Mets baseball team's site posted an online poll[6] to select the song for the 8th inning sing-along. On April 4th, 2008, FARK users bombarded the poll with upvotes for "Never Gonna Give You Up." On April 7th, the Mets announced that the song had won with over five million votes. Rather than using the song for the 8th inning, it was apparently used during the home opener, much to the displeasure of Mets fans (shown below, left).
In November 2008, the Rickroll meme came to a full circle when Rick Astley himself appeared on a float during the 2008 Macy's Thanksgiving Day Parade[7], lip synching to his classic hit from 24 years ago (shown below, right).
Rick Astley was nominated for the Best Act Ever award for the MTV Europe Music Awards in November 2008, when the voting forum was flooded by fans of the Rickrolling phenomenon[8]. Astley has voiced his approval of the off-beat joke, stating "MTV was thoroughly Rickrolled" (shown below, left).
On January 13, 2009, United States Speaker of the House, Nancy Pelosi published a video in honor of the launch of the HouseHub YouTube channel featuring the Rick Astley music video at the end (shown below, right).
In April 2009, co-writer of "Never Gonna Give You Up," Pete Waterman, denounced Google and YouTube at a press conference that announced the launch of a website campaigning for a fairer deal for songwriters whose work is featured on YouTube. He was quoted saying, "Panorama did a documentary on the exploitation of foreign workers in Dubai. I feel like one of those workers, because I earned less for a year's work off Google or YouTube than they did off the Bahrain government."[10]
In February 2010, a bipartisan group of Oregon Representatives planned to pull off the "Rickroll" during House sessions. Each of the participants was given a portion of the lyrics of "Never Gonna Give You Up" to subtly plug into their statements during legislative discussion. This scheme was finally revealed on April 1st, 2011, when Representative Jefferson Smith and his co-conspirators edited and uploaded a video of various representatives making their statements, put in proper lyrical order of the song (shown below).
Just as the world was fully grasping Wikileaks for the first time, amid dense publications of top secret cables, the arrest of Julian Assange in the UK, and Operation Payback which included serious attacks on Visa, MasterCard, Amazon and Paypal, one purported Wikileak document titled "England: Reliability and Longevity of UK-US Relationship Confirmed" was probably more read than any other:

Originally posted on the eve of December 9th, 2010, readers who clicked through the hidden link were led to a document[9] that includes the lyrics to the Rick Astley's song:
SUBJECT: ENGLAND: RELIABILITY AND LONGEVITY OF UK-US RELATIONSHIP CONFIRMED
REF: A. LONDON 365 B. LONDON 366
Classified By: Consul General Robbie Honerkamp for reasons 1.4 (B) and (D )

1. (S/NF) Summary: We're no strangers to love. You know the rules and so do I.
A full commitment's what I'm thinking of. You wouldn't get this from any other guy.
I just wanna tell you how I'm feeling. Gotta make you understand.

2. (C/NF) Chorus: Never gonna give you up, never gonna let you down, never gonna run around and desert you.r
Never gonna make you cry, never gonna say goodbye, never gonna tell a lie and hurt you.

3. (S/NF) We've known each other for so long Your heart's been aching but You're too shy to say it
Inside we both know what's been going on We know the game and we're gonna play it
And if you ask me how I'm feeling Don't tell me you're too blind to see

4. (C/NF) Chorus: Never gonna give you up, never gonna let you down, never gonna run around and desert you. Never gonna make you cry, never gonna say goodbye, never gonna tell a lie and hurt you.
On July 27th, 2011, Twitter user @wiggsd tweeted "This WH correspondence briefing isn't nearly as entertaining as yesterday's." The official White House Twitter account, @whitehouse, replied to the tweet with a link to the Rick Astley video on YouTube.
@wiggsd Sorry to hear that. Fiscal policy is important, but can be dry sometimes. Here's something more fun: http://t.co/ca31My7 #WHChat

— White House Archived (@ObamaWhiteHouse) July 27, 2011
On May 23rd, 2012, the original "Never Gonna Give You Up" YouTube video was taken down for 24-hrs following a copyright complaint[11].
On June 3rd, 2013, Will Smidlein managed to upload the full Rick Astley music video to Vine the same day Vine introduced the new app for Android. Smidlein took to Twitter to announce his accomplishment and later regret[12]. (shown below)

On July 17th, 2014, YouTube blocked the original video uploaded by YouTube user cotter548 in several countries including the United States[13].
In August 2015, Rock band, The Foo Fighters, rolled past Westboro Baptist protesters in the bed of a truck blasting Rick Astley's "Never Gonna Give You Up" in Kansas City, Missouri starting a dance party[14] (shown below).
In September 2015, Apple Rick Rolled customers accessing the Apple Watch Support Page[15]. The "Add a friend" tutorial section featured an image of the watches contact list with the initials spelling out, "NE VE RG ON NA GI VE YU UP" (shown below).

On November 18, 2015, hacker group, Anonymous, announced on Twitter that they would be "spamming verified ISIS hashtags with rickrolls" [16]. On November 24th, the group announced on Twitter that their "first yet simple hashtag to #RickrollDaesh is #SupportISIS."
In April 2016, pro-EU campaigner, Mario Van Poppel, claimed the Vote Leave domain name before Vote Leave Campaigners. He redirected users from the site to a YouTube video of "Never Gonna Give You Up" [17].
On July 18th, 2016, Melania Trump made a speech at the National Republican Convention in which she said that her husband Donald Trump "will never, ever, give up. And, most importantly, he will never, ever, let you down" [18]. Twitter users took notice and commented over whether it was intentional or not [19].
On October 7th, 2016, Astley participated in an "ask me anything" (AMA) thread on the /r/Music[20] subreddit, which gathered more than 63,900 points (90% upvoted) and 6,900 comments prior to being archived.
On August 20th, 2017, The Foo Fighters rickrolled their audience in Tokyo when they brought special guest, Rick Astley on stage to sing "Never Gonna Give You Up" (shown below, left).
On April 9th, 2018, The creators of the television show Westworld posted a video entitled Westworld Season 2 -- A Primer promising spoilers but all viewers got was a video of cast members singing "Never Gonna Give You Up" (shown below, right).
In February of 2020, YouTuber Revideo posted a "4K" edit of the original video using video manipulating software (shown below). This perturbed Twitter users when it was reposted there two weeks later, causing "Rick Astley" to trend on the site.
2022 Remake
On August 15th, 2022, CSAA Insurance Group (also known as AAA) posted a remake of the original Rickroll video starring an older Rick Astley re-enacting dance moves as well as specific shots from the 1987 original. Astley wore the same costumes as he had in 1987, and danced on a similar set with a similar background.
The video added a printer, a whiteboard spelling out some of the song's lyrics, and a humorous moment at the end where Astley watches himself on a smartphone and asks "is this still a thing?"[21]
The video was part of a larger ad campaign called "Rickroll America" which featured billboards around the nation that showed Astley's head with a QR code over his face (seen below). When scanned, the QR code would lead to the video.[22]

Various Examples






Search Interest
External References