About
Evil Toddler is an advice animal image macro series featuring a photograph of a laughing child with captions describing mischievous pranks and behaviors associated with young children.
Origin
On October 19th, 2012, Redditor altmedsol submitted a photo to the /r/pics[1] subreddit titled "Evil Plan," featuring a smiling toddler clasping his hands menacingly (shown below, left). In the comment section, Redditor Lochness Digital linked to a photoshopped version of the boy's image edited to look like a Snidley Whiplash[2] scene from the 1960s animated television series Dudley Do-Right (shown below, right). Within three months, the post received over 14,000 up votes and 200 comments.


Spread
The same day, Redditor tattedspyder submitted an image macro to the /r/AdviceAnimals[3] subreddit, featuring altmedsol's original photo with the caption "I will save all of my urine / for right in the middle of the changing!" (shown below). Over the span of three months, the post received more than 10,100 up votes and 100 comments.

On October 22nd, The Huffington Post[4] and the Internet humor blog Pleated Jeans[5] published compilations of notable examples from the series. In the coming weeks, additional examples of the meme were posted on the Internet humor sites BuzzFeed[6] and UpRoxx.[7] On December 2nd, 2012, a Facebook[9] page titled "Złowrogi Brzdąc" ("Sinister Toddler" in English) was created, which featured Polish-language variations of the image macro series. Within the next two months, the page accumulated more than 20,000 likes. On January 19th, 2013 Redditor AlphaPigs submitted an image macro describing the placement of stickers on car windows (shown below) to the /r/AdviceAnimals[8] subreddit. The post garnered over 7,200 up votes and 50 comments in the next three weeks.

Various Examples









In Polish Language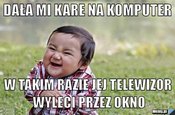 Search Interest
External References
Recent Videos
There are no videos currently available.