Fuck Me Yourself, You Coward
About
Fuck Me Yourself, You Coward is a phrase taken from a screenshot of a Facebook conversation between two anonymous users. One says "Go fuck yourself," and the other replies "Fuck me yourself, you coward." After being posted to Reddit, the dialogue was used in memes and imagined as dialogue between fictional characters.
Origin
On December 28th, 2018, Facebook user Kiel Fauxton used the phrase as a response to an insult on Facebook (screenshots below).


On January 4th, 2019, a Reddit user posted a screenshot of a conversation between two anonymous users to /r/suicidebywords,[1] gaining over 320 points (shown below).

Precursor
On April 3rd, 2016, Tumblr user socio--flower responded to an anonymous user telling them to kill yourself with "Kill me yourself you fucking pussy". The exchange gained over 315,000 notes and reblogs in three years.[6] On May 7th, 2018, Reddit user xlopfdkf posted a screenshot of the exchange to /r/meirl subreddit where it gained over 47,900 upvotes in six months.[7]

Spread
On January 6th, the screenshot was posted to Tumblr by user fuks,[2] gaining over 149,000 notes. On January 12th, user ohnoafterlaughs[3] posted fan art of Overwatch characters saying the dialogue, gaining over 20,000 notes (shown below, left). On February 13th, 2019, Redditor DoubleJMoney12[4] posted fan art of Girls Frontline characters saying the dialogue to /r/anime_irl, gaining over 18,000 points.


Other memes created from the phrase have used reaction image templates. These include a Skyrim Skill Tree parody posted by Redditor Literally_Him in /r/PewDiePieSubmissions[4] that gained over 2,400 points (shown below, left). An Outstanding Move parody appeared on dopl3r[5] (shown below, right).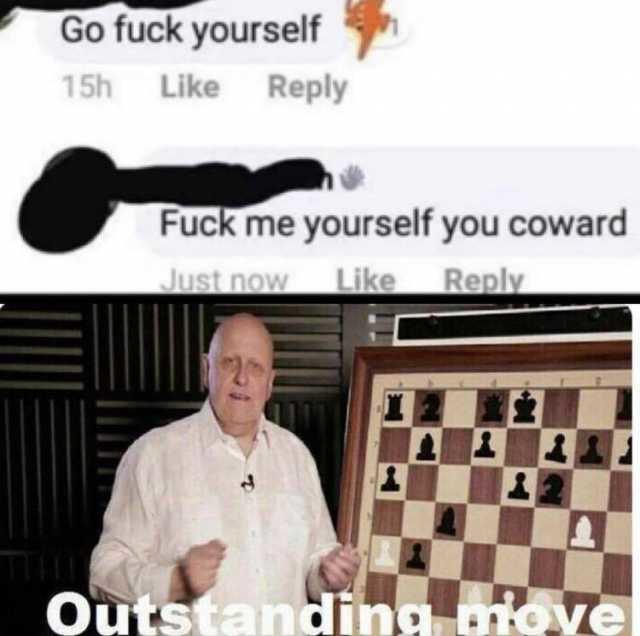 Various Examples






Search Interest
External References
Recent Videos
There are no videos currently available.