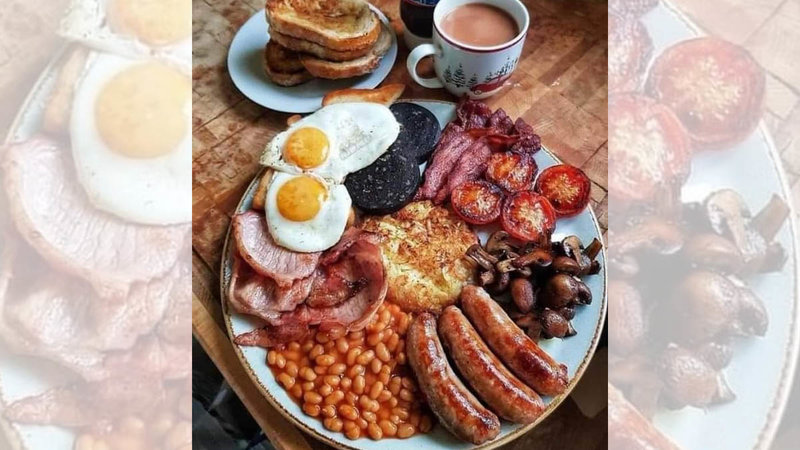 This submission is currently being researched & evaluated!
You can help confirm this entry by contributing facts, media, and other evidence of notability and mutation.
About
A Full English Breakfast, also referred to as a Full English or a Fry Up, is a typical breakfast served in England and the U.K. that consists of fried eggs, sausage links, ham, fried mushrooms, beans, toast, bacon, a fried tomato, black pudding and potatoes. The "full English" saw a spike as the subject in memes starting in February 2020 after a viral Reddit post, among other uses and references, including a frequently used image of the dish as an exploitable.
Origin
Memes about the full English breakfast appeared as early as the late 2000s, using older meme templates like Bear Grylls Better Drink My Own Piss and Bad Luck Brian, among others.[1][2] Most of these early memes about the full English revolved around its comparison to the typical American breakfast.[3] Memes about the full English also surfaced in 2016 centered around Brexit. [4] Additionally, the subreddit /r/fryup[12] was created in September 2015 and is a group designed for sharing images of U.K. breakfasts.
Full English Breakfast On The Tube
On February 13th, 2020, Redditor[5] VR3X made a post to the subreddit /r/CasualUK that showed a person on the London Tube eating a full English breakfast. The post (shown below) received roughly 21,500 upvotes over the course of two years.

Spread
Over the following years, the full English breakfast continued to be the subject of various memes and discussions online. One such example was posted on February 27th, 2020, by Twitter[6] user @TimBolton01, who tweeted a photo of a full English with the caption, "You have to get rid of ONE item." The tweet received roughly 4,900 likes and 4,400 quote tweets in roughly two years. On March 28th, 2021, Twitter[7] user @ContraPoints quote tweeted @TimBolton01 saying, "The English." The quote tweet (shown below) received roughly 49,200 likes over the course of seven months.

@ContraPoints's tweet gave increased attention to the full English as an exploitable in memes using this particular image of the dish. For instance, on March 1st, 2021, the Instagram [8] account @penls_buttler posted a meme exploiting the When You Get So High You Start Getting Scared meme that used Ellen Degeneres Crying. The meme (shown below) received roughly 14,100 likes over the course of seven months.

@penls_buttler's meme spread to iFunny [9] on the same day, March 1st, 2021. On March 4th, 2021, iFunny[10] user @iamthetrumemelordv2 posted a different version of @penls_buttler's meme using an image of Jesse from Breaking Bad.
On October 8th, 2021, Twitter[11] user @problemcl0wn posted a tweet with a picture of their brother holding up a plate with only bacon on it claiming that they ordered a full English breakfast and that is what they got. The tweet (shown below) received roughly 18,300 likes over the course of four days.

Various Examples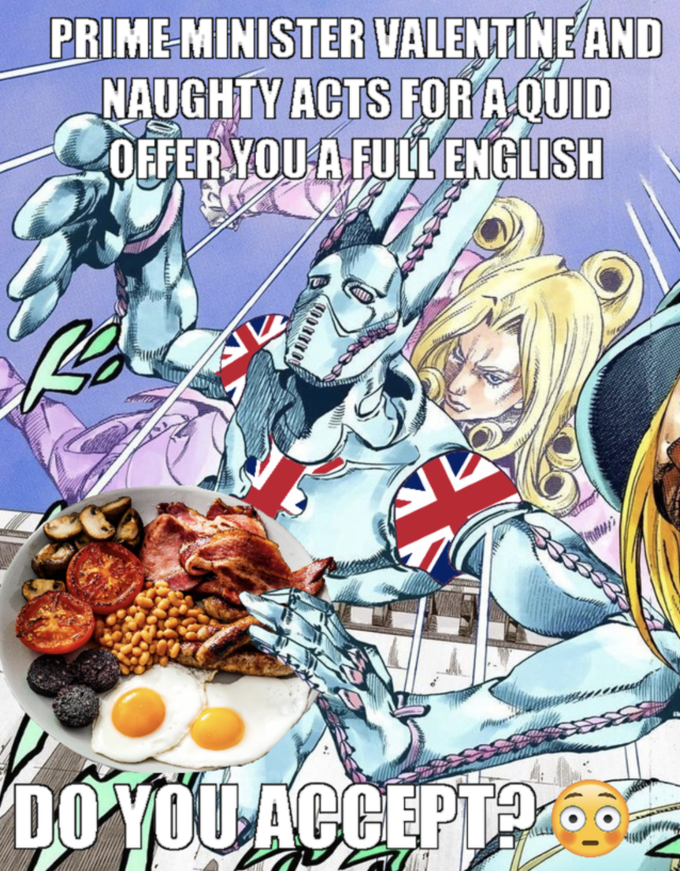 Search Interest
External References