This submission is currently being researched & evaluated!
You can help confirm this entry by contributing facts, media, and other evidence of notability and mutation.
About
Gravity Gun, also known as the Zero Point Energy Field Manipulator, is a fictional tractor beam-like weapon introduced in the 2004 first-person shooter Half-Life 2, which allows players to lift heavy objects and shoot projectiles at enemies. Replicas of the device have been created by fans of the series and the gun has been added to modded versions of various video games.
Origin
On November 16th, 2004, Valve released Half-Life 2, in which the player acquires a "zero-point energy field manipulator" device early in the game. Originally designed to transport hazardous material, the gravity gun is mainly use to remove heavy objects from obstructing your path. Additionally, objects like razor blades and exploding barrels can be shot back at enemies using the device
Spread
Since its appearance, the gravity gun has been widely discussed on various web forums, including the Steam Forums[1], ValveTime[2], IGN[3], GameBanana[4] and HardForum.[5] On September 13th, 2008, Urban Dictionary[6] user Nanxaimer submitted an entry for "gravity gun" (shown below).

On August 8th, 2013, the Machinima YouTube channel uploaded a fan movie, which pits the gravity gun against the portal gun from the Portal video game series (shown below, left). On the same day, the CorridorDigital YouTube channel released a short movie titled "The Gravity Gun," featuring a fan written origin story for the weapon (shown below, right). Within a year, the videos gained over 472,000 views and 3.8 million views respectively.
Various Examples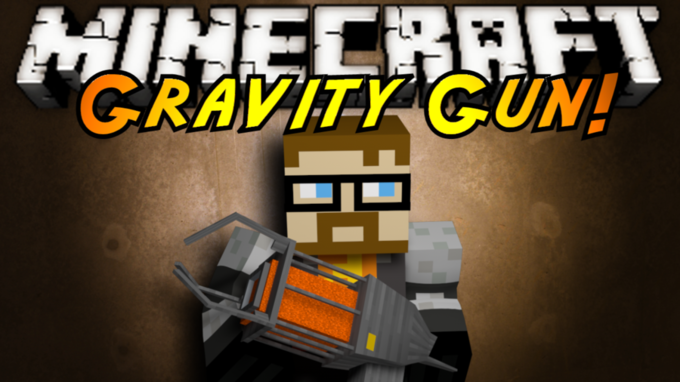 Video Game Mods
A number of mods allowing players to use the gravity gun have been made for the games Minecraft[12][13][16] and Grand Theft Auto.[14][15]
Fan Art and Replicas
As of June 2015 on DeviantArt,[7] the keyword "Gravity Gun" yields more than 3.400 search results, containing fan art and fan made replicas of the gun.




Additionally, various replicas have been showcased in videos on YouTube (shown below).
Search Interest
External References