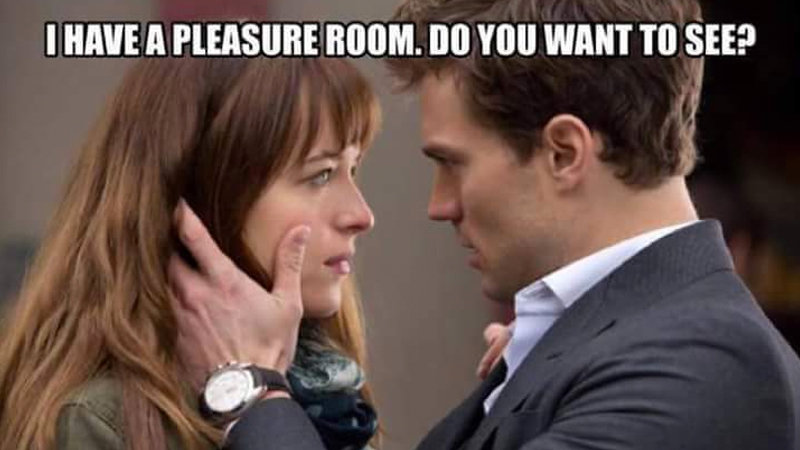 This submission is currently being researched & evaluated!
You can help confirm this entry by contributing facts, media, and other evidence of notability and mutation.
About
I Have a Pleasure Room is an exploitable meme featuring a screenshot from the 2015 film Fifty Shades of Grey and the text "I have a pleasure room. Do you want to see?" above a photograph of a location that the meme's author would enjoy.
Origin
On February 13th, 2015, the film Fifty Shades of Grey was released in the United States. In the film, Christian Grey introduces Anastasia Steele (portrayed by Jamie Dornan and Dakota Johnson, respectively) to his "pleasure room," a secret location where he keeps a variety of objects used for sexual gratification. He says, "That room is much more about pleasure. I promise you."
Later that year, on November 16th, 2015, an anonymous 9GAG [1] user posted a screenshot from the film with the caption "I have a pleasure room. Do you want to see?" Below the picture, they posted a photograph of an Assassin's Creed-themed bedroom (shown below).

Spread
On October 22nd, 2016, Facebook [2] user thedailykitties posted a variation of the meme, in which the room is a photograph of multiple kittens crawling on a couch. The post received more than 5,500 reactions, 995 comments and 2,800 shares in two years (shown below, left).
Two years later, on May 8th, Facebook[3] user menshumor posted a similar version in which the bottom image is that of a number of dogs. The post received more than 16,000 reactions, 5,600 comments and 9,000 shares in less than one year.
On November 13th, Redditor":/memes/sites/reddit/ [4] Sara1125 posted a version featuring YouTuber PewDiePie in the /r/pewdiepiesubmissions. The post received more than 4,300 points (98% upvoted) and 25 comments in less than 24 hours (shown below, right).



Various Examples






Search Interest
External References
Recent Videos
There are no videos currently available.