I Wish You Well / Gwyneth Paltrow Whisper
This submission is currently being researched & evaluated!
You can help confirm this entry by contributing facts, media, and other evidence of notability and mutation.
About
I Wish You Well or Gwyneth Paltrow Whisper refers to a quote said by American actress Gwyneth Paltrow during her ski collision trial":https://knowyourmeme.com/memes/events/gwyneth-paltrow-ski-collision-trial in March 2023. At the end of the trial, Gwyneth Paltrow whispered the phrase to Terry Sanderson, who alleged that she broke his ribs in a skiing accident in 2016. The quote became a viral meme on social media, inspiring reaction images and other meme formats.
Origin
On March 30th, 2023, the Gwyneth Paltrow vs. Terry Sanderson trial was concluded with the jury finding that Gwyneth was not at fault[1] over the ski collision with Sanderson. The full trial was broadcasted on YouTube[2] by Law&Crime Network, garnering 734,000 views and 4,300 likes in a day (seen below).
As Gwyneth left the courtroom, she whispered in Sanderson's ears "I wish you well." Twitter[3] page @therecount shared the moment, garnering 440,900 views and 1,6200 likes in three hours (seen below).
After a jury finds her not at fault, Gwyneth Paltrow appears to whisper "I wish you well" to Terry Sanderson, the man who sued her over a 2016 ski collision in Utah. pic.twitter.com/8veYt0gQIk

— The Recount (@therecount) March 30, 2023
Spread
The quote instantly became a viral topic on Twitter, as users commented on the actress's attitude throughout the trial. For instance, Twitter[3] user @TomZohar posted the Chef Slowik whispering to Tyler meme to represent what Gwyneth's last words to Sanderson felt like to him. The post (seen below) received 8,900 likes and 550 retweets in three hours.

TikTokers also posted videos discussing the actress's quote on the trial. For example, on March 30th, 2023, TikTok[4] user @yourbestfriendjoshua posted a quick recap of the trial for his audience, garnering 439,000 plays and 25,500 likes in a day (seen below, left). TikTok[5] user @chantal_makes_stuff decided to create personalized clothes with Gwyneth Paltrow's quotes "I wish you well" and "Well, I lost half a day of skiing." The post, uploaded on March 31st, received 365 views and 18 likes in a day (seen below, right).
Various Examples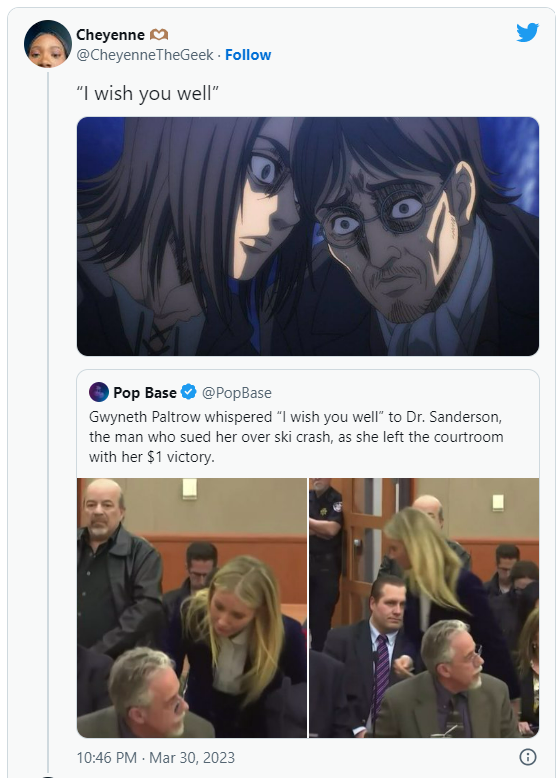 Search Interest
External References
Recent Videos
There are no videos currently available.