Jojo Whispering To Surprised Emma Roberts
About
Jojo Whispering To Surprised Emma Roberts, sometimes refrerred to as Girls Gossiping, is an reaction image macro series based on a screenshot from the 2006 teen fantasy film Aquamarine. In the image, the singer Jojo whispers in the ear of actress Emma Roberts, who is looking off to the side with her mouth agape with delight.
Origin
On March 3rd, 2006, the film Aquamarine was released in theaters in the United States.[1] In the film, characters Claire and Hailey (portrayed by Emma Roberts and Jojo, respectively) befriend a mermaid while on vacation (trailer below).
On June 11th, 2011, Blogspot[2] user cleveland854321 shared the image with the caption, "THIS HAS BEEN THE FOURTH PERSON WHO WALKED DOWN THIRD AVENUE FOR THE SECOND TIME WHILE SPEAKING IN THE FIRST PERSON" (shown below).

Spread
Over the next decade, people used the image to mimic the feeling of being gossiped about. Roberts and Jojo, in the picture, were captioned with various subjects, usually with a variation on the phrase "I heard that…" For example, on February 9th, 2014, Instagram [3] user @itsjeepmeme posted a version that reads, "I heard that he drives a Jeep." The post received more than 2,600 likes in less than seven years (shown below, left).
In 2020, the image spread on Reddit. On October 19th, 2020, Redditor SnooBeans1004 shared the image with the subject title "I've heard he can work on Excel without using the mouse at all" in the /r/account[4] subreddit. The post received more than 4,600 points (98% upvoted) and 170 comments in less than four months (shown below, center).
Months later, Redditor Shower_Minimum shared a variation on the /r/ProgrammerHumor[5] subreddit with the caption "I heard he can code without stack overflow." The post received more than 12,000 points (94% upvoted) and 435 comments in less than three days (shown below, right).
On December 28th, 2020, the website StayHipp[6] published an article about the meme.



Various Examples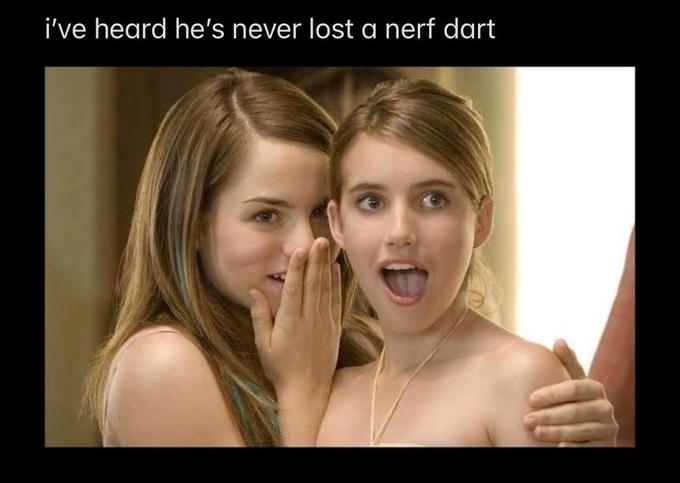 Template

Search Interest
Not available.
External References