This submission is currently being researched & evaluated!
You can help confirm this entry by contributing facts, media, and other evidence of notability and mutation.
About
Joker's Stand-Up is a reaction image depicting the 2019 film Joker character Arthur Fleck reading a joke during his stand-up routine. Online, the image has been used to convey that someone's attempt at humor failed.
Origin
On September 15th, 2019, Warner Bros. released[1] a series of promotional images for then-upcoming psychological action film Joker. The collection included an image of the titular character Arthur Fleck / Joker, portrayed by Joaquin Phoenix, standing near a microphone and holding a book in his hands (shown below, left). In the film, the image corresponds to a scene in which Joker does a stand-up routine at a comedy club (scene shown below, right).

While some memes based on the image were posted in 2019 and 2020, the image didn't gain its modern-day meaning until late October 2020. For example, on October 8th, 2019, VK[2] meme page 'your kafeshka has been stolen' posted one of the earliest memes based on the image (shown below, left), combining it with a screenshot of a text message reading, "I just thought of an idea for a meme, began to laugh like a retard and forgot the idea I had." The post gained over 130 likes in one year, while an October 9th, 2019, repost by Twitter[3] user @think_not_think gained over 170 retweets and 1,200 likes in the same period.
On October 31st, 2020, Twitter[4] user @TheMSeries1 used the image to react to a joke posted by Twitter account @BuddenPodMemes, implying that the joke was not funny. The post (shown below, right) received over 7,200 retweets and 27,800 likes.


Spread
On November 7th, 2020, @TheMSeries1[5][6] used the image two more times to react to other people's jokes. The posts received 290 retweets and 630 likes and 1,000 retweets and 5,100 likes in one month, respectively.
Following the spread of @TheMSeries1's posts, the image started gaining popularity on Twitter as a way to convey that someone's attempt at humor has failed. The image has also been used to accompany one's own joke as a way to indicate that the author understands it's subpar quality. For example, on November 20th, 2020, Twitter[7] user @FaranciscoGaius made a post that received over 140 retweets and 500 likes (shown below, top left).
Various Examples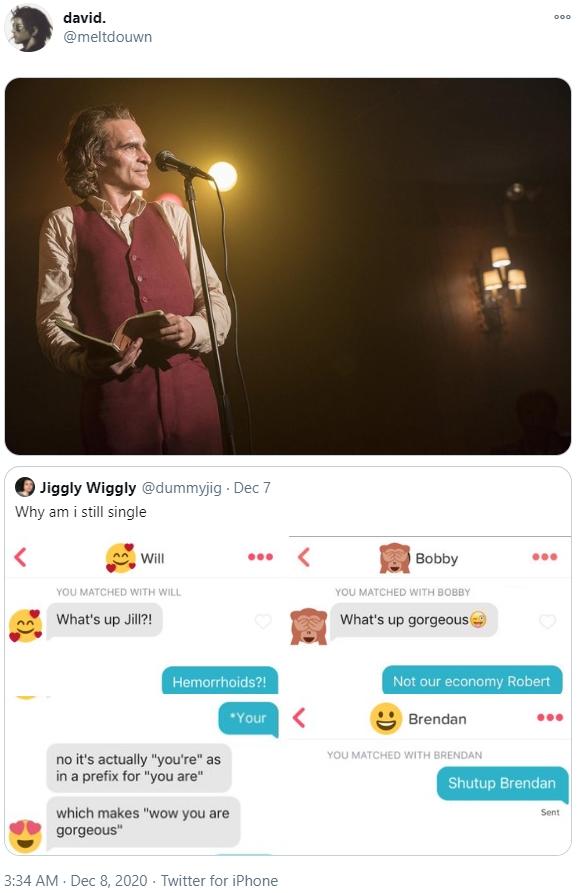 Search Interest
External References
Recent Videos
There are no videos currently available.