This submission is currently being researched & evaluated!
You can help confirm this entry by contributing facts, media, and other evidence of notability and mutation.
About
Joker Gets Hit By a Car refers to a series of object-labeling memes based on a two-panel image from the April 2019 Joker trailer. The top panel features Joker standing walking into the frame, with the bottom panel showing Joker getting hit by a yellow taxi cab. The format began circulating Reddit in early April 2019 and illustrated positive situations taking a turn for the worse.
Origin
On April 2nd, 2019, DC premiered the trailer for then-upcoming film Joker at CinemaCon.[1] On the following day, Warner Bros premiered the trailer on YouTube, where it received more than 2.1 million views in less than 12 hours (shown below).
On April 8th, 2019, Redditor MarcusMolestus posted the earliest known two-panel meme based on the trailer to /r/Animemes subreddit, where it gained over 2,800 upvotes in six months (shown below).[2]

Spread
On April 9th, 2019, Redditor laserfan26 posted another object labeling meme based on the format, claiming that the meme was taken from elsewhere (shown below).[3] The image received over 3,300 upvotes in the same period. On the same day, MarcusMolestus posted a template for the meme to /r/MemeTemplatesOfficial subreddit.[4]

In the following weels, the format received notable spread in various subreddits on the platform, seeing a surge in popularity following the release of Joker in early October 2019 (examples shown below).[5][6][7]



"You Dumb Bitch" Crossover
On October 8th, 2019, Redditor rc52504 posted a crossover meme, including an additional You Dumb Bitch panel featuring Dennis from It's Always Sunny In Philadelphia (shown below).[8] The post received over 14,300 upvotes in one day.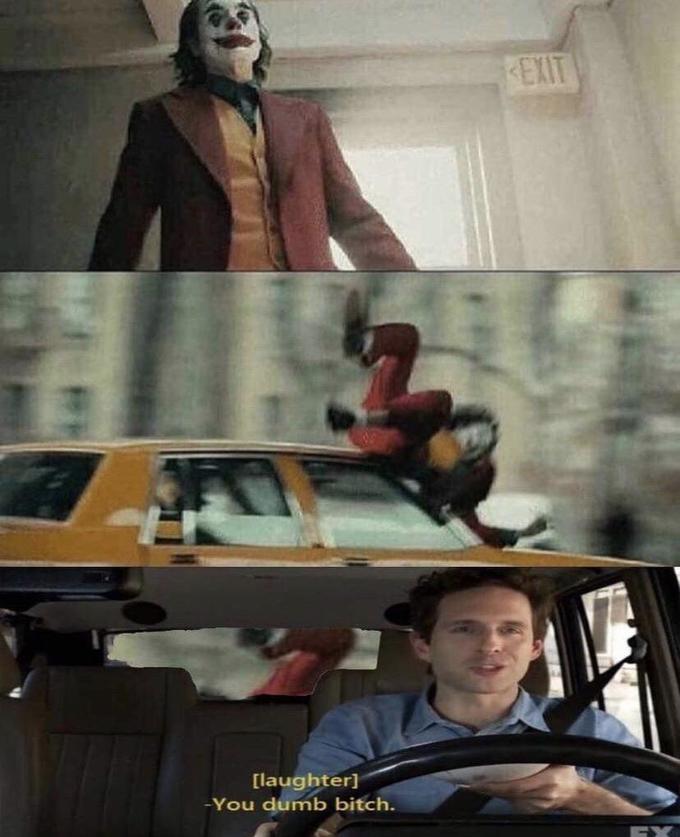 In the following day, the crossover format received significant spread on Reddit, with multiple notable examples posted by users. For example, an October 8th post by Redditor FrogTrutle received over 74,200 upvotes in one day (shown below, left).[9] On October 9th, 2019, Redditor Josh_Finneyy posted a high-quality template for the crossover format.[10]



Various Examples






Templates


Search Interest
External References
Recent Videos
There are no videos currently available.