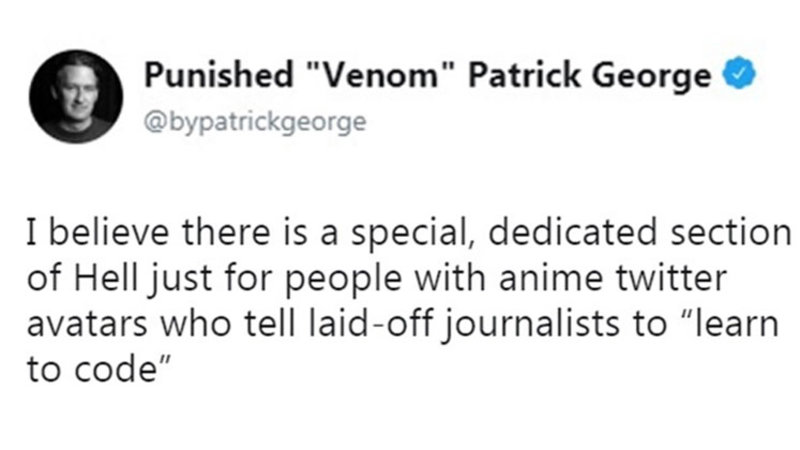 About
"Learn to Code" is an expression used to mock journalists who were laid off from their jobs, encouraging them to learn software development as an alternate career path. The phrase was widely posted on Twitter following the announcement of layoffs at BuzzFeed and The Huffington Post in late January 2019.
Origin
On February 10th, 2014, BuzzFeed News[8] published a quiz titled "Should You Learn to Code?," which provided links to articles recommending coding for people with various interests or professions.
Several months later, in April 2014, in response to a comment by Mark Zuckerberg about shifts in energy use that has led to many coal mines being closed and coal miners behind laid off, former New York City Mayor Michael Bloomberg at the Future of Energy Summit said, "You're not going to teach a coal miner to code. Mark Zuckerberg says you teach them [people] to code and everything will be great."[9]
Over the next year, other media outlets published pieces on coal miners learning to code. On November 18th, 2015, Wired published, "Can You Teach a Coal Miner to Code?" The article, which took issue with Bloomberg's assertion, focused on several coal miners who were, in fact, learning to code.[10]
On January 24th, 2019, Jalopnik editor-in-chief Patrick George tweeted[1] he believed in a "special, dedicated section of Hell" for people with anime profile pictures who tweet "learn to code" to journalists who had been laid off (shown below). Within 24 hours, the tweet gained over 1,300 likes and 260 retweets. The tweet was posted shortly after the announcements that BuzzFeed laid of 15% of its staff and The Huffington Post had eliminated its Opinion and Healthcare editorial sections.

Some have argued that the phrase "learn to code" was adopted as a response to articles[3] written about coal miners learning software development as an alternative career (shown below).
Hey laid off journalists who are upset that people are telling you to "learn how to code":

Go mine some coal and then go fuck yourselves. pic.twitter.com/lYWDIIcCKm

— Alex VanNess (@thealexvanness) January 27, 2019
Spread
That day, Redditor TheyreGoodDogsBrent submitted a post asking "What's the deal with Twitter users responding to layoffs of journalists with 'Learn to Code'?" to /r/OutOfTheLoop,[2] to which Redditor downvotethrowaway responded with a link to the @bypatrickgeorge tweet, along with a message that the people posting the phrase "believe those news organizations have been shitting on blue-collar workers for years." Also on January 24th, a post titled "President Trump General – Learn to Code Edition" was submitted to 4chan's /pol/ board,[5] where commenters used the phrase "learn to code" to mock the laid-off journalists.[7]

That evening, freelance writer Talia Lavin tweeted screenshots of various 4chan posts celebrating the journalist layoffs, along with messages saying "learn to code" (shown below). Within 24 hours, the tweet received more than 2,100 likes and 850 retweets.
btw, if any other journos targeted by layoffs are getting masses of "learn to code" harassment, it was coordinated on 4chan (of course) pic.twitter.com/DtpinjWhID

— Talia Lavin (@chick_in_kiev) January 25, 2019
The following day, another thread about the "learn to code" comments was submitted to /pol/,[6] which included a screenshot of @bypatrickgeorge's tweet. Meanwhile, YouTuber Styxhexenhammer666 uploaded a video about the layoffs titled "Learn to Code! Kirsten Powers Ragequits Twitter, Buzzfeed Downsizes, Huffpost Opinion Closes" (shown below).
Twitter Suspensions
On January 28th, 2019, The Wrap editor John Levine tweeted that "a person in the know" told him that directing tweets with "learn to code" to "any recently laid off journalist" would be considered a violation of the site's Terms of Service (shown below).

In a follow-up tweet, Levine quoted a Twitter spokesperson who clarified what would constitute the Terms of Service violation:
"It's more nuanced than what you reported. Twitter is responding to a targeted harassment campaign against specific individuals -- a policy that's long been against the Twitter Rules"
That day, Twitter user Tim Pool tweeted a screenshot of a suspension alert sent to Twitter user @Paul94Mck for "abusive behavior," citing a tweet with the hashtag "#LearnToCode" (shown below).
Twitter user Paul Mackenzie, paul94mck</a>, appears to have tweeted <a href="https://twitter.com/hashtag/Learntocode?src=hash&amp;ref_src=twsrc%5Etfw">#Learntocode</a> 3 times and &quot;learn to code&quot; once.<br><br>One tweet was criticism of a journalist where he added the hashtag<br><br>The tweet was removed and he said he received a 12 hour suspension for it. <a href="https://t.co/AXAPE3hyPv">pic.twitter.com/AXAPE3hyPv</a></p>&mdash; Tim Pool (Timcast) January 28, 2019
Joe Biden Speech
On December 30th, 2019, while campaigning in New Hampshire, Joe Biden told attendees at a rally that "anybody who can go down 3,000 feet in a mine can learn to program" (shown below).
The moment was recorded on Twitter by @DaveWeigel[11] (shown below, left). In response, Twitter users remarked upon the moment as though it were a gaffe from Biden. User @HeerJeet[12] tweeted, "A few corrections: coal miners don't in fact throw coal into furnaces, not everybody who can throw coal into a furnace can learn to program, and Joe Biden isn't (as a plurality of Democrats believe) the most electable candidate they have," gaining over 110 retweets and 690 likes (shown below, right).


The statement was criticized by both Democrats and Republicans. Twitter user and former Gawker editor Alex Pareene[13] joked, "My kid (not quite three) conflates "pretending" with "learning." He stands with his arm up in the air and says 'I'm learning to be the Statue of Liberty.' This is what I think of when Joe Biden says people who toss coal in a furnace (??) will learn to code" (shown below, left). Republican author Nick Adams wrote, ""Anyone who can throw coal into a furnace can write code" -Joe Biden How condescending. The Democrats have abandoned the working class of America!" (shown below, right).


Search Interest
External References