Warning: This page contains material that may be considered not safe for work.
About
Lemon Stealing Whores refers to an introduction to a pornographic film in which a couple discuss their prized lemon tree while a scantily-clad woman steals lemons from them. Due to the ridiculous nature of the set up, the intro went viral. It has inspired parodies and is frequently referenced in threads online.
Origin
The pornographic scene comes from the adult film DVD Virgin Territory,[1] which was released in 2006, though the exact date of its release is unknown. The entire scene was uploaded to Porn.com[2] on January 7th, 2007. It stars James Deen and Hailey Page as the couple and Joanna Angel as the "lemon stealing whore." The introduction to the scene was uploaded to YouTube on March 29th, 2012 by Maximum Collins, where it gained over 3.9 million views.
Spread
Prior to the video going viral on YouTube, the scene had some notoriety in the industry. A remix of the scene's introduction was posted by YouTuber bizarreon on March 10th, 2010, gaining over 44,000 views (shown below). It had also been reviewed online, and was evidently posted to YouTube prior to the Maximum Collins upload, according to a post on rebrn[3] which is dated April 12th, 2011 that links to a since-deleted copy of the scene.
After the Maximum Collins upload was posted to YouTube, it began being referenced in jokes, leading to two posts to /r/OutOfTheLoop[4][5] about the phrase posted in the fall of 2013. On April 10th, 2014, a joke definition for the phrase "Lemon Stealing Whores" was posted to Urban Dictionary. [6]

Parodies of the video were also made. On July 8th, 2013, YouTube account Lemon Stealing uploaded a parodic "case study" of the phenomenon of "Lemon Stealing Whores," gaining over 73,000 views (shown below).
Various Examples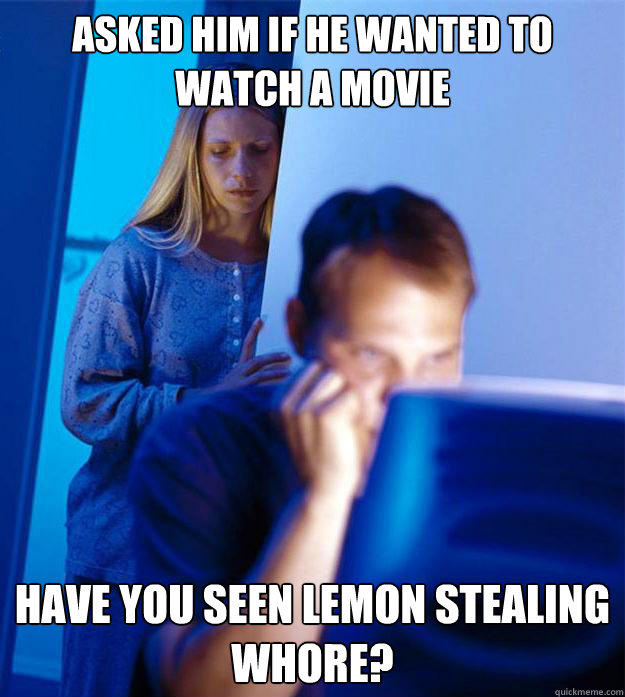 Search Interest
External References
All Videos 6 total
This gallery contains videos that may not be suitable for public viewing.
All Images 4 total
This gallery contains images that may not be suitable for public viewing.