Nicki Minaj's Madame Tussauds Wax Figure
This submission is currently being researched & evaluated!
You can help confirm this entry by contributing facts, media, and other evidence of notability and mutation.
About
Nicki Minaj's Madame Tussaud Wax Figure refers to a statue in the likeness of rapper Nicki Minaj housed in Madame Tussauds museums of wax celebrity likenesses. The statue, meant to depict the rapper in her video for the song "Anaconda," was widely mocked upon its reveal in 2015 and again in 2020 when the statue was moved from Madame Tussaud's Las Vegas location to its Berlin location, as people felt the statue did not resemble the rapper.
Origin
On August 4th, 2015, Madame Tussauds unveiled a wax statue of rapper Nicki Minaj in the video for her song "Anaconda" at its Las Vegas location.[1]

At the time of the reveal, Minaj made a grateful Instagram post about the figure, writing, "YOOOOOOOOOOOOOOOOOO WTF?!?!?!?!! Had no idea they were really doing this. 😍😍😍😍😍😍😍😍😍😍😍😍😍😍😍😍😍😍😍😍😍😍 I would've went to Vegas for this. #HappyBirthdayAnaconda Madam Tussauds Wax Figure- whoever did this ❤️😍😘😘😍😘❤️❤️🙌🙌🙌🙌🙌🙌🙌🙌🙌".
Spread
At the time of the reveal, people joked about the statue by touching it inappropriately. For example, Twitter user @RossTMUK posted a picture of a person nearly licking the statue's butt the day of the reveal, gaining over 300 retweets and 620 likes (shown below, left). Minaj herself posted a picture of a man hugging the statue to her Instagram (shown below, right).


The figure made headlines again at the beginning of 2020 when the statue was moved to Madame Tussauds' Berlin location. On January 7th, Twitter user @KarenCivil[2] reported on the move with images of the statue, gaining over 1,000 retweets and 4,000 likes (shown below, top). The news brought the statue to many people's attention for the first time, and Twitter users joked about it remarking it looked little like the star. Twitter user @PLUGMEINSAC posted a video of a child writing "Miki Minach" in the replies to KarenCivil's tweet, gaining over 750 retweets and 7,700 likes (shown below, bottom). Reactions to the rediscovery of the statue were covered by Junkee,[3] USA Today,[4] Complex[5] and others.

That ain't Nicki Minaj that's pic.twitter.com/JSBFyOVDfK

— plugmeinsac (@PLUGMEINSAC) January 7, 2020
Various Examples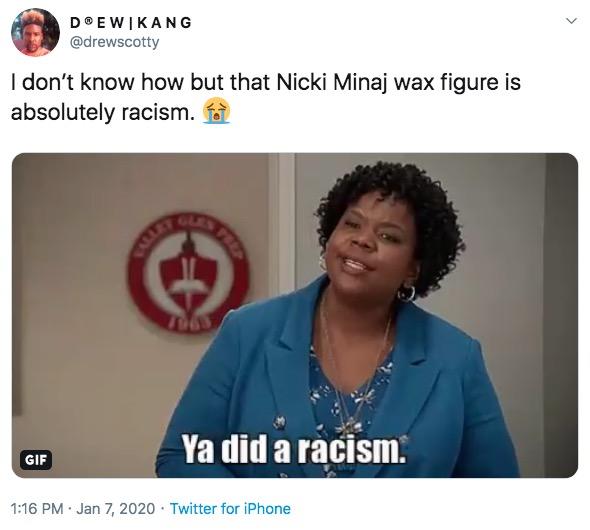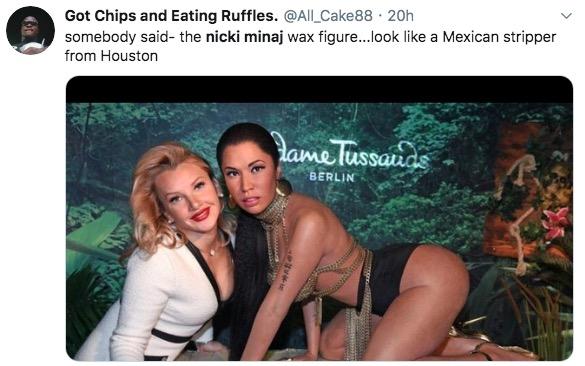 Search Interest
External References
Recent Videos
There are no videos currently available.