Nothing Is True, Everything Is Permitted
About
"Nothing is True, Everything is Permitted" is a memorable quote from the action video game series Assassin's Creed, in which it is presented as the maxim of an ancient group of assassins known as The Assassin Order.
Origin
The quote is derived from the 1938 novel Alamut by Vladimir Bartol, which tells a fictional account of Hassan-i Sabba, the leader of the Ismailis branch of Shia Islam and founder of the Hashashin order. In the novel, the maxim of the assassin group is written as "Nothing is an absolute reality, all is permitted." On November 13th, 2007, Assassin's Creed was released for the PlayStation 3 and Xbox 360 consoles by the video game publisher Ubisoft, in which the maxim of an ancient order of assassins is introduced as "Nothing is true, everything is permitted."
Spread
On January 22nd, 2011, Urban Dictionary[2] user Al Muslimo submitted an entry for the quote, which cited the Assassin's Creed games as the origin. On February 15th, 2013, Redditor a photoshopped image of a student sleeping in a classroom with the caption "Student's Creed / Everything is Due, Nothing is Submitted" was submitted to the /r/funny[6] subreddit, where it gained over 2,200 votes and 60 comments prior to being archived (shown below).

On October 24th, Redditor MrQuicksilver posted an illustration with a quote about the maxim from the game Assassin's Creed Revelations to /r/gaming[5] (shown below). Before the post was archived, it received more than 1,400 votes (92% upvoted) and 65 comments.

On May 1st, 2014, a Facebook[4] page titled "Nothing is true, everything is permitted" was launched. On July 2nd, Redditor EscoBlades submitted a post calling for a discussion about the meaning of the maxim to the /r/assassinscreed[5] subreddit. On March 20th, 2015, Ubisoft[3] tweeted a photograph of an Assassin's Creed fan illustration along with the quote, gathering upwards of 1,800 favorites and 1,100 retweets in the first week (shown below).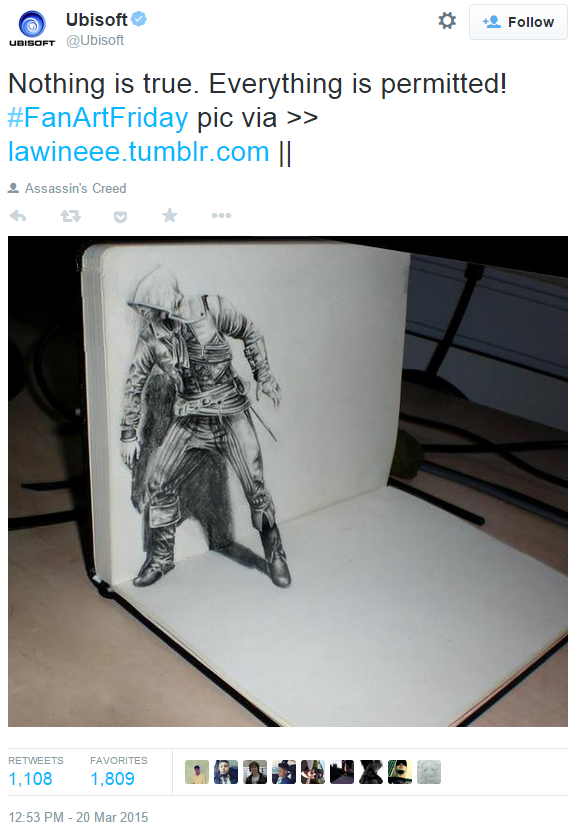 Search Interest
External References