Assassin's Creed Valhalla
This submission is currently being researched & evaluated!
You can help confirm this entry by contributing facts, media, and other evidence of notability and mutation.
About
Assassin's Creed Valhalla is the upcoming twelfth major installment in the Assassin's Creed series developed by Ubisoft Montreal for Windows, Xbox One, Xbox Series X, PlayStation 4, PlayStation 5 and Stadia. Valhalla is set during the Viking Age in the ninth century, with players taking control of either a male or female Viking named "Eivor" who took part in the various raids on England. The game was announced on April 29th, 2020, but the actual release date is unknown and currently slated for Holiday 2020.
History
On April 29th, 2020, Ubisoft officially announced AC Valhalla during a livestream on YouTube[1] by artist BossLogic. During the stream, BossLogic photoshopped a teaser image of the new title, slowly revealing that the next AC game would revolve around a Viking. On April 30th, 2020, a cinematic trailer for Valhalla was released, confirming the name and setting for the upcoming video game (seen below).
Shortly after, Ubisoft[2] released the storyline for the game's plot:
"Driven from Norway by endless wars and dwindling resources in the ninth century AD, players will lead Eivor's clan of Norsemen across the icy North Sea to the rich lands of England's broken kingdoms. Players must carve out a new future for their clan, reliving the ruthless fighting style of Viking warriors with a revamped combat system that includes the ability to dual-wield weapons against a greater variety of enemies than ever before. To secure resources players can lead raids to select locations using their longship to earn much-needed riches and resources. As the Vikings begin to settle in their new home, they encounter resistance from the Saxons including King Aelfred of Wessex, who denounces them as heathens and looks to be the sole ruler of a civilized England. Against all odds, Eivor must do what is necessary to keep Valhalla within reach."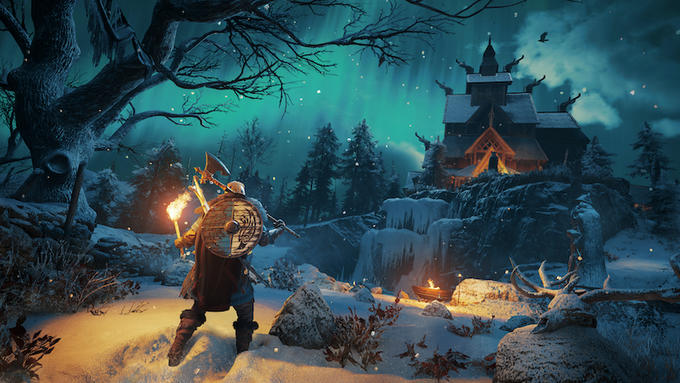 As of April 2020, Valhalla has been in development by Ubisoft Montreal for roughly two years, with creative director Ashraf Ismail and narrative director Darby McDevitt, the team who worked on previous AC titles like Black Flag and Origins.
There are currently four different editions of the game available for preorder with both physical and digital versions: Standard ($60), Gold Edition ($100, $110 for steelbook), Ultimate Edition ($120) and Collector's Edition ($200). The game will also include a season pass element for an additional cost. In a controversial move, Ubisoft also stated that Valhalla will be an Epic Games Store exclusive on PC initially, meaning the game will only be available for purchase on either the Ubisoft store (UPLAY) or the EGS.
Online Presence
Since the announcement, Valhalla has had a large online presence across multiple sites and social media platforms. There are numerous pages from fans, including the Facebook[3] group Assassin's Creed: Valhalla that currently has over 16,000 members. On Reddit,[4] a sub dedicated specifically to Valhalla was formed on April 1st, 2020, under the name r/ACValhalla. The subreddit currently has over 650 members.
Meme culture surrounding various aspects of the game began appearing online shortly after the announcement. One such example comes from Redditor[5] Gandrushka, posted to the r/gaming sub on April 30th, 2020. The post (seen below), which features Technoviking, received over 60,000 upvotes, 1,600 comments and several Reddit awards.

Another, also uploaded on April 30th, 2020, comes from the Redditor[6] trane20. Posted to the r/gaming sub, the meme (shown below) was upvoted over 41,000 times, commented on 1,300 times and gifted numerous Reddit awards.

Associated Memes
Odin Is With Us
Odin Is With Us is a memorable quote uttered by Eivor (voiced by Magnus Bruun) from the 2020 video game Assassin's Creed: Valhalla. The quote is used alongside a screenshot from the game's release trailer depicting the protagonist Eivor as a reaction image to an above caption or screenshot, typically to reference when someone powerful joins your team or side and helps to turn the tide in one's favor. It can also be used without the image as a standalone catchphrase, sometimes accompanied by the copypasta, "The release of Assassin's Creed Valhalla WILL BE the death knell of Judeo-Christianity. Look forward to the date, soon our people will awaken. Odin is with us!"

Various Memes



Search Interest
External References