This submission is currently being researched & evaluated!
You can help confirm this entry by contributing facts, media, and other evidence of notability and mutation.
About
An Object Head is a visual motif used in surreal art. Object head is generally used to symbolize a connection between humanity and an inanimate symbol.
Origin
While the use of object heads have been used in art, one of the earliest known uses of an object head comes from the Salvador Dali piece "Woman with a Head of Roses," which was finished in 1935. The image shows a humanoid woman with various appendages from different sources and a head made of roses (shown below).[1]

Spread
On September 28th, 1977, David Lynch's surreal horror film Eraser Head premiere. In one of the scene dream sequences, the film's protagonist Henry (played by Jack Nance) is shown with the head of his disfigured child, who resembles a chicken (shown below, left).[2]
On September 21st, 2001, the video game Silent Hill 2 was released in the United States. The game includes a character named "Pyramid Head," the main antagonist of the game. Pyramid Head represents the protagonist's subconscious desire to be punished for his wife's death.[3]


In the 1989 music video for the Fine Young Cannibals song "She Drives Me Crazy," a person in suit can be seen with a TV for a head (shown below).
In 2007, the No More Movie Thief campaign against covert filming in movie theaters was launched, creating two notable object head mascots.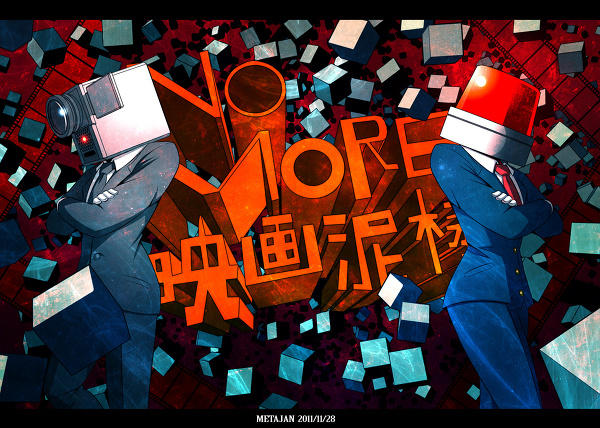 On January 11th, 2011, the Tumblr account objectheads [4] launched. The account shares images and gifs of various Object Heads. The first post (shown below, left) is called "Joseph Grayson's prostitute and accomplice." Over the next seven years, the tumblr continued to post various object heads (shown below, center and right, respectively).



On September 29th, 2017, the video game Cuphead was released. The game feature numerous object heads, including the titular character "Cuphead. Additionally, the game features the character of King Dice is portrayed with a dye for a head (shown below).
Various Examples







Search Interest
External References