This submission is currently being researched & evaluated!
You can help confirm this entry by contributing facts, media, and other evidence of notability and mutation.

About
Movie Thief (Japanese: 映画泥棒, Eiga Dorobo) is a nickname given to a Japanese anti-piracy mascot. Online, the camera-headed figure has been a popular subject for parodies and fan art.
Origin
In 2007, the "No More Movie Thief" (NO MORE 映画泥棒)[1] campaign against covert filming in movie theaters was launched by the "Let's Go to the Movie Theater" Committee, an agency formed by Japanese movie industry organizations. In the anti-piracy video series, Movie Thief is depicted as a camera-headed man who attempts to film a movie screen while performing a dance. Starting in 2010 addition, Movie Thief ads began showing the mascot being arrested by a police man with a red patrol lamp on his head. While the mascot's official name is Camera Man (カメラ男, Kamera Otoko), he became known as "Movie Thief" among viewers. In a similar vein, the antagonist is known as Police Man (警察官 or 警官) or Red Lamp Man (赤ランプ男), though his official name is Patrol Lamp Man (パトランプ男, Patorampu Otoko).
Spread
In 2010, a fandom for Movie Thief began flourishing online. Initially, Fujoshi female otakus created "Yaoi" ("boys' love" in English) illustrations between Movie Theif and Patrol Lamp Man on pixiv[2] and Nico Nico Seiga.[3] On Nico Nico Douga (NND), many hand-drawn animations or Miku Miku Dance covers inspired by the anti-piracy ads have been uploaded.[4] Additionally, doujin comic books for Movie Thief has been published on Comiket since 2012. In 2013, the first annual Movie Thief-specific doujin event was held.


Cover Art of the 1st Doujin Anthology Comic
Official Merchandise
Initially, the "Let's Go to the Movie Theater" Committee refused to make any merchandise with the Movie Thief character as he was created to be a villain in the anti-piracy campaign,[6] In January 2013, a Japanese dance performer O-ki[7] revealed his role as the mascot and performed the Movie Thief dance in during a lunchtime live TV program (shown below, left). In December of that year, the Japanese movie company TOEI began offering official partnerships for Movie Thief merchandise.[8] Under this license, figures[9], T-shirts and small toys[10] for Movie Thief have been released since February 2014 (shown below, right).

On July 1st, Movie Thief launched an official Twitter[11] account for a summer vacation movie season promotional campaign, which earned more than 90,000 followers in the first week.[12]
Notable Examples
Videos

Left: Fullmetal Alchemist Opening Parody | Right: Ghost in the Shell Opening Parody

Left: X Shakes Cola | Right: Attack on Titan Opening Parody
Illustrations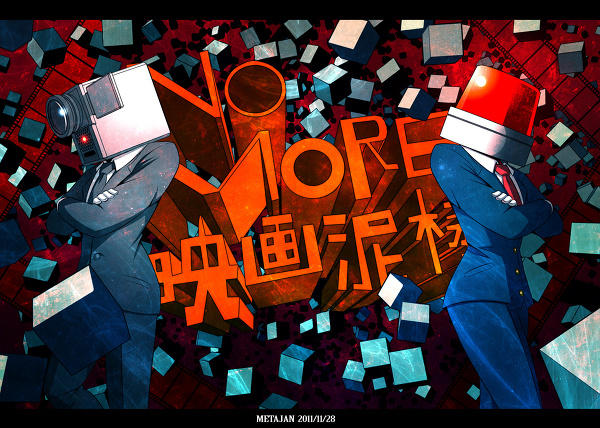 Search Interest
External References
Editor's Note: Registration is needed to browse the original videos/illustrations listed in this section.