This submission is currently being researched & evaluated!
You can help confirm this entry by contributing facts, media, and other evidence of notability and mutation.
About
Oprah 2020 refers to the speculation surrounding entrepreneur and television host Oprah Winfrey's supposed running for president in the 2020 election.
Origin
Speculation surrounding Oprah's desire to run for president has existed since her cultural ascension in the late 80s and early 90s, based on the amount of success and influence she held in the television landscape.
In 2006, for example, Oprah Winfrey's legal team sent a cease-and-desit to a Kansas City businessman named Patrick Crowe, who wrote a book backing her bid called Oprah for President: Run Oprah Run. [1] The book laid out a plan for Oprah to run in the 2008 election. Of the controversy, Oprah said, "I feel flattered by it.My lawyers overreacted, I think, by sending him a cease-and-desist order because it really is a flattering thing. It should have been handled in a phone call."
Oprah has regularly denied rumors that she is considering a presidential bid. In June 2016, she appeared on Jimmy Kimmel Live, where she not only denied that she would be Donald Trump's running mate, which had been a rumor in the past, and that she would ever run for president. However, she did joke that she no longer thinks that she is unqualified.
Spread
Following the 2016 presidential election, some in the news media began publishing arguments for Oprah's running in the 2020 election. Their ideas, at least in part, were based on the idea of running a celebrity of Donald Trump-like popularity and influence.
In November 13th, 2016, shortly after the election, filmmaker Michael Moore appeared on CNN's "State of the Union"[2] to argue for running more popular media personalities, including Oprah.
Later that month, HuffPost[3] published a blogpost entitled "Oprah for President, 2020."
Golden Globes Speech
At the Golden Globes on January 7th, 2018, man throughout the night made mention of Oprah perhaps running for president, including host Seth Meyers, who at the beginning of the night joked that if his performance at the 2011 White House correspondents dinner inspired Trump to run, he would do the same for Oprah (shown below, left).
Later in the evening, accepting the Cecil B. DeMille award, Oprah gave a speech that touched upon many of the cultural issues of 2017, particularly the Me Too movement (shown below, right). Within 12 hours of the speech being uploaded to YouTube, it had reached #2 on the site's trending charts and received more than 749,000 views.
Following the speech, many online took to speculating about Oprah's running. However, the reaction to the speculation was mixed. Twitter[4] user tweeted, "If you need me for the next two years I'll be drafting tweets in support of Oprah's 2020 presidential campaign." The post (shown below, left) received more than 2,400 retweets and 21,000 likes in 12 hours.
Twitter[5] user @drewmagary joked, "TOP FRONTRUNNERS FOR PREZ 2020 1. Oprah 2. The Rock 3. Beyonce 4. Hey what about Angelina she seems to know her stuff 5. A Fast & Furious sequel 6. The gif of that one dude blinking." This tweet (shown below, enter) received more than 600 retweets and 2,300 likes in three hours.
Additionally, Twitter user @sjdemas tweeted, "People who gave Trump wall-to-wall coverage in 2016 are now going nuts about Oprah running in 2020, so basically, we're screwed."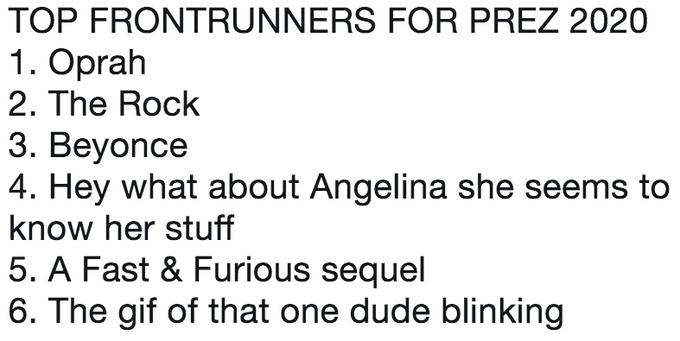 MSNBC anchor Joy Reid tweeted[8]a picture of The Rock, who has also, reportedly, been contemplating running, at the ceremony with the caption "When Oprah is speaking at the Golden Globes and your goals shift to VP…" The post (shown below) received more than 8,500 rewteets and 43,000 likes in less than 24 hours.

Later that evening, Winfrey's longtime partner Stedman Graham told the Los Angeles Times,[7] "It's up to the people. She would absolutely do it."
Twitter[13] published a Moments page, documenting the reaction to Oprah "actively thinking" thinking about a presidential run.
Denial
On January 25th, 2018, In Style[14] published an interview with Oprah in which she addresses the presidential run. She, once again, denied that she's running.
"I've always felt very secure and confident with myself in knowing what I could do and what I could not," she said. "And so it's not something that interests me. I don't have the DNA for it."
That day, In Style tweeted[15] the quote with a video of the shoot from the interview. The tweet (shown below) received more than 260 retweets and 580 likes in less than 12 hours.
Oprah 2020? "I've always felt very secure and confident with myself in knowing what I could do and what I could not. And so it's not something that interests me. I don't have the DNA for it," March cover star Oprah</a> tells <a href="https://twitter.com/laurabrown99?ref_src=twsrc%5Etfw">LauraBrown99. https://t.co/iszoxFeChp pic.twitter.com/FkrWJt9lQn

— InStyle (@InStyle) January 25, 2018
That day, discussion of her denial in the /r/politics subreddit[16] received more than 2,000 points (91% upvoted) and 290 comments in less than eight hours. Additionally, Twitter[17] published a Moments page dedicated to the interview as well as discussion about her denying the run.
Media Coverage
Many news outlets reported on the speculation surrounding Oprah's 2020 presidential bid, including CNN,[9] Vox,[10] Business Insider,[11] BBC[12] and more.
Search Interest
External References