This submission is currently being researched & evaluated!
You can help confirm this entry by contributing facts, media, and other evidence of notability and mutation.
About
Desmond Napoles, also known as Desmond Is Amazing is an American child drag performer and activist.
History
Desmond Napoles was born in June 2007 in New York City, New York.[1]
In June 2015, Napoles marched in the New York City Pride parade (clip below, left). A photograph of him was posted on the Facebook page NewNowNext.[2] The post received more than 4,900 reactions, 350 comments and 360 shares (shown below, right).

However, after some criticized the child for marching, as well as his parents for allowing him to march, Desmond's mother Wendylou responded. She wrote:
I am bothered by some of the comments that say I should be ashamed of letting my son be himself at the Pride parade.

[…]

He is old enough and smart enough to know he would be marching in the Pride parade in front of thousands of people and did all of it willingly. […] We collaborated on the outfit and this is how he wanted to look today. This was his Pride today. He felt it. He loved it. He was it. These children will be our future. Embrace who they are. All they are asking for is the same love, respect, and acceptance of themselves as any child would.
On June 5th, 2017, Desmond launched an Instagram page @desmondisamazing (examples below).[3] Within two years, his Instagram has amassed more than 118,000 followers.



In 2017, Desmond joined famed drag performer RuPaul on stage to announce the beginning RuPaul's DragCon in New York City, a drag performer and fan convention. A video of the ceremony received more than 300,000 views on YouTube (shown below).
On September 29th, 2017, Mic published a video interview with Desmond. The post received more than 12,000 reactions, 1,400 comments, 4,700 shares and 2 million views (shown below).
Reputations
Activism
Desmond Napoles considers himself an activist for the LGBTQ+ community. In October 2017, he launched the Haus of Amazing, "the first and only drag house for kids."[5]
Criticism
Bar Performance Controversy
On December 1st, 2018, Desmond performed at the New York City queer-friendly venue 3 Dollar Bill. Two weeks after the performance, Dangerous.com,[4] the website owned by famed right-wing activist Milo Yiannopoulos, wrote an article characterized the performance as "like a stripper." They wrote, "the ten-year-old boy danced on stage in a crop top and full face of makeup as a throng of adult men in the audience showered him in dollar bills."
On JanuatyDesmond's mother refuted the claims on Instagram, stating that there was nothing scandalous or illegal about the performance and that the piece was "nothing more than blatant homophobia.[5] She wrote:
His engagements are contracted and booked by his management agency. All of his performances are conducted in accordance with the Dept of Labor's regulations for child performers. Desmond is never allowed into the bar area of any club, nor the main floor. He stays backstage with me, in the dressing room, or on stage only. It must be noted, however, that it is not illegal in NYC for a minor to be in an establishment that serves alcohol as long as they are accompanied by an adult. Desmond was the sole performer for the event at the center of this controversy and he performed 3 numbers. The venue took measures to make sure it would be age appropriate and audience members that attended were respectful and in good conduct. The performance was promoted and anyone who did not wish to see a drag kid perform in a club did not have to attend.
Within four days, the post received more than 16,000 likes (shown below).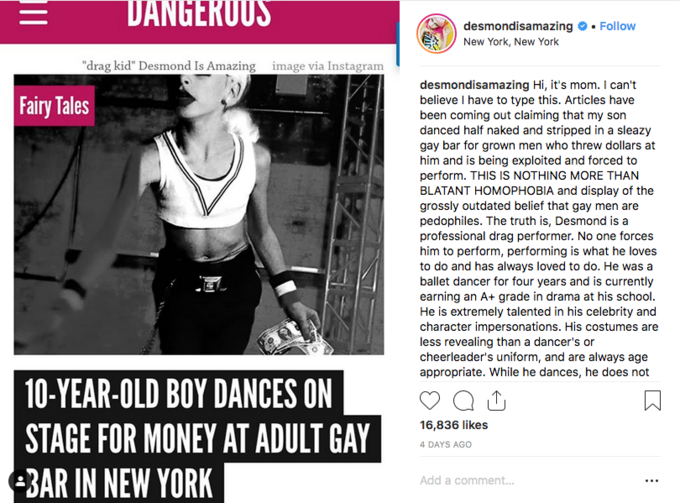 Search Interest
External References