This submission is currently being researched & evaluated!
You can help confirm this entry by contributing facts, media, and other evidence of notability and mutation.
About
Jake Angeli / Q Shaman also known as the Q Shaman and Yellowstone Wolf is a well-known QAnon and Donald Trump supporter known for showing up to protests shirtless in a horned, fur "viking" hat and red, white, and blue facepaint. Angeli received significant mainstream and social media attention after multiple photographs of him in the Capitol building during the 2021 "Save America" Rally in D.C.
Online History
Ties To Star Seed Academy
Sometime in 2019, Angeli started the Star Seed Academy,[22] a religious organization with the main objective of helping people "increase their IQ's, ESP, expand their consciousness, improve their quality of life, extend their life expectancy, and educate them on the most important information" (screenshot shown below). The website allows users to buy a monthly membership to the academy and its resources for $111.11 per month, or $777.77 for a lifetime membership.


On June 18th, 2020, Angeli published[25] a book titled "One Mind At A Time: A Deep State of Illusion" meant to expose the "deep state." On August 6th, Soul Freedom posted an interview with Angeli to YouTube,[23] in which he describes his ties to Qanon and Star Seed Academy (shown below, left). Soul Freedom posted[24] another video with Angeli on October 8th (shown below, right). Throughout the video, Angeli interacts with a number of what appears to be Star Seed members. At around 2:21:58 in the video, a member of the stream named "Traveler 0001" performs some sort of spiritual ritual.
May 5th Interview With Angeli
On May 5th, 2020, BrieAnna J. Frank posted a video to Twitter[1] of Angeli beating a drum, yelling thanks to Trump and "Q" after she and a number of journalists were allegedly harassed by him and a group of Trump supporters for wearing masks. Shortly after, she posted an interview with Angeli (shown below).
Here's part of my interview with Jake Angeli, the 32-year old man I previously posted about, who thanked the president realDonaldTrump</a> and Q. <br><br>He applauded the work of the president and criticized that of the press. <a href="https://twitter.com/azcentral?ref_src=twsrc%5Etfw">azcentral pic.twitter.com/PbQFGhNCq6

— BrieAnna J. Frank 🌵 (@brieannafrank) May 5, 2020
2021 "Save America" Rally D.C. Protest
On Jaunary 6th, 2021, the "Save America" rally took place in D.C. Following a speech from Donald Trump, supporters headed to the Capitol Building to march on Congress, making their way inside the Capitol. Angeli was present at the protest wearing no shirt, a horned fur viking hat, red, white, and blue face paint, and carrying an American flag. He appeared in many viral photographs taken at the event. For example, he appeared in a photograph posted by Igor Bobic[11] as the protestors first made their way into the Capitol (shown below).

Later that day, Steven Nelson posted a photo of Angeli posing for photographs behind the desk in the Senate, garnering over 23,000 likes and 12,000 retweets in 23 hours (shown below, left). Yousef Munayyer tweeted[] an image of Angeli in the Capitol surrounded by other protestors, criticizing the government's defense of the Capitol, garnering over 298,000 likes in 13 hours (shown below, right).


A number of other photographs of Angeli taken at the protest went viral across social media over the course of the night. A story published by The Sun[9] uses 3 high-quality photos of Angeli at various points during the protest (shown below).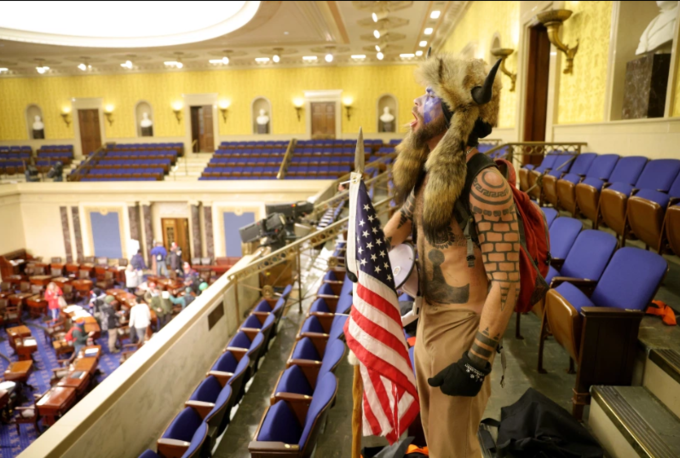 Angeli received widespread media attention following the event from publications including Distractify,[17] The Daily Dot,[18] Telegraph,[19] and Rolling Stone[20] to name a few.
Memes
As more and more photographs of Angeli hit the web he became the subject of memes across social media platforms. On January 6th, u/xetgx uploaded an image of Angeli with bottom text reading, "I'd like to speak to the manager of America" to /r/memes[6] garnering over 12,700 upvotes before being removed (shown below, left). On the same day, JNalv posted a meme referring to Angeli on Twitter[7] garnering over 78,000 likes and 14,000 retweets in a day (shown below, right).


On the same day, /uJoMich85 posted an image macro featuring Angeli to /r/memes,[8] garnering over 47,000 upvotes in 20 hours (shown below, left). The post was removed by moderators shortly after being posted, along with many other memes featuring Angeli. On the same day, a fake video game cover for a game called, "Call of Duty Capitol Warfare" was uploaded to Facebook[10] but has since been removed(shown below, right).


Resemblance to Jamiroquai
On January 6th at 2:41 PM, Tim Callanan tweeted,[14] "Very very disappointed in Jamiroquai" along with a photo of Angeli with protestors in the Capitol, referencing his resemblance to the lead singer of the band and garnering over 12,000 likes and 1,900 retweets (shown below, left). Others on Twitter also began pointing out the resemblance shortly after (example shown below, right).[15]


At 8:01 AM on January 7th, Jamiroquai's lead singer posted a video to Twitter[16] confirming that he was not the one at the riots in a lighthearted way (shown below).
Good Morning Washington, loving the headgear, but not sure that's my crowd. Stay safe everyone, J xxx pic.twitter.com/8Fuime28cc

— Jamiroquai (@JamiroquaiHQ) January 7, 2021
Meme Examples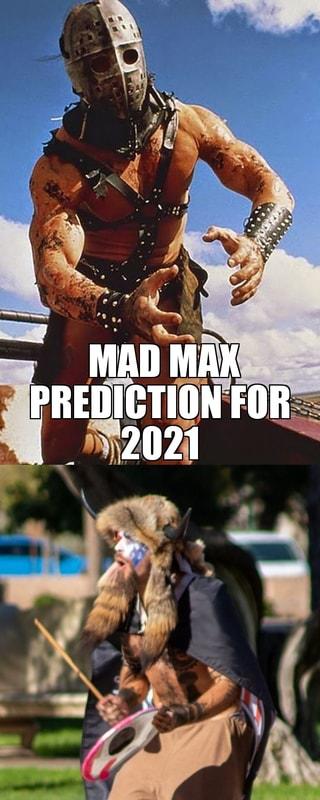 Reputation
Angeli is known for being an outspoken supporter of Donald Trump and Qanon, and is considered a member of the far-right. He is viewed as a sort of hero in Qanon circles, often referred to as the "Q Shaman." This has gained him both a positive reputation in far-right circles, and a negative reputation to those on the left.
Criticism
Following the "Save America" rally, many on the left negatively criticized Angeli's role in the event, with some even calling for his arrest.[2][3]


On January 7th, Kim Kelly tweeted[11] making note of Angeli's tattoos, insinuating they may further support the argument that he is a fascist (shown below).

Antifa Agent Conspiracy Theory
Shortly after the media began reporting on Angeli, a conspiracy theory arose that he and others at the protest may have actually belonged to Antifa rather than Qanon, and was sent to the Capitol to make the right look bad. This, however, is highly up for debate. For example, on January 7th, 2021, Mogan Dane tweeted[12] insinuating Angeli is an actor and knows Nancy Pelosi (shown below, left). In contrast, Molly Ball tweeted[13] against the theory, pointing out how Trump praised them afterward, garnering over 250,000 likes and 55,000 retweets in less than a day (shown below, right).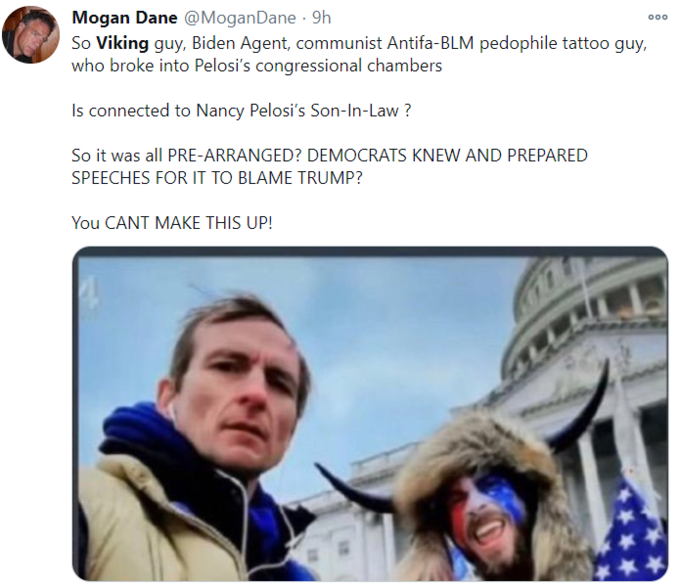 Personal Life
Jake Angeli is in his 30s, and is an Arizona native. He is allegedly an aspiring actor, according to a now-deleted page on Backstage.com which was shared by Twitter[5] user Gareth Icke, detailing a man named Jake Angeli with matching tattoos (shown below). The page has been archived.[4]

On January 7th, djjohnso tweeted[21] a photo of Angeli shaking hands with former New York mayor Rudy Giuliani, implying they have some sort of personal relationship (shown below).

Search Interest
External References