Rabbit Season! Duck Season! (X Season! Y Season!)
This submission is currently being researched & evaluated!
You can help confirm this entry by contributing facts, media, and other evidence of notability and mutation.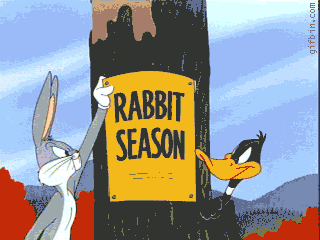 Rabbit Season! Duck Season! (X Season! Y Season) is a series of image and videos that contain two character or people fighting over each other of a particular thing, event or other.
History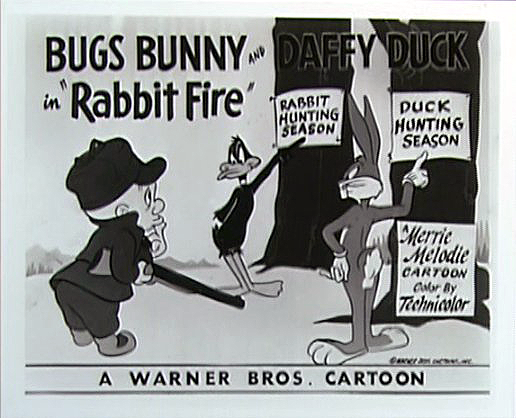 The phrase was first used in the Looney Tune's episode "Rabbit Fire" where it was first shown in the beginning of the episode. The episode was first released on May 19, 1951.
Scene is shown at 1:25 of video
Episode Summary of Phrase (Wikipedia)
"Daffy Duck lures Elmer Fudd to Bugs Bunny's burrow, and watches from aside when Elmer attempts to shoot Bugs. Bugs informs Elmer that it isn't rabbit season, but instead duck season. Daffy emerges, irate, and attempts to convince Elmer that Bugs is lying. Their conversation breaks down into Bugs leading Daffy to admit it is duck season by a number of verbal plays".
Reaction
The "duck season/rabbit season" argument from this short became one of the most notable references of the Looney Tunes franchise (Wikipedia) and it has been re-used in other episodes for it humorous effect.
Looney Tunes: Back in Action
Duck! Rabbit! Duck!
Bugs Bunny Lost In Time – Level 6 Wabbit or Duck Season
Fan Made Videos
Use in My Little Pony: Friendship is Magic
This phrase has been used within Episode 19 of Season 2 "Putting Your Hoof Down" in the famous tv show "My Little Pony: Friendship is Magic" where Pinkie Pie uses it in outwitting the shop kepper
Responses to the Show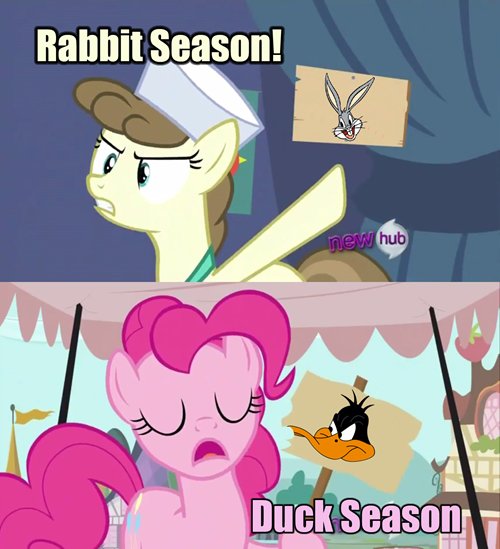 Google Insight