This submission is currently being researched & evaluated!
You can help confirm this entry by contributing facts, media, and other evidence of notability and mutation.
About
Super Deluxe is a comedic entertainment media and production company. The company, which originally started in 2007, relaunched in 2015, generating a sizable fanbase thanks to their surreal edits of footage from the 2016 Presidential Election.
History
Initial Launch
On October 30th, 2006, the Ted Turner-owned TBS (Turner Broadcasting System) announced a free, internet-based comedy service called "Super Deluxe."[1] In a press release, Super Deluxe Vice President Drew Reifenberger said, "Super Deluxe is focused on original, television-quality programming, presented with a distinct editorial voice and in a highly interactive and social environment. It will deliver an experience more akin to watching your favorite TV show."
Super Deluxe launched in January 2007 and featured content from Bob Odenkirk, Maria Bamford, Tim Heidecker, Eric Wareheim, and Eugene Mirman.
On May 7th, 2008, Turner announced that they would be folding Super Deluxe into AdultSwim.com, laying off much of their staff in the process.[2]
Relaunch
On October 6th, 2015, Variety reported that Turner Broadcasting was preparing to relaunch Super Deluxe. This new iteration of the site would operate autonomously from Turner and Adult Swim -- although there would be a crossover between creators and stars. The new venture would be led by Wolfgang Hammer of CBS.[3]
Shutdown
On October 19th, 2018, Turner Media announced that they would be shutting down Super Deluxe. They wrote in a statement:[15]
Turner is proud of the unique brand Super Deluxe has built over the past three years, and the cutting-edge content and innovations this incredible group of very talented people has made. However, there are now massive changes in the social and mobile-first ecosystem and duplication with other business units in our new WarnerMedia portfolio. Super Deluxe found inspiring ways of connecting with a new generation and many of their best practices will be adopted by other Turner properties as we redirect this investment back into our portfolio.
2nd Relaunch
On May 13th, 2019, former employees and collaborators with Super Deluxe began reporting that their videos were being removed from the company's still active YouTube channel. However, some videos, primarily videos Do-It Yourself and "Stoned Mode" videos remained available.
Tim Heidecker tweeted,[11] "Huh. Super Deluxe relaunched and purged all of @VicBergerIV 's videos including our Convention Specials. Very cool?" Within 24 hours, the post received more than 80 retweets and 1,000 likes (shown below).

While Super Deluxe has not confirmed that a relaunch was underway, artists and fans bemoaned the removal of these videos. One of Super Deluxe's former creators Nick Lutsko tweeted,[12] "Whoever is running the Super Deluxe Youtube channel wiped all of mine and @VicBergerIV's vids earlier today. This affects dozens of artists' portfolios. Working on re-uploading all of the songs but for now here is Alex Jones as an Indie Folk song." Within 24 hours, the tweet received more than 65 retweets and 390 likes (shown below, left).
Vic Berger tweeted,[13] "Super Deluxe removed all my videos from the internet, so if you want those classic Berger vids, join my Patreon. I'll be posting a new bundle of them every week for patrons." Within 24 hours, the post received more than 35 retweets and 275 likes (shown below, center).
Twitter user @TeenageStepdad tweeted,[14] "The @VicBergerIV and @NickLutsko Super Deluxe youtube videos were important cultural artifacts, and deleting them and wiping out the context provided by the comments, and doing so on purpose, is fucking vile" (shown below, right).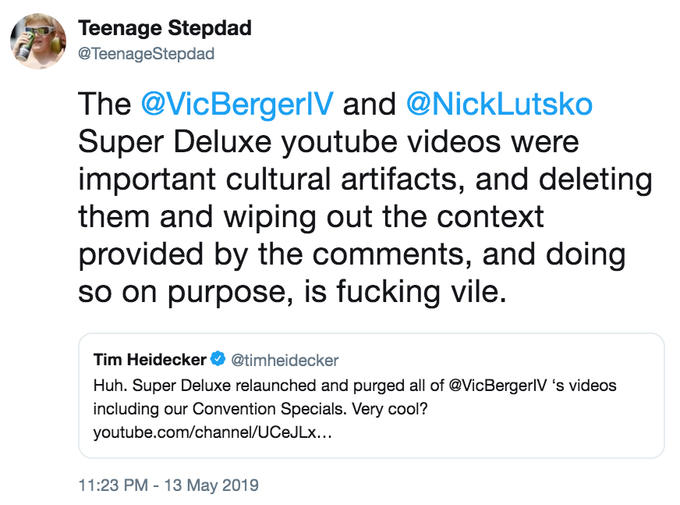 Features
Facebook Live
Super Deluxe regularly holds live, interactive events on their Facebook Live channel. On May 22nd, 2017, Super Deluxe asked followers to send in selfies and an on-camera personality would eat the pictures live, allowing viewers to choose which dipping sauce they wanted the selfies dipped in (shown below).[6] The event received more than 7,000 reactions and 1,000 shares.
Video
Super Deluxe's website is also home to their library of videos, which include recuts, animated infotainment videos, web series, and more.
Games
Super Deluxe's website offers multiple interactive games, including Punch-A-Nazi, Drop Drake, and What Is Young Thug Saying?[6]
Highlights
Straight Outta Compton Oscar-Bait Trailer
On February 26th, 2016, Super Deluxe released the viral video "If Straight Outta Compton Was An Oscar Contender," a trailer remix of the 2015 NWA biopic, in which the rap group's white manager takes center stage, satirizing the Oscars So White controversy. The video received attention from several news outlets, including TIME,[4] Complex,[5] and more.
The 2016 Presidential Election
Throughout the 2016 Presidential Election, Super Deluxe became a hub of remixes, parodies, and surreal comedy through their short edits of debates, campaign videos, interviews, and more.
Bayard And Me
In May 2017, Super Deluxe premiered a short documentary about Bayard Rustin, an openly gay civil rights activist, known for organizing the March on Washington and advising Martin Luther King, Jr, at Sundance. _Bayard & Me follows his partner Walter Naegel and the phenomeon of intergenerational gay adoption.[10]
Bayard & Me Trailer from Matt Wolf on Vimeo.
The Chances
Super Deluxe's first half-hour TV series, The Chances, is the first show to star deaf characters played by deaf actors and written by deaf writers.
Related Memes
Vic Berger
Vic Berger is a video editor, satirist, and musician most well-known for his humorous Vine edits during 2016 Republican Presidential Primary and for trolling Jeb Bush during his 2016 presidential campaign.
Joanne the Scammer
Joanne The Scammer is an internet character played by comedian Braden Miller. The character rose to fame via their twitter account, which has more than 750,000 followers,[7] and Instagram,[8] which has 2 million followers. Braden plays a woman who deals with people being petty and her being a caucasian theif.[9] Joanne the Scammer videos are now a Super Deluxe exclusive.
Search Interest
External References