This submission is currently being researched & evaluated!
You can help confirm this entry by contributing facts, media, and other evidence of notability and mutation.
About
Yahoo! is an American multinational internet company best known for its web portal, search engine, e-mail hosting, news aggregation and user-generated knowledge database.
History
In January 1994, electric engineering students Jerry Yang and David Filo launched a website directory named "Jerry and David's guide to the World Wide Web." On January 19th, 1995, the site's domain was renamed to "yahoo.com",[1] a backronym for the phrase "Yet Another Hierarchically Organized Oracle."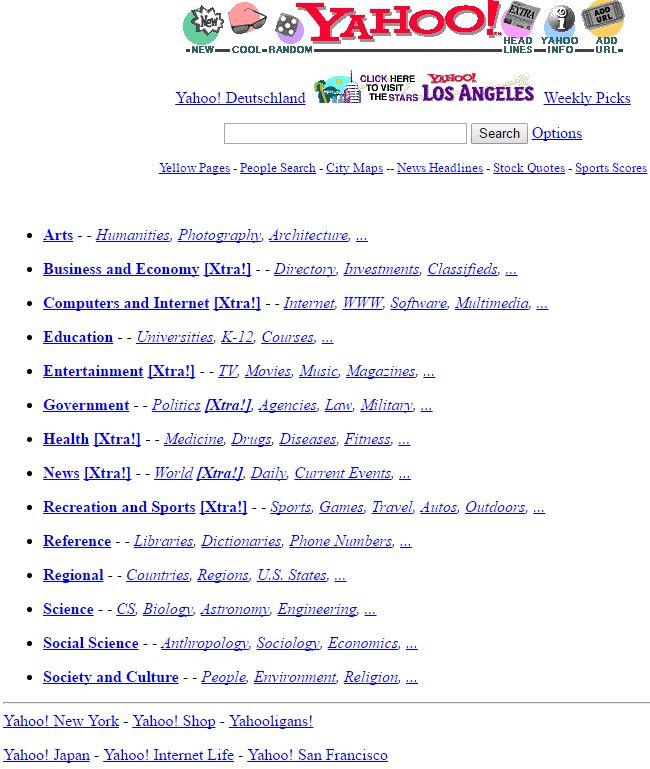 Geocities Acquisition
In January 1999, Yahoo! purchased GeoCities for $3.57 billion in stock. Shortly after the completion of the merger in May, Yahoo! updated the Terms of Service for GeoCities' four million members, announcing that Yahoo! would gain full ownership over the content posted on GeoCities sites. Following a number of protests from users, the change was quickly amended, stating that Yahoo! does not own any user-submitted content unless it is clearly stated prior to its submission.

In June 1998, BBC News[2] reported that Yahoo! was receiving nearly 100 million page views per day and had a 200% increase in revenues over its last quarter. In February 2008, Microsoft big $44.6 billion to purchase Yahoo!, which the company rejected saying the offer "substantially undervalues" the company.
Hiring of Marissa Mayer
In April 2012, Yahoo! laid of 14% of their 14,100 employees. The following month, the company announced it would be replacing CEO Scott Thompson with interim CEO Ross Levinsohn, granting Thompson a compensation package of $7.3 million for his 130-day tenure with Yahoo!. In July, Yahoo! hired former Google executive Marissa Mayer as President and CEO of the company.
Tumblr Acquisition
In May 2013, Yahoo! purchased the blogging site Tumblr for $1.1 billion.
Yelp Partnership
In March 2014, Yahoo announced a partnership with the business directory service Yelp.
2014 Data Breach
On September 22nd, 2016, Yahoo chief information security officer Bob Lord released a statement[12] announcing that the company experienced a data breach sometime in late 2014, which they believe was orchestrated by a "state-sponsored actor." In the breach, hackers obtained upwards of 500 million user accounts, containing names, email addresses, telephone numbers, dates of birth, hashed passwords and other information. In November, Yahoo's SEC filing noted that the breach was likely due to a cookie attack, giving hackers the ability to log in as a user without knowing their password. The attack has been described by some experts as the largest security breach of all time.
On March 14th, 2017, Yahoo reduced the price of their core assets in the sale to Verizon Communications by $350 million. The following day, the United States Justice Department announced two Russian FSB intelligence officers, Dmity Dokuchaev and Igor Sushchin, and two criminal hackers, Alexsey Belan and Karim Baratov, had been charged over the data breach during a press conference held in Washington, D.C. (shown below).
Acquisition by Verizon
On July 25th, 2016, Yahoo! was purchased by the telecommunications company Verizon for approximately $4.8 billion.[3] That day, posts about the aquisition reached the front page of the subreddit /r/technology[4] and /r/worldnews[5] subreddits. In the comments sections, many noted that Yahoo! had turned down Microsoft's much larger bid of $44.6 billion for the company in 2008.
Features
In August 1996, Yahoo! launched the news aggregator service Yahoo! News.[7] In January 1997, the financial news site Yahoo! Finance[9] was created. On December 8th, the sports news website Yahoo! Sports[8] was launched. In March 1998, the Yahoo! Games section was created for video gaming-related content. In May, the movies section Yahoo! Movies[11] was launched. In 2000, Yahoo! began using Googlesearch technology. In 2004, Yahoo! switched to using its own web search engine. In 2001, Yahoo! acquired the website Launch, which it subsequently rebranded to Yahoo! Music.[10]
Yahoo Answers
In June 2005, Yahoo! launched the Yahoo Answers community, a crowdsourced question-and-answer (Q&A) platform which subsequently became a popular target of online trolling campaigns.

Traffic
At its peak in 1997, Yahoo! was the most popular choice of home page for internet users, with roughly 100 million page views per day. As of July 2015, Yahoo.com is ranked by web traffic analytics firm Alexa as the fifth most visited website globally and in the United States.
Search Interest
External References