Spider-Man: Homecoming Poster Parodies
This submission is currently being researched & evaluated!
You can help confirm this entry by contributing facts, media, and other evidence of notability and mutation.
About
Spider-Man: Homecoming Poster Parodies refers to a series of photoshop memes of the poster for the 2017 superhero film Spider-Man: Homecoming.
Origin
On May 24th, 2017, Sony Pictures released a series of posters in promotion of the Marvel superhero film Spider-Man: Homecoming. However, one of the images (shown below) became the subject of criticism on Twitter. The poster, which features all of the major cast, including Tom Holland, Robert Downey, Jr., Zendaya, Marisa Tomei and Jon Favreau, pays homage to the style of poster designer Drew Struzan, made famous for his work on the Star Wars and Indana Jones films.[1] Despite this, people online came to the consensus that the poster was too busy, contained too many characters, and displayed poor design.

Spread
That day, people on Twitter began photoshopping the image to include even more characters. One of the most popular came from Twitter user @kylebuchanan[2], who tweeted "I'll be honest: I tried to improve the very busy SPIDER-MAN HOMECOMING poster, and I no longer know where the original ends and mine begins " along with a photoshopped version featuring Donald Trump's Glowing Orb, Drew Scanlon Reaction, Confused Travolta, Emo Peter Parker and more. The image (shown below) received more than 13,000 retweets and 22,000 likes.

Shortly after @kylebuchanan's tweet, other users also began photoshopping the poster, with a majority of the reactions commenting on Iron Man's heightened presence in the marketing.



Several news outlets covered the reaction to the poster, including The AV Club,[3] Polygon,[4] Uproxx,[5] Vanity Fair,[5] The Hollywood Reporter[6] and more. That day, Twitter published a Moment page to archive the reactions on Twitter.
Various Examples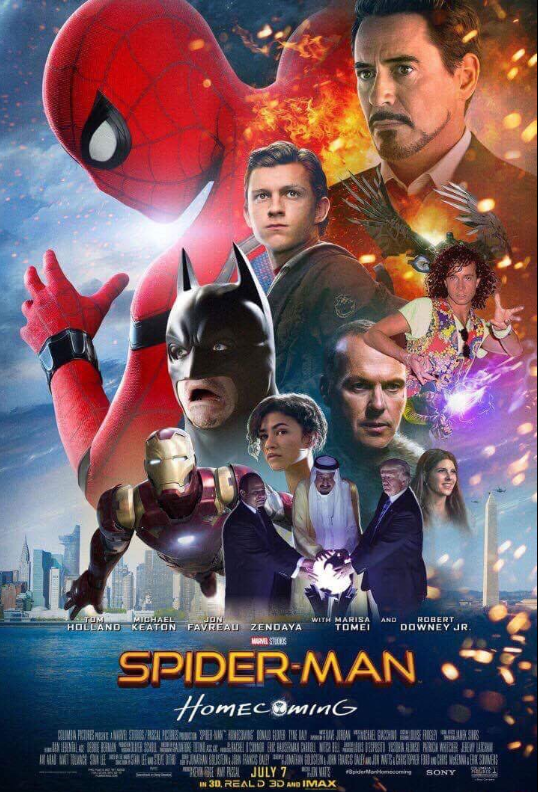 Search Interest
External References