This submission is currently being researched & evaluated!
You can help confirm this entry by contributing facts, media, and other evidence of notability and mutation.
About
Amphibia is an American animated television series airing on the Disney channel. The series notably features a Thai-American main character named Anne Boonchuy, voiced by Brenda Song. She is transported to a fantasy world, Amphibia, and befriends a frog who helps her become a hero.
History
The series was created by Matt Braly, who was previously a storyboard artist on Gravity Falls and Steven Universe. [1] The show was greenlit by Disney on February 23rd, 2018.[2] A second season was ordered on May 15th, 2019, before the series premiered.[3] The same day, the first trailer for the series was released (shown below, left). The series intro was posted to YouTube on May 17th, 2019 (shown below, right).
Disney published the pilot for the series on June 14th, 2019 on YouTube (shown below, left) before it debuted properly on June 17th. The show runs for 22 minutes with two 11-minute segments.
Reception
The show received praise for featuring a Thai-American character in the lead role.[4] Braly, a Thai-American himself, has said "Anne has always been Thai from the very inception of the project… One of the big reasons for that is growing up, for me, there was nothing." He also has said that the show was inspired by his trips to Bangkok as a child. The Los Angeles Times wrote that Boonchuy's race is not a focus of the show, but was nevertheless significant considering the lack of Asians in prominent roles in film and television. While the show was not widely-reviewed, it has been positively reviewed by publications like Collider,[5] who wrote "Disney seems to have the potential for the next great awards-worthy animated series on their hands in Amphibia."
Online Presence
The show has yet to produce a strong presence on social media. The most popular Facebook page for the show has 800 likes.[6] Similarly, there is no dedicated Twitter page for the show as of June 24th, 2019. However, fan art has been created for the show, including pieces posted by Twitter user @BlueberryUfo[7] that gained over 100 retweets and 230 likes (shown below, left) and user @mmmm2121_[8] that gained over 70 retweets and 80 likes (shown below, right).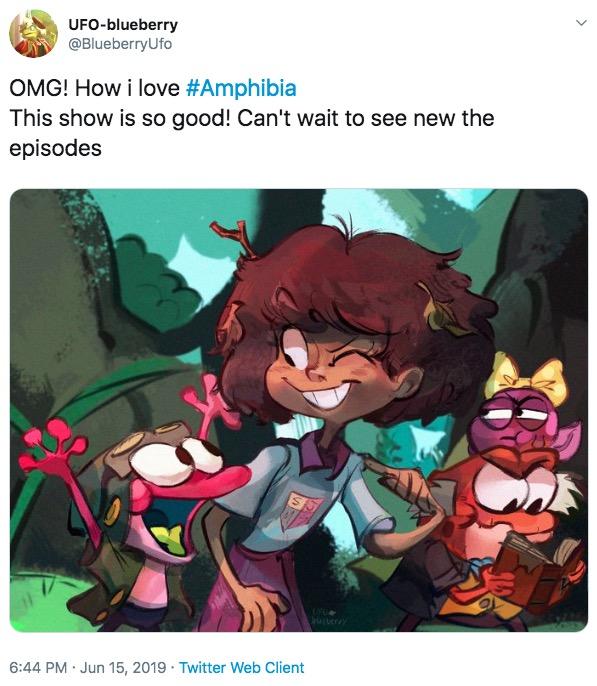 On April 30th 2021, it was announced that the season 2 finale for the show was delayed due to a scheduling shift, according to Disney's official Twitter account (@DisneyTVA[9]). This garnered a lot of traction, namely on Twitter. On May 2nd 2021 (10:29 A.M. EST), #Amphibia reached the trending page [10].
Search Interest
External References
Recent Images 1,116 total