Chaves / El Chavo / El Chavo Del 8
This submission is currently being researched & evaluated!
You can help confirm this entry by contributing facts, media, and other evidence of notability and mutation.
About
El Chavo Del 8, El Chavo or Chaves is a Mexican TV show created by Roberto Gómez Bolaños, the same creator of the show El Chapulín Colorado. The show follows the misadventures of El Chavo, a poor, homeless and clumsy child (portrayed by an adult) and his friends in the humble Mexican neighborhood they live in.
History
On June 20th, 1971, the Mexican actor, writer and director Roberto Gómez Bolaños[1] and the channel Televisa channel broadcasted a comedy skit about an eight-year-old kid arguing with a balloon vendor in a park. The skit later became the foundation of the TV Show El Chavo Del 8,[2] which, according to Gómez Bolaños,[3] is aimed at an adult audience, as it features adults playing children. On September 18th, 2022, the YouTube[4] channel @CronosFILMSTV posted some additional information regarding the show's pilot episode. The video (seen below) garnered 39,972 views and 1,300 likes in seven months.
Cast
The main cast is consisted of:
- Gómez Bolaños as El Chavo;
- Ramón Valdés as Don Ramón;
- Carlos Villagrán as Quico;
- María Antonieta de las Nieves as Chilindrina;
- Florinda Meza as Doña Florinda;
- Rubén Aguirre as Profesor Jirafales;
- Angelines Fernández as Doña Clotilde;
- Édgar Vivar as Señor Barriga.
Reception
The show began its broadcast on February 26th, 1973 on Canal 8, and the last episode aired on January 7th, 1980, running for seven seasons and 280 episodes. El Chavo was televised in several Latin American countries and had high television audience ratings. The National Council for Advertising Self-Regulation (CONAR in Spanish) states in an article that in 1975 the show reached approximately 350 million viewers every week.[5]
Online Presence
El Chavo is widely considered one of the most popular Mexican TV shows, easily recognized all over Latin American countries decades after its last episode aired. On October 21st, 2004, one of the first online mentions of the show was posted in the form of a fan artwork by Deviant Art[6] user @danielrsimoes. He shared a black and white artwork of the main character, El Chavo, receiving 5,500 views and 12 favorites in 19 years (seen below).

Short versions of the show were uploaded on YouTube around 2006. For example, on September 10th, 2006, YouTube[7] user Marioluciodefreitas posted (seen below, left) the Brazilian intro of the TV show, garnering 731,601 views and 1,000 likes in 17 years. A year later, on December 7th, 2007, YouTube[8] user Jat1915 shared a parody version of the show (seen below, right), receiving 342,000 views and 1,100 likes in 16 years.
Chaves Maconheiro
On August 28th, 2013, a fan parody skit dub of the show was uploaded on YouTube[13] by Michelecaroline6428. The skit, titled Chaves Maconheiro, features the characters talking about weed they had in the "vila," which was mistakenly consumed by one of the neighbors. The video has garnered 371,633 views and 13,000 likes in a decade (seen below).
Fandom
Although the show was created in Mexico, El Chavo del 8 achieved international fame, and in some places, the program and its characters are practically idolized, such as in Brazil. The actress that portrayed Doña Florinda, Florinda Meza, explained on November 8th, 2022, that "they[fans] love us a lot in Mexico, they love us in Central America, Peru and Colombia and they adore us in Argentina, but in Brazil we can say that they worship us."[9] On June 28th, 2017, Brazilian fan Lucas Felix created an anime opening version of Chaves, which was posted on Facebook,[10] garnering 14,000 views and 546 likes in six years (seen below).
Fan Art and Cosplay
The iconic characters from the show are often cosplayed at show-related events and during Brazil's Carnival. For instance, on March 2nd, 2022, YouTube[11] user NHONHODOBRASIL posted a video showing a group of people cosplaying the show's kids, garnering 5,200 views and 223 likes in a year (seen below).
Pinterest user @guilhermepenhor[12] shared a fan art image of Chaves on March 10th, 2021, featuring cartoon drawings (seen below).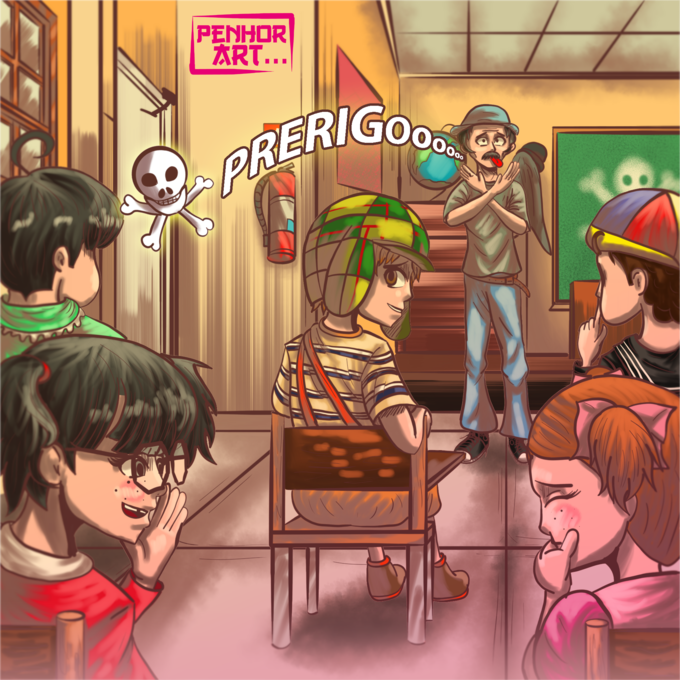 Search Interest
External References