About
Bongcheon-Dong Ghost (봉천동 귀신, often misspelled "Bong-Chong Dong" in English) is a South Korean horror webcomic series illustrating various encounters with a ghost of a woman who has been reportedly seen in the Bongcheon village of Seoul. Since its publication via Korean webcomic portal Naver Webtoon in July 2011, the urban legend comic has become infamous on the English-speaking web as well, most notably for its inclusion of partially animated sequences and audio segments using javascript triggers.
Origin
Titled "The Bongcheong Dong Ghost," the original webcomic was written and illustrated by Korean web cartoonist Ho-Rang and submitted as his entry to Naver Webtoon's 2011 Mystery Short contest, which ran from July 12th to September 13th, 2011.
The Story
The story follows a Korean schoolgirl coming home from after-school study hall at 11:20 p.m. As she approaches her apartment complex, she meets a ghost of a woman asking for her baby. She tries to trick the ghost and run away, but it only enrages the ghost, causing it to fly towards her. The girl passes out and is later retrieved by some neighbors. We later learn that it was the ghost of Mrs. Cho, who lost custody of her two-year-old daughter and committed suicide.

CLICK THROUGH TO READ THE STORY
Spread
The comic gained a large following on the English-speaking web on October 10th, 2011, when celebrity YouTube vlogger PewDiePie uploaded a video of himself reading the story in the style of a scary prank reaction video.
Reaction Videos
On YouTube, others started posting their reaction videos, including YouTuber MrGeneralAlasad and doomdude1990:
The "Jump Scare" Scroll
In addition to the overly scary story, the comic contains two cleverly-programmed jump scares. As the reader scrolls through the comic, there are two moments at which a script triggers an automatic scroll-down, simulating a frame-by-frame animation of Mrs. Cho. The first jump scare is Mrs. Cho's head turning 180 degrees. The second one is her final attack of the schoolgirl.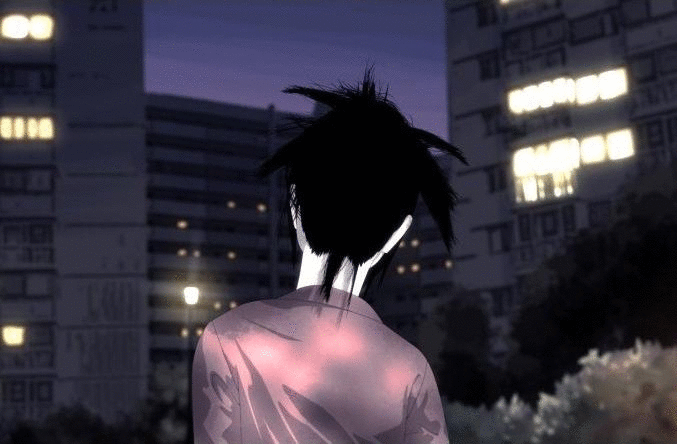 There are a number of ways to cheat it. For instance, if one starts from the bottom and scrolls up, there is a bug that will delay the jump scare. Another is if one quickly scrolls up and down, the jump scares will activate, but they will function in a quirky manner. There is still no way to completely avoid it; the comic cannot be read without activating the jump scares. Right mouse-clicking is disabled.
Search Interest
Online interest in the story also started picking up in October, around the same time that PewDiePie posted his video.
External References