The Illusion of Free Choice
This submission is currently being researched & evaluated!
You can help confirm this entry by contributing facts, media, and other evidence of notability and mutation.
About
The Illusions of Free Choice is an exploitable webcomic series featuring a cow given two respective choices that lead to the same end. The image, based on an Abstruse Goose political cartoon, is photoshopped for comedic effect or to express the meme author's specific beliefs.
Origin
On September 10th, 2009,[1] the webcomic the Abstruse Goose[2] published a cartoon entitled "The Illusion of Free Choice." The comic featured a cow before two entrances leading to a slaughter house. However, both the "left" and "right" entrances lead to the same destination.

Spread
In the years since the cartoon's publication, people have edited the image to reflect their political beliefs. In 2012, MemeCenter [3] user jchang052479 photoshopped the image to replace "left" and "right" with "Obama" and "Romney" to reflect the 2012 United States Presidential Election (shown below, left).
On September 7th, 2013, BodyBuilding.com forum user posted an variation photoshopped to represent elements of body building (shown below, center).[5]
In 2016, an anonymous 9GAG [4] user updated the image for the 2016 Presidential Election. The post (shown below, right) received more than 21,000 points in two years.



Various Examples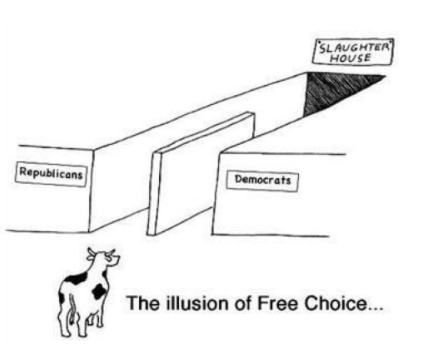 Search Interest
Extneral References