The Secret Ingredient Is Crime
About
The Secret Ingredient Is Crime is a quote from the British comedy series Peep Show in which the character Super Hans offers a chocolate bar he stole to the character Jeremy, and when Jeremy remarks it's delicious, Hans says "The secret ingredient is crime." The quote became used in image macros as a reaction image.
Origin
The quote comes from the Peep Show episode "University Challenge," which aired December 3rd, 2004[1] (shown below).
Spread
On October 6th 2014, a deleted Reddit user posted an image macro of Super Hans saying the quote in /r/mitchellandwebb,[2] gaining over 150 points (shown below).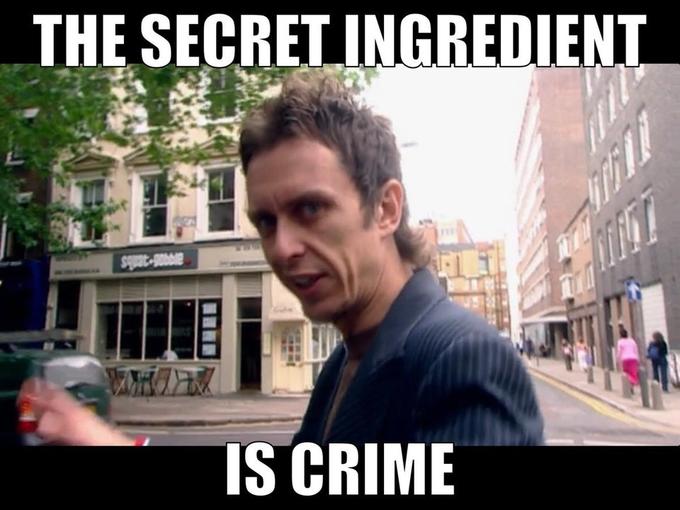 The image began seeing use in memes beginning in 2018. On July 21st, 2018, user torpedobuddy posted the reaction image in /r/PrequelMemes,[3] gaining over 5,900 points (shown below, left). On June 28th, user TylerMcFluffBut posted an example in /r/MemeEconomy[4] that gained over 12,000 points (shown below, right).


Popular examples from 2019 include a March 2nd post by Jaywalk66 in /r/memes that gained over 16,000 points (shown below, left). Another post referencing Star Wars posted in /r/memes on August 26th gained over 2,400 points (shown below, right).


Templates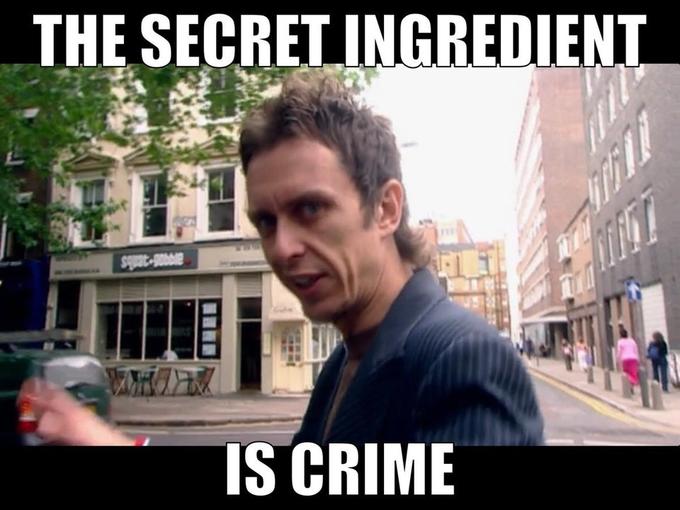 Various Examples






Search Interest
External References