This submission is currently being researched & evaluated!
You can help confirm this entry by contributing facts, media, and other evidence of notability and mutation.
About
They Live Sunglasses refer to a plot device in the 1988 science fiction action satire film They Live. In the film, wearing a pair of special sunglasses allow the wearer to see through advertisements and other elements of consumerism to see the evil extra-terrestrial race behind capitalism and human misery. Online, people use the sunglasses imagery to see what the memer believes is the "true" message of a particular piece of media (similar to Peter Parker's Glasses).
Origin
On November 4th, 1988, They Live was released in the United States.[1] In the film, the character Nada (portrayed by Roddy Piper) discovers a secret alien invasion in which a malevolent race of invaders use advertising to brainwash and control humanity. Nada uses a pair of sunglasses to see the alien message as well as aliens disguised as humans (clip below).
Spread
The sunglasses imagery has been apart of popular culture since the release of the film. For example, in the 1991 video The Simpsons: Bart vs. the Space Mutants, Bart uses a pair of sunglasses to see aliens.[2] Elements from the film, particularly the sign "Obey," have appeared on t-shirts and inspired the clothing line "Obey" (shown below).

Throughout the 2010s, the image continued to appear in memes. For example, on February 7th, 2013, Know Your Meme user tzeni mpotsi shared an image of Nada looking at My Little Pony: Friendship Is Magic advertisement, which the glasses reveal reads "Never Marry and Reproduce" (shown below, left).
The They Live Sunglasses are generally accepted as an expression of "seeing one's true self." For example, on August 22nd, 2015, Twitter [3] user @saladinahmed tweeted a manipulated image of a rally of U.S. President Donald Trump with the caption "What you see when you wear the glasses." The tweet received more than 1,100 likes and 865 retweets in less than five years (shown below, center).
Two years later, on April 3rdm 2017, Redditor [4] Duxik shared a four panel meme using the glasses on an advertisement for the film The Boss Baby (shown below, right).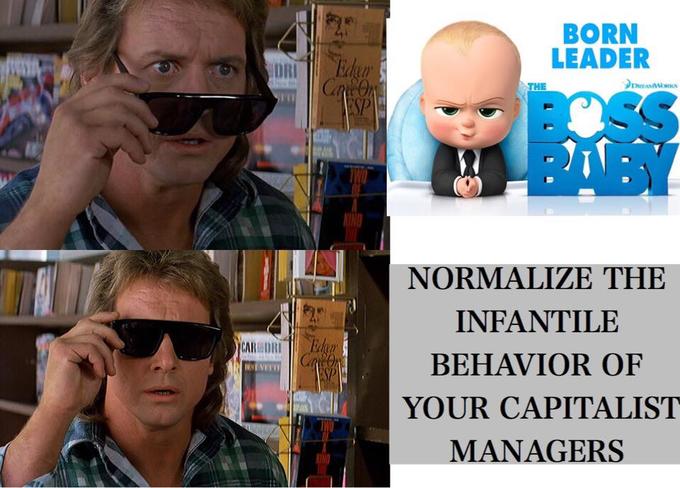 The meme format has been used to critique many political views or brands. One popular example uses the meme was to criticize brands during LGBTQ+ Pride month. On June 5th, 2019, Redditor[5] elbowleg513 shared a variation that reads a Pride-themed Mastercard banner as "Give Us Your Money, Homos." The post received more than 67,000 points (93% upvoted) and 2,400 comments in less than 13 months.

Various Examples






Template

External References