This Better Not Awaken Anything In Me
This submission is currently being researched & evaluated!
You can help confirm this entry by contributing facts, media, and other evidence of notability and mutation.
About
This Better Not Awaken Anything In Me is a quote taken from a scene in the TV show Community where the character Dean Pelton (played by Jim Rash) says, "This better not awaken anything in me" after watching a video of a man flexing in dalmatian cosplay. The episode aired in November 2009 and became the subject of memes throughout the late 2010s as an exploitable image macro in which the video of the dalmatian man is replaced with another. It also became a prominent reactionary catchphrase, often jokingly used under fetish or fetish-adjacent content.
Origin
On November 19th, 2009, Community season one episode 10, titled "Environmental Science," premiered. In one scene, Dean Pelton curiously watches a video on his computer in which a man wears realistic dog cosplay. As he watches, he says, "This better not awaken anything in me," meaning he hopes it doesn't turn into a fetish for him. The clip was uploaded to YouTube[1] on December 29th, 2012, garnering over 433,000 views in 11 years (shown below, left). The dalmatian video Pelton watches is real and was uploaded to YouTube[2] on October 26th, 2009, by circusperformers, garnering over 149,000 views in 14 years (shown below, right).
The scene was converted into an image macro as early as February 9th, 2013 on Imgur.[3] A GIF of Pelton saying the line was posted to Imgur[4] on April 21st, 2015, garnering over 125,000 views in eight years (shown below).


Spread
The scene became increasingly popularized as an exploitable meme throughout the 2010s. On April 15th and May 2nd, 2018, YouTubers[5][6] Anthony's Archive and Saint Nigel posted videos replacing the dalmatian video, garnering over 10,000 views and 5,400 views, respectively, in five years (shown below, left and right).
On July 27th, 2022, the Facebook[7] page The CBC posted a She-Hulk meme using the image, garnering over 12,000 reactions and 4,200 shares in eight months (shown below). On November 2nd, Twitter[8] user @AlsoAshleyB used the phrase as post text on an image of her wearing cat-girl cosplay, garnering over 2,100 likes in four months.

Various Examples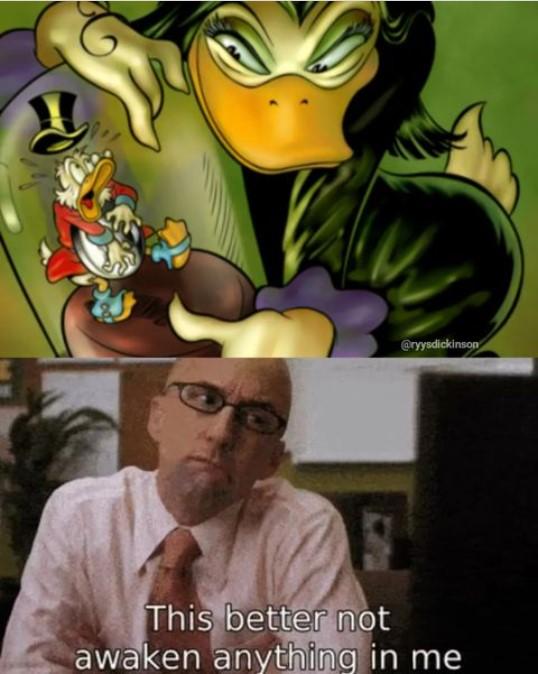 Search Interest
External References