This submission is currently being researched & evaluated!
You can help confirm this entry by contributing facts, media, and other evidence of notability and mutation.
About
Trump Your Cat, also known by the hashtag #TrumpYourCat, refers to the act of using a ball of a cat 's discarded fur, left from brushing, to emulate the hairstyle of tycoon and 2016 Presidential candidate Donald Trump.
Origin
Cats with these hairstyles being compared to Donald Trump dates back to at least 2011, when an image was created in the style of a Demotivational Poster where a cat with a ring of discarded fur on its head says "Your Fired"(sic) in the style of Trump.[1]

The comparison has been made with several other photographs of cats with fur clumps on their heads in the four years between the original post and July 14th, 2015, including on websites like Free Republic.[2]


Spread
On June 29th, 2015, the Instagram account @TrumpYourCat was created to showcase photos of cats wearing fuzzy hair clumps paired with quotes from Donald Trump's presidential campaign. The initial post read "'I will build a great wall -- and nobody builds walls better than me, believe me --and I'll build them very inexpensively. I will build a great, great wall on our southern border, and I will make Mexico pay for that wall. Mark my words.' – @realdonaldtrump" It received 174 likes in the two weeks after it was posted.[3]

On July 7th, an accompanying Twitter account was created to retweet photos tagged with @TrumpYourCat.[4] On July 10th 2015, @TrumpYourCat was featured on Rachel Maddow's television show (seen below), inspiring many people to begin Trumping their cats.
On July 10th, after the show, 1,720 people tweeted about Trumping their cat, often Tweeting directly at Maddow. The trend was then featured widely in the media, including on many outlets such as Mashable and the New York Daily News.[5][6] Between July 9th and 14th, the hashtag #TrumpYourCat had been used more than 4,246 times on Twitter and 975 times on Instagram.[7][8]
Various Examples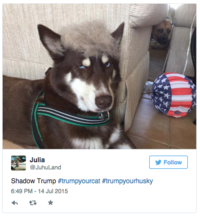 Search Interest
External References
Recent Videos
There are no videos currently available.