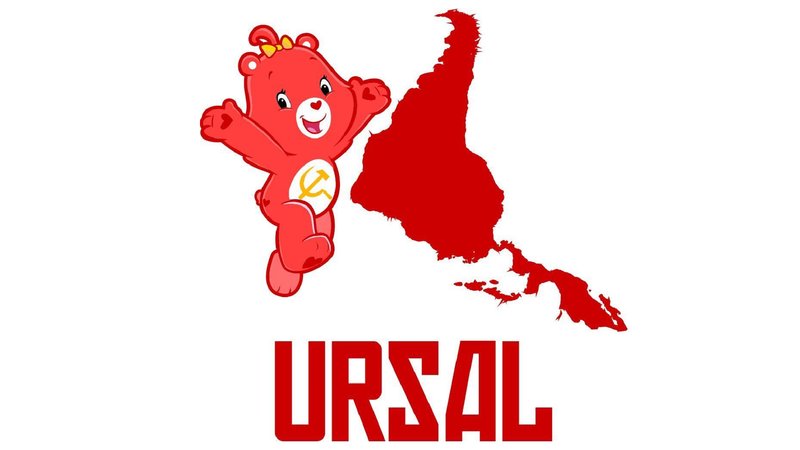 This submission is currently being researched & evaluated!
You can help confirm this entry by contributing facts, media, and other evidence of notability and mutation.
About
URSAL or União das Republiquetas socialistas da América Latina, Portuguese for Union of Latin America Small Socialist Republics is a mock conspiracy theory regarding the socialist takeover of Latin America. However, after being discussed in a highly-viewed presidential debate, the theory became the subject of mockery online.
Origin
On December 9th, 2001, sociologist and professor at the Universidade Estadual de Londrina Maria Lucia Victor Barbosa published a paper entitled "The Companions." In the article, he criticized the Free Trade Area of the Americas agreement, an extension of the "National Free Trade Agreement," sarcastically stating that the agreement would lead to the end of Latin American integration and create a unified body of communist nations known as URSAL.[1]
Conspiracy theories about URSAL connecting it to a communist plan in Latin America started to spread out in the late 00s.
Spread
On August 9th, 2018, during Brazil's presidential debates, Patriota party candidate CPL Daciolo asked his opponent Ciro Gomes, "O senhor é um dos fundadores do Foro de São Paulo. O que pode falar sobre o Plano Ursal? Tem algo a dizer para a nação brasileira?"(translation: "You are one of the founders of the São Paulo Forum. What can you talk about the Ursal Plan? Do you have something to say for the Brazilian nation?")[2] When Gomes appeared confused by the question, Daciolo explained that URSAL was related to the New World Order, which would remove all the borders in South America, creating one giant country. That day, a clip of the question was uploaded to YouTube, where it received more than 600,000 views in one week.
Following the debate, people online joked about the conspiracy theory. Twitter [3] user @apolinariosteps tweeted an image he had designed in 2015 – when the same conspiracy theory was posted on a university forum – of a red Care Bear wearing the communist hammer and sickle insignia and the caption, "URSAL: Union of Latin America Socialist Republics.". This image has become the symbol of URSAL, going viral very quickly and spreading out fast in many different tweets.
Throughout the day, more people on Twitter[4] posted jokes about the group, including pictures of bears, which is based on the Portuguese word for big bear, "ursão," a phonetically similar sounding word to URSAL (examples below, center and right)



After that, the term spread on social networks, especially on Twitter, with several users supporting the idea and listing the possible advantages of the new country.
Additionally, some users posted clips of former children's singer Xuxa Meneghel singing the song 1992 song "Whole America ." The song is about a union of the American people, which some joked would be the URSAL's national anthem. The lyrics to the song (video below) read, " A country that has no borders / The people are happier / And this land of a thousand ways / It has only one root / Finally, the years pass / But it will never pass / This American dream / From being a lonely people / Where fear, cold, hunger / And addiction will end / This America of so many names/ It's one in me."
Search Interest
External References
Recent Videos
There are no videos currently available.